Magic is a lot more than a strategy game. For many, it's a lifestyle. There's a culture, a history, and some great stories. Sometimes we get to see some of these great stories unfold live and on camera. One such event that many of us remember is the now famous Bonfire of the Damned heard 'round the world.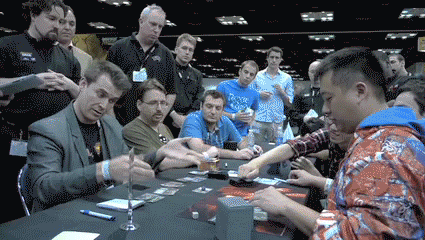 Jason Ford punting his deck after losing in the Top 4 of an SCG Team Event is another piece of video gold, which you can view here.
You've also probably seen the animated gif of judge Jeph Foster laughing hysterically as Lauren Nolen Notion Thiefs Justin Uppal's Jace activation.
One that you may not have seen yet, and my new favorite Magic-related moment, is of Paul Cheon casting a free Armageddon. If you're not sure what I mean, then you're in for a treat. I can't find a gif of this event, but a here's a link to the video.
Have any other special moments from Magic history that I've failed to include? I would love to see them, so be sure to post them in the comments!
---
Are you a Quiet Speculation member yet?
If not, now is a perfect time to join up! Our powerful tools, breaking-news analysis, and exclusive Discord channel will make sure you stay up to date and ahead of the curve.
---
Have you joined the Quiet Speculation Discord yet?
If you haven't, you're leaving value on the table! Join our community of experts, enthusiasts, entertainers, and educators and enjoy exclusive podcasts, questions asked and answered, trades, sales, and everything else Discord has to offer.
---
Want to write for Quiet Speculation?
All you need to succeed is a passion for Magic: The Gathering, an aptitude for getting value from your cards, and the ability to write coherently. Share your knowledge of MTG and how you leverage it to play the game for less – or even turn a profit.