Are you a Quiet Speculation member?
If not, now is a perfect time to join up! Our powerful tools, breaking-news analysis, and exclusive Discord channel will make sure you stay up to date and ahead of the curve.
Editor's note: John recently placed 14th at the SCG Premier IQ in Washington, D.C. with his White Weenie list. In this spotlight article for the Nexus, he discusses the deck itself, his tournament experience, and ways to improve White Weenie for the future. 
White Weenie is at its best when it's at its worst. For those unfamiliar with the archetype, White Weenie often refers to an aggressive white deck. It is a deck that often swarms the opponent with efficient but inherently "fair" white creatures, usually with the ability to make those creatures into bigger threats. Typically this is done with anthem effects such as Honor of the Pure, but equipment has also served this role in the past. White Weenie decks tend to be fairly fast aggro decks, but are usually slower than the red aggro decks of the format.
Of course, reasonable minds can differ, and there are those in the Magic community who believe that White Weenie decks are piles of unplayable garbage with no card advantage that roll over and die when the opponent manages the extraordinary feat of playing literally any creature or removal spell. Admittedly, there is a nugget of truth to this viewpoint, but the graveyards of Magic tournaments are littered with the bodies of those who overestimated their chances against a well-tuned aggro list. When the format reflects the belief that aggro decks are inherently inferior strategies, it's White Weenie's time to shine.
Are you interested in exploiting a gaping hole in the Modern metagame? Are you interested in an aggro deck that puts Burn and Affinity on the defensive? Are you interested in playing 16 copies of the best two-drop in the format for a single white mana (no, blue mages, I'm talking about Tarmogoyf and not Mr. Tiago)? Then maybe White Weenie, aka White Goyfs, is for you.
[wp_ad_camp_1]
The Road to White Weenie
Contrary to popular belief, there have been a number of White Weenie decks that experienced success at the highest levels. For Modern, Paul Rietzl's 2010 Extended deck for PT Amsterdam stands out as especially relevant:
Extended White Weenie, by Paul Rietzl (1st, PT Amsterdam 2010)
I could point to a number of other successful White Weenie decks in years past (Craig Wescoe decks in particular naturally spring to mind), but one common theme is that they took advantage of a metagame that didn't show them enough respect. I have always had the most success with White Weenie when it was a complete non-entity, or presumed to be strategically ineffective.
For example, if you played Standard in the fall of 2012, you might remember that Thragtusk was running rampant; UW control decks had access to both Supreme Verdict and Sphinx's Revelation; Reanimator combo was putting turn four Angel of Serenity into play and BR Zombies was taking down GPs.  Opposing sideboards began to reflect the belief that BR Zombies was the only viable aggro choice, so naturally I sleeved up this beautiful disaster at GP Charleston:
Boros Weenie, by John Gniadek (30th, GP Charleston 2012)
In today's Modern, there is a massive hole White Weenie is naturally built to exploit. There are essentially no decks playing sweepers (the natural predator of White Weenie decks since the beginning of time) in Game 1, and very few that run them in their board. Of the few that do, most of them are red damage-based sweepers such as Anger of the Gods or Pyroclasm, which are completely negated by Brave the Elements. The relative lack of sweepers means that overextending can't be punished as badly as it needs to be. Additionally, rather than running cards that are generally strong against aggro decks, many sideboards have very specific slots dedicated to specific matchups: those Ancient Grudges, Stony Silences, and Kor Firewalkers accomplish virtually nothing against White Weenie.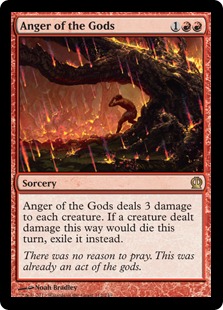 Due to the lack of sweepers, playing your first one-drop on turn one and two more of those one-drops on turn two leads to more free wins than you might expect. A timely spell on turn three can be backbreaking. I ran the numbers, and concluded that 29 creatures, 20 lands, and 11 spells is the optimal mix if you want at least three creatures, two lands, and one spell in your opener. For the mathematically inclined, this entailed running some multivariate hypergeometric distribution calculations. I worked backwards through trial and error to find the number of creatures, lands, and spells most likely to yield at least three creatures, at least two lands, and at least one spell in your opening hand.
In Modern, white has an embarrassment of riches at the one-drop slot. In addition to roughly a dozen or so Savannah Lions variants, there are a surprising number of one-drops that get gigantic. Now, some of them simply don't have the support to consistently get there (Hada Freeblade), some require prohibitively too much mana to be remotely playable (Caravan Escort), and some require the deck to be warped around them for not enough payoff (Ardent Recruit). That still leaves nearly a deck's worth of one-drop Goyfs to work with, which led me to the following decklist that I played at the Washington, D.C. Premier IQ:
Modern White 'Goyfs, by John Gniadek (14th, SCG Premier IQ D.C., 2015)
There are a number of inclusions that will surely raise a few eyebrows, so in the next two sections, I wanted to offer my thought process on including each of them.
White Weenie: Maindeck
Kytheon, Hero of Akros // Gideon, Battle-Forged: As it turns out, he's the real deal and I would recommend playing the full four now. What people often overlook about cards like this is that, while perhaps unimpressive in a vacuum, they create increasingly complex decision trees that provide the opponent more opportunities to stumble. Imagine that you played a Lynx turn one followed by a Champion and Kytheon turn two. If your opponent only has one removal spell for their second turn, what are they supposed to do? Killing Kytheon runs the risk of taking a potential nine damage just from the Lynx and Champion on the next turn, but not killing the Kytheon runs the risk of you deploying additional threats with the ability to leave Brave the Elements mana open. A deck like this really maximizes Kytheon's potential since he threatens to become a 4/4 indestructible attacker as a natural consequence of the deck's primary gameplan.
Steppe Lynx: Lynx requires the manabase to be built around him, but that doesn't cost you anything in this deck. Sometimes you don't make land drops and the Cat just stands around not doing anything, but the ability to drop this on turn one and deal eight damage by turn three is nearly unmatched.
Champion of the Parish: He gives Steppe Lynx a run for its money as with some luck he can be a 6/6 on turn three. Once this becomes a 4/4 or bigger, many decks have major problems getting rid of it.
Boros Elite: I admit this card isn't very good, but it serves a purpose. Most opponents can't keep you off of three attackers for as long as they'd like to believe they can.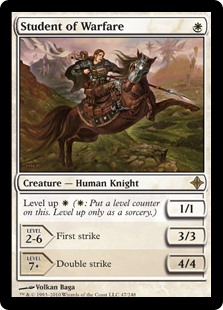 Student of Warfare: You usually don't want to invest mana in this guy early; he's more of a mana sink/late game threat. While the leveling mechanic has traditionally been seen as unplayable due to the fact that you are often forced to choose between leveling or developing your board, this deck doesn't present the same issues. Due to the sometimes all-in nature of the deck, you will often find yourself hellbent by turn four with nothing else to use your mana on, and the inevitability of turning Student of Warfare into a 4/4 double striker means that opponents have to choose their removal targets wisely
Figure of Destiny: I was originally skeptical, but this guy puts in a ton of work. Not being a Human hurts, however.
Soldier of the Pantheon: Both this and the next card are really only there as extra Humans to help reach a critical mass of creatures, but his protection from multi-colored can be relevant in many matchups (e.g. against Abrupt Decay, Electrolyze, Terminate, Siege Rhino).
Mardu Woe-Reaper: Again, just adds another Human body. The ability is sometimes relevant for shrinking opposing Goyfs or removing Scavenging Ooze fuel.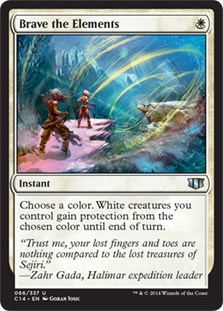 Brave the Elements: My vote for best card in the deck. Four may seem like overkill, but it enables you to go for broke with landfall or leveling and can be the topdeck you need to break a stalemate.
Path to Exile: While it's the best removal spell in white (and possibly the format), giving them the extra land can be problematic.
Mana Tithe: While not a good card, it is a great play. Once your opponent knows it's in your deck, you can side it out and they still have to play around it.
Arid Mesa, Marsh Flats, Windswept Heath:  These could be any 12 fetchlands, as they are here purely to pump Lynx.
Plains: Eight is enough and possibly too many. Games in which you somehow run out of Plains are not games where you had a realistic shot at winning anyway.
White Weenie: Sideboard
Sunlance: In aggro mirrors, Sunlance is often just as effective at killing the creatures you care about as Path.
Dismember: Paths 5-7 against decks such as Splinter Twin and Infect. Sometimes you also need the extra removal against Grixis Control or Jund.
Angel's Grace: Originally the idea was to bring these in against Burn and Affinity. I seriously misevaluated the way the Affinity matchup plays out, but they still offer great insurance against Burn.
Grafdigger's Cage: These are solely to shut down decks that would otherwise win on the spot, like Collected Company combo. You wouldn't bring them in against Snapcaster decks, for example.
Mardu Woe-Reaper and Kytheon, Hero of Akros // Gideon, Battle-Forged: These provide a higher density of creatures against removal heavy decks.
White Weenie: Gameplay
In theory, the deck looks easy to play: play a creature turn one, then two more creatures on turn two, then as many creatures as you have left on turn three. Then win. While this deck is capable of generating easy free wins that way, you will lose a lot of games that you should have won if that's the only approach you take. In most cases, you should be looking to keep an open mana up at all times from turn three on, and possibly even starting turn two, even as a bluff. If you are going to run a straight bluff, however, make sure that the opponent can actually afford to play around what you're representing. If the opponent would just be dead if you have it, then do something else with your mana if possible.
You should always keep track of when you can afford to throw creatures away in a chump attack, and when you need to stop attacking and play for a topdecked Brave. Generally speaking, if you stop attacking you lose, so it can often be correct to trade a Soldier of the Pantheon for a Lingering Souls token if it means getting in for five damage and flipping Kytheon.
The decision whether to let one of your creatures get Bolted or save it with Brave the Elements always depends on the context of the game. For example, if you are attacking for lethal and the opponent is otherwise tapped out, of course you should play Brave, but if you still have an attack step or two to go and you have more threats in hand, it's probably best to keep the Brave in hand.
Sideboarding should be kept to a minimum, and you should never be looking to side out creatures. For the most part you only want to side in cards that either win you the game on the spot or stop you from losing on the spot.
14th Place at the Premier IQ
After sleeving up the decklist, I took it to the SCG DC Modern Premier IQ with few expectations. I had a decent amount of experience with previous variations of the deck so I felt that I would pilot it well, but I had my doubts that a deck full of Boros Elites and Mardu Woe-Reapers could compete.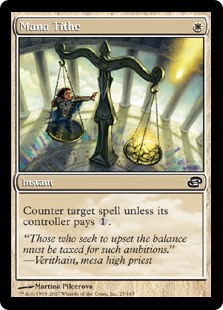 Round 1: U/B Faeries (2-1)
Game 1 was interesting as it took several turns to figure out what he was on. He was able to kill a few things and trade with flashed-in Faeries, but the game ended when he tapped out for Cryptic Command to fog me and I had the Mana Tithe. Game 2 I got him down to 3 before he stabilized, and I just couldn't muster enough pressure. Game 3 went about as well as I could hope: he got stuck on two lands early and I was able to dump my hand and crush him.
Round 2: Grixis Control (2-1)
Game 1 I rolled him over. He simply wasn't prepared to deal with aggro swarm, which is what I was counting on. Game 2 he ended up taking after drawing infinite removal and enough big creatures that I couldn't maintain any pressure. Game 3 I was able to draw just enough creatures that I was able to get there: he didn't realize that his sideboarded Vampiric Link was a triggered ability, so he died before gaining the life he needed.
Round 3: Grixis Control (2-0)
This match isn't worth discussing. My opponent got a deck reg error game loss, and then mulled to five in Game 2 where I crushed him.
Round 4: Jund (1-2)
Game 1 my opponent stripped my hand of anything useful and cruised to an easy win. Game 2 I rebounded, drawing just the right mix of creatures and tricks to kill him on turn four. Game 3 was a bit closer than Game 1, but I wasn't able to find enough removal in time to get through the clogged board. My opponent ended up making Top 8.
Round 5: Burn (2-1)
Game 1 was extremely close, but my opponent was able to draw enough spells to deal with some of my bigger threats while still pointing lethal burn at my face. Game 2 I was able to Sunlance every creature he ran out and eventually started deploying more threats than he had answers for. Game 3 was also extremely close, and we ended up in a situation where we were both topdecking, but my opponent knew I had an Angel's Grace thanks to a Goblin Guide reveal. Eventually I drew one more creature than he had burn for.
Round 6: Grixis Twin (2-0)
Game 1 I had Paths for both of his Exarchs, and I was able to play enough threats that he couldn't deal with them all. He died with two Twins in hand. Game 2 was basically more of the same: he couldn't afford to side out the combo because I was too fast, but that also meant he couldn't bring in as much removal as he needed, and I overwhelmed him.
Round 7: Affinity (0-2)
This was by far the most interesting match of the day. Game 1 I had a gigantic board but he had too many blockers for me to push through. I made a strategic mistake and wound up getting punished for it: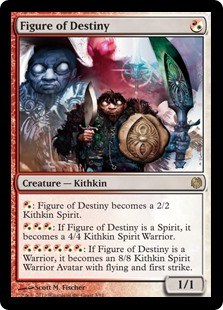 I failed to appreciate that the Affinity deck had a far superior late game, and was therefore uninterested in racing me. This miscalculation caused me to believe that trades were good for me, so I continued attacking rather than patiently pumping mana into Student of Warfare and Figure of Destiny with the plan of flipping an indestructible Kytheon in another turn or two. After several trades left his board decimated but me without my Figure of Destiny or Kytheon, a top-decked Etched Champion from my opponent left me with no realistic way of breaking through, and he was able to stay alive long enough to eventually put the game out of reach. Game 2 ended up being worse for me, as I didn't have removal for his Steel Overseer, and that in conjunction with Etched Champion and three or four Nexuses (both Blinkmoth and Inkmoth) spelled game over. This opponent also made Top 8, meaning both of my losses were to top 8-ers.
Round 8: Jund (2-1)
Game 1 I got out to an exceptionally fast start, and I had Brave for his last-gasp removal spell to win. Game 2 was a bit back and forth, but he was able to get two Goyfs up to 5/6 and I didn't draw enough gas to compete. Game 3 was similar to Game 1 in that I snap-kept something very close to a god hand, and had enough Braves to take it down.
It's worth noting that I won only one dice roll out of seven matches (I'm not counting Round 3, even though I lost that dice roll too). I probably won more games on the draw than on the play, which was unexpected.
White Weenie's Modern Future
While I was pleased with the way my tournament went, there are a number of changes I've already made to the deck. First, the deck needed more creatures and fewer spells. There were too many games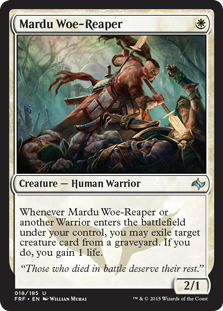 where I would run out of gas, or my hand would be Thoughtseized into oblivion, and I couldn't generate enough pressure to stay in the game. As much as I love Mana Tithe, it needed to go to make room for more threats. I've since made the following changes to the main:
-4 Path to Exile
-3 Mana Tithe
-1 Plains
+1 Kytheon, Hero of Akros // Gideon, Battle-Forged
+2 Mardu Woe-Reaper
+2 Dragon Hunter
+2 Dismember
+1 Flooded Strand
I also retooled the sideboard, mostly to adjust for my misreading of the Affinity matchup:
-3 Dismember
-2 Mardu Woe-Reaper
-1 Kytheon, Hero of Akros // Gideon, Battle-Forged
-1 Angel's Grace
+ 4 Path to Exile
+2 Stony Silence
+1 Rest in Peace
In conclusion, the deck is very well-positioned in the current metagame. There aren't enough sweepers seeing play to keep the deck in check, and the sweepers that do see play tend to fold to Brave the Elements. As an additional plus, if you already own the fetches and Kytheons, it's budget friendly. If you enjoy attacking for 10+ damage on turn three, like when your opponents have to stop to read the cards that are killing them, or if you love watching people's faces twitch as you declare "I cast Modern-playable Mardu Woe-Reaper", I highly recommend giving White Goyfs a go!
Editor's Note: Corrected a sentence in the introduction referring to Snapcaster Mage and Tarmogoyf.