Are you a Quiet Speculation member?
If not, now is a perfect time to join up! Our powerful tools, breaking-news analysis, and exclusive Discord channel will make sure you stay up to date and ahead of the curve.
When I began paging through the results from StarCityGames's State Championships, I didn't expect much in the way of innovation. After all, Modern players are terrified of brewing, or at least of brewing diligently enough to perfect a recipe (Hoogland and Chapin are notable exceptions to this rule). So I was pleasantly surprised to find a host of novel decklists in the Top 8 database.
I've divided the interesting decks into two categories: aggro and midrange. I've also split those categories into halves. Aggro encompasses spell-based aggro and creature-based aggro; midrange, attrition-based and permanent-based. Today, we'll look at the rogue aggro decks from States.
[wp_ad_camp_1]
SCG States: Spell-Based Aggro
Why save the best for last? You shouldn't need to read more than a couple of my articles to pick up on my obsession with Delver of Secrets // Insectile Aberration. Spell-based aggro does include most tempo strategies (and all grow strategies), but specifically refers to aggro decks that primarily win through attacks or reach, and that run less than 20 creatures. This definition excludes midrange decks like Jund and Abzan, which prioritize attrition over aggression. Midrange prefers to heavily disrupt opponents before committing its threats. Aggro, be it spell-based or creature-based, must apply pressure early to win. Some well-known spell-based aggro decks are RUG Delver, Bogles, and Burn.
Here's one we don't see every day. Few Delver mages willingly give up the stupid power of Lightning Bolt, especially in a shell that benefits so obviously from the pervasive, red instant. It's hard to know what convinced Seth Kerin not to splash. Perhaps he couldn't afford Scalding Tarns. It's possible he prefers the consistency of mono-Islands. Or maybe he just wanted to show Travis Woo that yes, Phantasmal Bear sucks.
Mono-Blue Delver, by Seth Kerin
Whatever Kerin's motivations, he made it to 7th place with some spicy card choices. Hour of Need "saves" threats from removal by morphing them into 4/4 Sphinxes, and Nivmagus Elemental makes it tough for opponents to feel good about Dispelling things by threatening an offensive Tarmogoyf impersonation. I'm also sure Stratus Dancer inspired more than a few reach-and-reads. Personally, I can't endorse anything with the word "Morph" on it in Modern, and I disagree with playing less than four Disrupting Shoal in any Delver strategy, let alone a mono-blue one. Kerin's surely heard this advice a few times, but the deck probably improves with red. Splashing not only gives Delver his Lightning Bolt, but stronger friends in Young Pyromancer, Monastery Swiftspear, and Abbot of Keral Keep.
Now this is more familiar. Jeskai Delver has fallen far since the glory days of BoREMANDos, and after enjoying a small resurgence during Treasure Cruise winter, the deck's back in the shadows. It's up to Colin Sillund and Thomas Willi to "make Jeskai Delver great again!" Willi's build features a bizarre 3/3/3/3 split of Monastery Mentor, Snapcaster Mage, Young Pyromancer, and Geist of Saint Traft, led by four Delver of Secrets // Insectile Aberration. I'm inclined to believe he couldn't figure out which threat he disliked most. For his part, Sillund brings plenty of new tech to the Jeskai Delver arsenal.
Jeskai Delver, by Colin Sillund
As a big Mantis Rider fan who went as deep as Favorable Winds to play the card in Modern, I'm thrilled to see it get to 7th place. Thought Scour and Ojutai's Command synergize with Jace, Snapcaster, and Pyromancer, and a lone Vapor Snag rounds out the deck's Path-dominated removal suite. There's notably no Geist of Saint Traft here, a decision I can rally behind. Geist's steep cost, inability to impact the game immediately after resolving, and weakness to anything that attacks (or blocks) make him a poor choice for Delver decks.
In spell-based aggro decks, Delver of Secrets // Insectile Aberration is usually a flying, blue Wild Nacatl. These decks can still succeed without the transforming Wizard, but they need a good reason to exclude him. Patrick Chapin's Temur and Grixis Prowess decks have recently made some waves in the Modern community. With Delver of Secrets // Insectile Aberration absent from both, I can't look at Chapin's lists without wondering why he's even in blue at all. Jim Davis must have thought the same thing, piloting Jund Prowess to 9th place at States. He may not have cracked the Top 8, but Davis still brewed a sweet deck.
Jund Prowess, by Jim Davis
Now, that's some Tarmogoyf! Davis grows the green monster to 6/7 in this deck, supplementing his attackers with Jund's infamous disruption package of Inquisition of Kozilek, Lightning Bolt, and Abrupt Decay. Kolaghan's Command and Grim Lavamancer ensure Davis has no problem going into the late-game, where Tarmogoyf excels. Jund colors also afford Davis incredible sideboard cards, including Self-Inflicted Wound, Molten Rain, and Destructive Revelry. Compared with Chapin's Temur Prowess, Jund has a better time against linear decks with its targeted discard. And compared with Grixis, well, Jund has Tarmogoyf... and Dark Confidant! Trust me when I say flipping Baubles with this guy is a blast.
SCG States: Creature-Based Aggro
Ah, the aggro deck's aggro deck. Spell-based aggro hopes to protect its sparse, efficient beaters, but creature-based dares you to cast Lightning Bolt. How many could you possibly have? Its creatures are cheap, interchangeable, and constant. They either boast impressive power/toughness/mana cost ratios (Zoo), exponentially improve a pilot's position (Merfolk), or stack up to progressively disrupt opponents (Hatebears). Creature-based aggro describes aggro decks that primarily win through attacks or reach, and that run 20 or more creatures. Just as Treasure Cruise naturally slots into most spell-based aggro decks, Collected Company has a home in many creature-based ones.
To keep sections spatially consistent, I won't include more than three decks in each. The intriguing decks I've omitted from this this section are Bant Knightfall, W/R Death and Taxes, and Slivers.
Aristocrats isn't exactly a Modern newcomer. We've seen players slam-and-sac 2/2s for varying effects since Birthing Pod was banned (and without much success, since before even then). Jason Bouchard's 2nd-place deck breathes new life into the archetype, including eight cards from the universally panned-for-Modern Battle for Zendikar.
Abzan Aristocrats, by Jason Bouchard
Bouchard's deck revolves around a four-Company, four-Rally package. These eight cards invariably create robust board positions out of thin air, and frequently allow Bouchard to combo off with enough Blood Artist effects. Thanks to Zulaport Cutthroat, he's got eight of those, too; with Blisterpod, he even runs eight Tukatongue Thallid (twelve counting Doomed Traveler)! Here's what I had to say about the newly spoiled Cutthroat: "Blood Artists 5-8 for whatever tier 3 deck wants them." Jason Bouchard's deck wanted them, and I doubt his success is a flash-in-the-pan. For reasons beyond my comprehension, people really like Aristocrats.
Goblin Rabblemaster astonished everyone when he burst onto the Standard scene, and many have since wondered if he could find a home in Modern. Lightning Bolt's ubiquity suggested "no," but that didn't keep others from trying (and sometimes, succeeding). When Goblin Piledriver was announced for Magic Origins, the gears started spinning again, hurling Rabblemaster back into the Modern conversation. In the wake of all this history, influenced by an unquenched desire among Modern players to play Goblins in this format, I take great sadistic pleasure in presenting the following decklist. Matt Young overlooks both Rabblemaster and Piledriver in favor of off-flavor powerhouses like Eidolon of the Great Revel, taking him to 8th place.
Atarka Goblins, by Matt Young
"That's not a Goblins deck!" Well, it's more of a Goblins deck than Zoo. I suspect that until a dedicated team of Goblins experts unites to devise a winning list, Young's Atarka Goblins is as close as Modern gets to a home for the ugly underdogs. Or maybe Young found that list already, but just wanted to show Travis Woo that yes, Warren Instigator sucks.
This time, I saved the best for last. Behold, my favorite deck to come out of Hell States:
R/G Aggro, by Rob Wrisley
What the Hell, in any case. Rob Wrisley's 3rd-place abomination includes the full four Hellriders, a card you'll have to read if you didn't endure it in Standard, and one you'll have to read twice if you've played even a weekend of Modern. Four mana? For an x/3? We could pay just one more for the flying, growing, Lightning Bolt- and Path to Exile-resistant Stormbreath Dragon. But Wrisley already runs it, if in smaller numbers than Hellrider. To its merit, the card isn't as bad as it looks in creature-based aggro, since opponents have way too many targets for Lightning Bolt to begin with. It also punishes opponents for "Bolting the Bird" like the pros.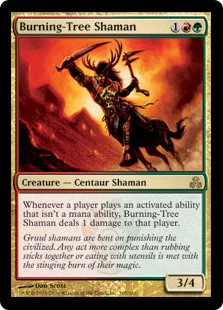 Wrisley captures my heart not with Hellrider (which, if you can't tell yet, I hate), but with Burning-Tree Shaman and Eidolon of the Great Revel, both pet cards of mine. Shaman resists Bolt, prevents Twin from going off, and does a number on activated ability decks like Affinity over the course of a game. It even punishes players for fetching. Eidolon is sorely unexplored in non-Burn aggro decks, best following an aggressive one-drop like Wild Nacatl. Granted, Wrisley doesn't have any aggressive one-drops, so I'll keep scratching my head at this beautiful mess. (What does Phyrexian Metamorph even copy? I feel like I'm taking crazy pills!) For now, let's be happy Wrisley drew his Bonfires when he did. Eccentric decks like Rob Wrisley's R/G Aggro turn limiting conceptions about Modern on their heads, hopefully encouraging would-be brewers to try their hand at something unique.
Still Perfect
In The Perfect Format: Modern Sleepers (Part 1), I identified design space as tremendously important to me in choosing a format: "A 'solved' format offers few brewing opportunities. Big innovations take the form of small tweaks, whereas I like when entirely new decks explode onto the scene. Legacy and Vintage are examples of formats with little design space, while Standard has it in spades." Most Modern players might not like to brew, but enough do to keep the format in continuous flux. Next week, we'll look at the rogue midrange decks with Top 8 appearances at States.