Are you a Quiet Speculation member?
If not, now is a perfect time to join up! Our powerful tools, breaking-news analysis, and exclusive Discord channel will make sure you stay up to date and ahead of the curve.
Happy Martin Luther King Jr. Day American Nexites, or Monday for rest of the world. It is I, your editor stepping back into the overly bright spotlight (I really need to adjust those) for your edification on this, the first weekday of the new Twinless Modern Era! Yes, we have a new banned list, and a new format and the world is once again our oyster. What new and wondrous possibilities are there for us? Let's Explore!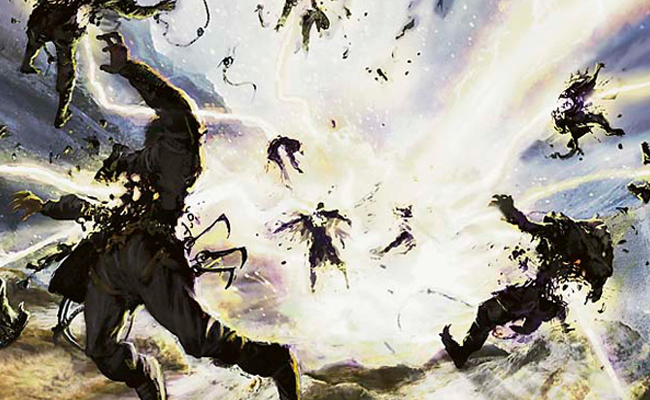 GAAAHH ENOUGH! (All that forced positivity was burning my soul) As you must know by now, there's been an update to the banned and restricted list. It's a little controversial. Other than saying that I think banning Splinter Twin is a mistake and that I will be stunned if Affinity doesn't dominate the Pro Tour, I'm not going to discuss its implications more today. Sheridan has done some of that already and is going into more detail tomorrow (Or at least I think he is. His response to my inquiry appears Cthuloid in origin and makes me fear for my sanity). Instead, I'm going to talk about where this leaves us and how I'm going to adapt. It makes the most sense to start with where I was when I heard the announcement.
[wp_ad_camp_1]
Learning to Heed Your Master
Remember my first article about my Monastery Mentor deck? I've been working on it in the intervening months and while this list had improved its fundamental problem of actually fueling Mentor remained. Sphinx's Revelation was always too slow but there really wasn't an alternative. Esper Charm was surprisingly hard to cast and wasn't enough of a boost to really be worthwhile. Then I started testing Standard again for the StarCityGames Denver Open and noticed that Painful Truths was pretty good. Shortly thereafter a friend crushed me with a Modern Mardu list and assured me that it was, in fact, the Truth. Beaten by that pun, I tried it out. Annoyingly, he was right and I started running this list at my LGS's weekly Modern events:
Wisdom of the Ancients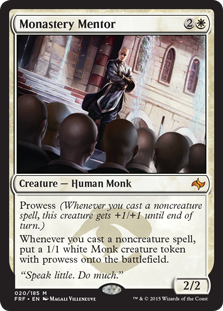 What I learned since that first article was that Mentor needed to be treated like a control finisher and that meant cutting down on copies. It also meant cutting down on counterspells. Counters don't really pair well with Mentor since you want to use spells proactively to start smashing with prowess triggers and tokens. The metagame has also shifted enough to make Remand and Mana Leak less desirable. I chose Spell Snare instead since Terminate is popular and it is playable to good against most Modern decks.
The increase in Jund, Abzan, and Twin also meant that more flexible creature kill and Lingering Souls was necessary to win the grindy matchups.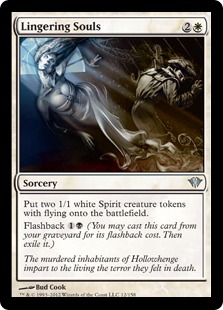 The rise of those three decks also meant Zoo was less prevalent so I was able to cut Supreme Verdict for Kitchen Finks, which is better against both Burn and Jund. I could also run a single Sun Titan to help grind out removal. A pair of Painful Truths is all I've needed so far. You grind a lot of advantage with Finks and Souls as is, so you only need a couple of extra draws to keep you in the game. Besides, with the shocks and fetches the life loss can be important. The deck ran well, going 3-1 in both the events I took it to. It really struggled against Tron and Bx Eldrazi, but that was to be expected and since you can't be fair and strong against everything I decided that was acceptable.
Which brings me to Friday.
Judgement Day
I was finishing up the last round of the Modern FNM having ground out UR Twin with Snapcast Inquisitions and Vendilion Clique and was two swings from lethal when the store owner came up.
"Hey, the Banned List just went up."
Me: "...it's not Monday."
"Yeah but apparently it's up early. Must be the holiday. Summer Bloom and Splinter Twin are banned."
Me: "What?"
From over my shoulder: "That's got to be a hoax."
"No, it's on the Wizards page. Come check it out."
I really wish the disembodied voice behind me was right, but again I'm not going into more about that here.
Suffice it to say it means that this version of Esper Mentor is probably not viable going forward. If I'm right and Affinity gains significant metagame share, then the deck needs sweepers, probably Drown in Sorrow, maindeck. Worse, it may not be viable at all since Eldrazi will continue to gain popularity and that deck is frustratingly difficult, especially now that it doesn't have to worry about losing turn four. In fact, now that everyone doesn't have to worry about losing because they tapped out, I expect many decks to get even more linear and cut their interaction entirely. This probably means Lightning Bolt will become even more important to slow down aggro decks and so for the moment I'm tabling my Esper list. We'll see how things shake out going into the Pro Tour and Regionals, but I suspect if you want to go slow and fair, you need to be red.
If You Can't Control, Beatdown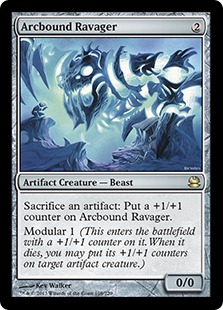 With this new and unprecedented metagame shift underway, the Level 0 assumption is that Affinity will gain a lot of ground. After all, one of its worse matchups is now gone and it was very strong beforehand. The Level 1 assumption would be that you should play a deck that beats Affinity and has game against the rest of the field. The usual suspects in that case would be GBx or Grixis Not-Twin. However, I would add to the Level 0 assumption that Bx Eldrazi will continue to rise in popularity. With its good to favorable matchup against midrange decks, one would expect a rise in Affinity and anti-Affinity would mean a favorable environment for Eldrazi to become a major player in Modern.
This might make you want to Next Level by playing anti-Eldrazi decks that also beats Affinity, which is...um...Infect? Burn and Bogles, sometimes? What I'm getting at here is that if you go down the rabbit hole of trying to turn the edge of the metagame you're likely to trip over your own feet and be crushed under a pile of poorly mixed metaphors. My advice? Take what you're playing right now and adapt it for a metagame full of Affinity and Eldrazi which for most of you means to increase your board interaction and/or speed up. For me, that means that my usual UW Merfolk deck currently looks like this:
Yes, I'm finally running Harbinger of the Tides. A faster, Affinity-heavy Modern means Unified Will is much worse than it was in August when I first cut Harbinger.
Bloom is also gone so I don't need to worry about must-counter-threats nearly as much. I've always said Harbinger was intended for a tempo and aggro metagame and since I'm betting that's where we're going I'd better start playing them. Master is not very good in a faster format where I have less time to find lands or tick up Aether Vial, so I shave one for a Harbinger. For the same reason, I've cut Tectonic Edge. It's just too slow against aggro and only sometimes useful against Eldrazi. This makes  my mana is more reliable and lets me bring an extra Hurkyl's Recall for Affinity and Hibernation for Infect, Elves, and Zoo. I'm also running Kor Firewalker to help against Zoo and beat Burn.
Note: Echoing Truth is and has always been insane against tokens. Blight Heder frequently makes a lot of tokens. So does Lingering Souls. More decks should be playing this card.
How viable Merfolk actually is will depend on just how aggro-heavy the metagame becomes since it's not favored against most aggro decks. It does benefit from Rending Volley disappearing from sideboards, but that was never too big a deal anyway. The sideboard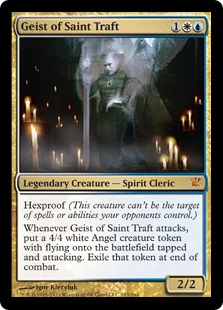 helps but I definitely don't want to go fishing in a world full of burn and naturally big creatures. That said, Merfolk does have a very good Eldrazi matchup and is extremely resilient against that deck's current answers, not to mention the incoming additions. The fish clock is very fast and Spreading Seas is surprisingly effective at slowing Eldrazi down. Merfolk has also traditionally had very good matchups against various midrange decks and Scapeshift, though I've made mine worse by taking out the Tectonic Edges. If, as the banlist announcement claims, the non-Twin URx decks rise again now that Twin is gone then those can be very good matchups as well, although Delver of Secrets // Insectile Aberration and Geist of Saint Traft are very threatening clocks and can tempo you out when coupled with a lot of removal.
As annoyed as I am, it is interesting to consider what will happen now that a pillar has been removed from Modern and how I will adapt. I just hope that pillar wasn't structurally integral to the whole house.
It's a New Day
Regardless of your feelings about it, the fact is we will have to live in this new Modern at least until April 4th. The changes don't take effect until Friday so spend this week getting your Twin on as much as possible. After that, adapt. Remember the Level 0 assumptions I mentioned are just that: assumptions. Get out and test. Who knows, maybe Wizards is right and without Twin URx is still viable as Delver or control lists. If your decks was unaffected then figure out what, if anything, needs changing.
We can't change Wizards' mind (though I've got a speech ready just in case I ever meet Aaron Forsythe) so for now all we can do is brew. Let me know how you'll adapt to this new reality and I'll see you in the comments.