Are you a Quiet Speculation member?
If not, now is a perfect time to join up! Our powerful tools, breaking-news analysis, and exclusive Discord channel will make sure you stay up to date and ahead of the curve.
The numbers are in, and things couldn't look worse. Prior to this weekend's events, which will forever go down in history as "The Day Liberty Died," there remained a small sliver of hope. Maybe the tools exist to beat Eldrazi (probably not). Maybe our future has yet to be set (seems pretty set). Maybe there's hope for us all (hope appears drowned). Unfortunately, the trifecta known as Grand Prix Detroit/Melbourne/Bologna had other plans.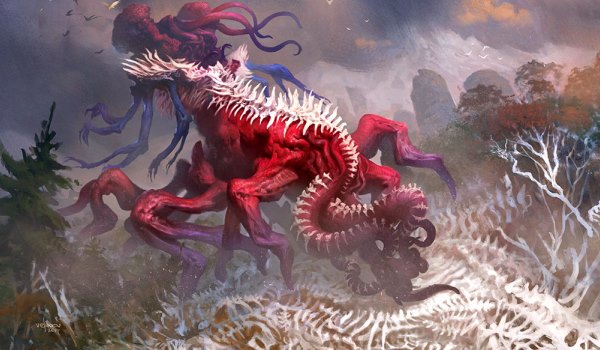 Today, we'll analyze the weekend's events, and find some diamonds in the rough to hold us over until April. Fear not, child. The Eldrazi might have enslaved us all, but we can still enjoy the shell of our lives while they are still ours to own.
[wp_ad_camp_1]
The Numbers
Collectively, the Top 8s for the three Grand Prix saw an archetype breakdown as follows. Individual event discussion will come later, but as these three events happened simultaneously it's interesting to note their combined statistics. While many of you are resigned to quit Magic until April, paying very close attention to information like this will help you get one step ahead should you find yourself in an event immediately after April's banning. Imagine for a second the edge you'll have verses players that took the month off to enjoy the sunshine, or spend time with their families, or work towards their future. The choice is clear, and victory will most assuredly be sweet.
Top 8 Archetype Breakdown – Combined
U/W Eldrazi 9**
R/G Eldrazi 5
Abzan Company 2*
Storm 1
Living End 4
Affinity 1
Bant Company 1
Dredge 1
*denotes 1st place finish
It's impossible to argue with these numbers. Eldrazi as a macro-archetype saw a staggering 58.3% Top 8 conversion rate. It's easy to overlook a statistic like that, after all, it's "only" half, but when you start to realize that this means one Top 8 contained two Eldrazi decks, one had five, and one had a whopping SIX Eldrazi decks in the winner's circle and the true picture starts to become clear. Eldrazi is busted, Eldrazi is overpowered, and the results speak for themselves. Whether the tools to beat Eldrazi exist or not are irrelevant, the results show one or more of three scenarios.
Eldrazi is just far and away more powerful than everything else, and nothing can keep up. This is the most likely scenario, as fast mana is truly broken and gaining four or more mana out of a single Eye of Ugin in a turn is just disgusting and unfortunately common.
There is nothing in the format that can keep Eldrazi in check. This is certainly not entirely true, as methods to combat Eldrazi have been found, chief among them sweepers like Damnation and bullets like Ensnaring Bridge. Even so, Eldrazi can tpyically win through these cards through raw power or sideboard tweaks.
The tools to beat Eldrazi exist, but employing them requires drastic changes that mutate an archetype into losing against other strategies in the format, and/or it's still possible to lose "favored" matches due to the inherent power level of Eldrazi and "variance." This is the most likely culprit and is probably equally to blame as #1, but is often overlooked. In the weeks since the Pro Tour, many players have demonstrated an ability to defeat Eldrazi with a particular strategy/archetype, but on a larger scale these outliers get weeded out by pure repetition. Even a deck that beats Eldrazi 6 out of 10 times has to play perfect AND do exceptionally well against the rest of the field to Top 8. Too many stars have to align for the underdog to defeat Eldrazi and the field to convert to Top 8, which (along with the fact that Eldrazi is certainly busted) explains why we see a Top 8 market share of almost 60%.
Grand Prix Detroit
Top 8 Breakdown
Finals: Abzan Company vs. U/W Eldrazi
Abzan Company 1*
U/W Eldrazi 4
R/G Eldrazi 2
Storm 1
*denotes champion
U/W Eldrazi 10
Abzan Company 6
R/G Eldrazi Aggro 4
R/G Eldrazi 3
Storm 2
Elves 2
Colorless Eldrazi 1
Bogles 1
Eldrazi Tron 1
Scapeshift 1
U/W Control 1
Grand Prix Detroit saw a strong performance out of Abzan Company, the only strategy to put up a fight against the Eldrazi menace. While Abzan Company demonstrated it couldn't keep up in a reactive metagame full of Splinter Twin/Grixis Control, it boast a strong matchup against Eldrazi, as the incidental lifegain from Kitchen Finks and solid blockers in the form of Wall of Roots and Voice of Resurgence gives the Eldrazi linear attack plan fits. This same strategy is solid against a field of Burn and Affinity as well, and access to the usual sideboard toolbox grants Abzan Company solid game against a field that has lined up to support it. It's amazing seeing both the removal heavy archetypes (Twin/Grixis Control) and fast combo (Amulet Bloom/Tron) simultaneously disappear. This left Abzan Company to focus heavily on both solidifying already favorable matchups and concentrating on Eldrazi.
Abzan Company took home the Detroit trophy, but the deck still suffers from consistency issues, "losing to itself," and all-around awkward draws, which might sound like three ways to say the same thing, but there are some differences.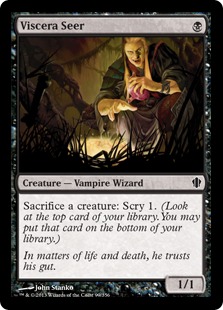 My experience with Abzan Company has taught me the deck can beat itself in many excruciating ways. Draw too many Viscera Seers? Dead. No mana creatures and a Collected Company? Better hope your opponent has a slow draw. Need to kill something ever? Good luck! Even though Abzan Company is strong against Eldrazi by design it probably loses more matches than it "should" due both to stumbling and Eldrazi's unfair consistency and velocity. If Eldrazi is still an archetype (albeit a more fair one) after the April bans, it's possible Abzan Company could rise to Tier 1, or even "best deck status." That's a long call, and will probably only happen if we see Eldrazi nerfed and nothing else shift, but still worth discussion.
Another interesting story out of this event is the Sigrist/Hayne/Strasky/Saporito performance with R/G Aggro Eldrazi. While "normal" R/G Eldrazi goes large with Oblivion Sower, World Breaker and Kozilek's Return, this streamlined list employs Lightning Bolt and Eldrazi Obligator in an attempt to push the unfair Ancient Tombs as far as they can go. Still, only one of these professional pilots was able to sneak into the Top 16, so it's probably safe to say that the stock R/G Eldrazi is better heads up.
Besides reminding us of the horrors of Eldrazi, the Day One info reinforces the Top 32 numbers, showing Abzan Company as the clear front-runner to Eldrazi. Interestingly, Infect was the best performing Day 1 deck to NOT Top 32, failing to place one of the five Top 100 Infect decks in the Top 32. We have to be careful not to put too much stock into Day 1 Top deck numbers (as Day Two Metagame Percentages they are not) but it's still worth looking at. I wonder if Wizards chose to do the Day 1 Top 100 numbers instead in an effort to try to paint a better picture of the metagame. Didn't work, but nice try.
Grand Prix Bologna
Top 8 Breakdown
Finals: U/W Eldrazi vs. U/W Eldrazi
U/W Eldrazi 3*
Living End 1
Affinty 1
R/G Eldrazi 2
Bant Company 1
*denotes champion
U/W Eldrazi 11
R/G Eldrazi 4
Living End 3
Abzan Company 2
Scapeshift 2
Affinity 2
G/w Eldrazi 1
G/w Tron 1
Ascendancy 1
Bant Company 1
Storm 1
U/R Eldrazi 1
U/W Control 1
Bologna saw a performance similar to Detroit, except for the lack of R/G Eldrazi Aggro and Abzan Company. Abzan Company still put two decks in the Top 32, but they limped in at 25th and 27th and had nowhere near the representation they did in Detroit. Instead, we observe a smattering of archetypes struggling to survive in an Eldrazi landscape, and there really isn't much interesting to see here.
What is interesting, however, is what we do NOT see: no Burn, no Infect, no Jund! It's possible
Jund was on players' minds after its previous win at Philadelphia, but I'm still surprised to not see it take at least one of the 64 slots we've looked at so far. R/G Eldrazi recurring World Breaker is definitely tough, but not enough to make that matchup "bad" any more than it already was in my mind. U/W Eldrazi is casting things like Eldrazi Displacer and Eldrazi Skyspawner which has to make our Lightning Bolt and Kolaghan's Command better, but admittedly makes our Liliana of the Veil's worse. It's possible Thought-Knot Seer is stronger than I anticipated, as it comes down like a CMC 3 card but costs four and dodges Inquisition of Kozilek. This forces Jund to have Thoughtseize to answer it, if not Eldrazi can take a Terminate and leave us hoping to draw one to deal with the threat and get a card back.
While the Top 32 might have been a bit flat, The Breakdown for Bologna is somewhat more interesting. We are still seeing gigantic Eldrazi shares, along with similar Abzan Company numbers closer to Detroit. It's possible Abzan Company ran into some hate in the later rounds to keep it out of Top 16, or variance caught up with the pilots. Despite Company's poor showing in Bologna, I still believe Abzan Company is one of the best non-Eldrazi archetypes currently.
Once we dig a little deeper, we see U/W Control taking 9 slots, almost 10%! While only one was able to Top 32, that's at least a little encouraging for any control diehards out there (read: me). Control definitely is fighting an uphill battle against Eldrazi on one hand and everything else on the other, but post-ban we might have something here. Besides some interesting Bring to Light Scapeshift numbers there's nothing else to see here.
Grand Prix Melbourne
Top 8 Statistics
Finals: U/W Eldrazi vs. U/W Eldrazi
U/W Eldrazi 2*
Living End 3
R/G Eldrazi 1
Abzan Company 2
Dredge 1
*denotes champion
U/W Eldrazi 11
Abzan Company 4
Living End 4
R/G Eldrazi 4
Affinity 1
Bant Eldrazi 1
Dredge 1
Grishoalbrand 1
Jeskai 1
Lantern Control 1
R/G Tron 1
U/R Eldrazi 1
U/W Control
Another Grand Prix, more Eldrazi. Abzan Company eanrs a solid runner-up showing, and we even have the obligatory single U/W Control list to complete the picture. It's interesting to see Living End put up a strong performance in Melbourne but less so in other venues. One thing to keep in mind when looking at these numbers is the polarizing effect Eldrazi has on the metagame. If we're seeing a deck perform in anything resembling a solid fashion, it's because it can hang with Eldrazi without folding to the rest of the field. This means Abzan Company and Living End need to have close attention paid to them in the weeks to come. Should we continue to see numbers like this up until April's bannings, we will have a new "Level 0" to focus on in the immediate aftermath.
The biggest takeaway here is Affinity's solid numbers and abysmal Top 32 conversion. 11 lists in the Top 100, but only one slides in at 17th. Eldrazi definitely has Affinity's number, with R/G Eldrazi employing Kozilek's Return as early as turn two and U/W Eldrazi packing board flooding creatures galore. Scions don't really block much, but can buy time with Drowner of Hope and ramp into Reality Smasher and the like.
Life After Eldrazi
Looking forward, the biggest questions in my mind are about:
Abzan Company and Living End
Without Eldrazi (or with a weaker Eldrazi) will these decks stay in the running, or fall back to obscurity? Are we looking at the genesis of our future Tier 1?
Burn/Affinity/Infect
The stalwarts of Modern have seemingly all but disappeared. With Eldrazi nerfed, will they return? Abzan Company probably doesn't mind, but can Living End keep up?
Is there a new deck waiting in the wings for its chance to shine?
I'll leave you with some goodies to take into your weekend. If you plan on skipping Magic until April, I wouldn't blame you, but maybe take one of these lists for a spin to this weekend's events. Remember, every lame deck format is a perfect excuse to play something you wouldn't normally play otherwise! Be experimental!
*Don't discount this list. Raymond Perez Jr. was the 2013-14 Rookie of the Year and an excellent player, and he was tiebreakers away from a Top 8 in Detroit. Don't diss on Control!
Eldrazi might be destroying everything in sight, but we can still take some fresh decks for a spin and get acquainted with archetypes we might not be familiar with. Who knows? Maybe post-April Ban U/W Control becomes the best deck in the room?! (crosses fingers)
Thanks for reading, and I'll see you next week!
Trevor Holmes
The_Architect on MTGO
Twitch.tv/Architect_Gaming
Twitter.com/7he4rchitect