Are you a Quiet Speculation member?
If not, now is a perfect time to join up! Our powerful tools, breaking-news analysis, and exclusive Discord channel will make sure you stay up to date and ahead of the curve.
That was quite a weekend, wasn't it? Two Modern Grand Prix and neither was won by a Tier 1 deck. I've said it before, I'll say it again: Modern is wide open! You can play anything and win. The key to success isn't positioning and metagaming, although both can help, but rather practice and mastery of your deck. Take ownership and you will be rewarded.
While the Top 8 results from both Los Angeles and Charlotte are interesting in and of themselves, they're likely to be discussed and remembered more for what isn't there, specifically the severely over-hyped Nahiri, the Harbinger. I'm sure that we'll be seeing plenty of excuses/explanations for this from Jeskai enthusiasts over the next week, but I'll tell you up front that I am not surprised that Nahiri didn't meet the hype. I'll get to why later, but first lets take a look at the Top 8 results. I'll try as much as possible to stick to qualitative analysis since quantitative is Sheridan's domain and he's better at it than I am.
[wp_ad_camp_1]
You Can't Fight the Tide
For reference, here's the GP LA Top 8 breakdown:
| Deck | # in Top 8 |
| --- | --- |
| Merfolk | 1 |
| RG Tron | 1 |
| Grixis Control | 1 |
| Jund | 1 |
| Affinity | 2 |
| Bant Eldrazi | 1 |
| Abzan Company | 1 |
First things first, well done Simon Slutsky! The Merfolk School is proud of you! You showed the world what we already knew about the power of Fish. This may not silence the critics or get those who dismissed us to take us seriously, but now we've got the results to back up our experience. Bravo! Especially since you had to go through not only Abzan Company and Bant Eldrazi, but also an Affinity player who was running hot (seriously, did you see his on-camera keeps? It's not normal for Affinity not to mulligan at least once).
On a frankly petty note, I would especially like to thank Simon for not playing Harbinger of the Tides. It's nice to be vindicated.
On a more serious note, and this also goes to anyone thinking of picking up the deck themselves, Don't! Activate! Vial! On your turn! Unless you're vialing in your lord to swing through blockers you never use Vial on your turn; save it for your opponent's end step. Doing otherwise just gives the opponent free information and exposes you to sweepers, like what happened game two in the finals. Had Simon held back and waited, Ethan's Whipflare could have been blanked. If you have to use Vial so Silvergill Adept can find you lands that's one thing, but you don't then play additional spells when your opponent could have a sweeper. Just don't.
Looking around the Top 8 we have an interesting assortment of known proactive decks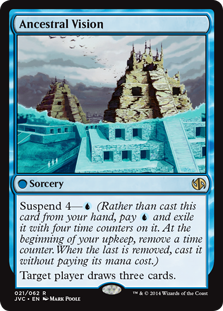 joined by Grixis Control. I am not particularly surprised by this. In a format as wide as Modern and as open as a GP, control suffers from having to focus on too much and spreading itself too thin, which make Corey Burkhart's Top 8 very impressive. His deck was also the only one from either GP to use an unbanned card in Ancestral Vision, which I also don't think is a surprise. As I've said before, its home is in slower control decks that play a lot of spells in a turn and Grixis has always been the deck that most easily takes advantage of Vision. Still, fighting your way through a field as diverse and proactive as the LA field is an impressive achievement for any control deck, so well done Corey! You've made Trevor proud.
The Takeaway
Reactive decks can work when you correctly identify where the field is going and show up prepared to interact effectively. Burkhart did this by focusing his deck on one-for-one creature removal and dropping Tasigur, the Golden Fang as quickly as possible in a field full of creature decks (the Top 32 has very few non-creature combo decks). If you're unsure about the field, just play a proactive deck. At least then you can ignore whatever weirdness the opponent brings.
Just Ignore Them
First, a complaint. If the decklists from Charlotte are any indication then it was a much more interesting field than in LA. Look at this Top 8:
| Deck | # in Top 8 |
| --- | --- |
| Ad Nauseam | 1 |
| Naya Company | 1 |
| Jund | 2 |
| Bring to Light Scapeshift | 1 |
| Death's Shadow | 1 |
| Kiki Chord | 1 |
| Coralknight | 1 |
Coralknight, Ad Nauseam, Death's Shadow, and Bring to Light Scapeshift (whose name I propose changing to Bring to Shift until someone thinks of an appropriate breakfast food to rename it)? Why were we watching the aggro field in LA when all the interesting and usually unseen decks were in Charlotte? Curse Hasbro! And its poor bottom line, for squeezing Wizards' marketing budget!
Secondly, while I'm a little surprised that a deck as fragile and frequently clunky as Ad Naus (which should also be renamed, preferably to include a boring or repetitive breakfast food) made it through the Swiss, taking a look at his Top 8 competition I'm not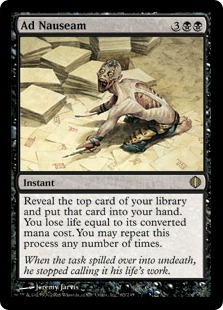 surprised that Andreas Ganz won the tournament. I'm surprised because during the Swiss, counterspells, targeted discard backed by a fast clock, Meddling Mage, and fast aggro are all hard for Ad Naus to beat (Merfolk is very good against it for those reasons).
The deck fails if it doesn't resolve the namesake card, has no backup, and cannot always go off in a timely manner. But if it doesn't just die it can effectively ignore everything the opponent is doing without fear. It just has to resolve Ad Nauseam, not die somehow, and then win. It's a nightmare for other combo decks thanks to Angel's Grace but it also loses to itself more than Scapeshift does. In the semis Ganz used the somewhat controversial Spoils of the Vault to try and go off, and ended up removing his only ways to win from his deck. Things like this are not uncommon for the deck, nor is death from running out of Angel's Graces or from poison (which gets around Grace). Infect is such a bad matchup, I'm told that I have to assume Ganz dodged it throughout the weekend.
I'm not surprised that once Ganz got through Swiss he cruised to victory, because the Top 8 was primarily midrange decks and slower combos which are good matchups for Ad Naus. Ganz had to beat Bring to Shift, Kiki-Chord, and Naya Company, none of which can race him. Only Shift had relevant maindeck disruption, though not in great quantity, and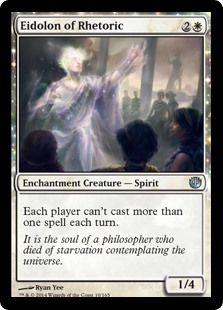 Pact of Negation neatly answers counters the turn Ad Naus goes off. Robert Graves' Eidolon of Rhetoric was the best card against Ad Naus present in the Top 8, but he didn't see the card in games two or three (assuming he boarded it in at all) so it makes sense that Ganz just did his thing unimpeded. Maybe if he had hit Death's Shadow or a Jund deck things would have been different, but given the brackets that was unlikely to happen (though the lack of coverage makes that hard to accurately evaluate). Ganz had go through plenty of aggro and Jund to get there in the first place so he presumably knew how to beat them.
Interesting note about Lightning Storm: anyone can use the charging ability. This means that as a Merfolk player I've won by discarding a land and redirecting the Storm to Kira, Great Glass-Spinner to counter the spell. Food for thought.
I'm also impressed by Eli Kassis' Coralknight list, even if Wizards has given it a far less evocative name. I've been testing Coralknight myself and it always felt like a worse version of Abzan Company since you couldn't find the combo with Collected Company. Eli appears to have made up for this with Courser of Kruphix and Westvale Abbey // Ormendahl, Profane Prince, the former enabling him to get lands out of the way and the latter letting him use all the Collected Company fodder and mana dorks when he can't win the aggro or value game. It's a solid deck and I'm impressed by the result. Keep an eye on this one, it might turn out to be what brewers have been looking for.
The Takeaways
While I have no way of knowing if this is true or not, the Charlotte Top 8 looks like it's full of pet decks. There's a Kiki-Chord deck with Nahiri, Ad Nauseam, Naya Company(!) with Domri Rade(?), Bring to Shift with Hunting Wilds, and Coralknight---even the Jund decks show tremendous variation which can only be described as personal choices.
If LA was about being proactive and fast, Charlotte was about experience and ownership. The players who had tuned and refined the decks they were experienced with were rewarded. Conversely you don't see many stock or metagame lists even in the Top 32 (whether this applies to Infect is a matter for debate). The lesson then is that the work you put into Modern over the long term is rewarded, so you need to pick your deck and stick with it, even if the pros are only slowly catching onto this fact.
The Hype that Never Came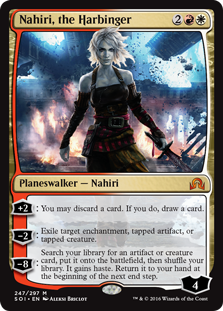 So remember all the hype surrounding Nahiri, the Harbinger in the lead-up to last weekend? The cynically skeptical among us are going to point to only two copies of Nahiri cracking the Top 8 this weekend as proof of her weakness and derisively mock those who thought she was the Chosen One to Bring Back Control. The more reasonable skeptic might argue that the right list hasn't been found yet and that the potential is still there given there were a combined four dedicated Jeskai Nahiri decks in the Top 32s. Those that bought in are probably worried about their investment and regretting paying the rather exorbitant price Nahiri currently commands. So what happened?
I was never on the Nahiri train, partially because I've been burned by hype enough to never buy in anymore, and partially because the combo with Emrakul, the Aeons Torn looks like a Christmasland scenario. Its tempting to just make a blanket statement like, "It's too slow," or, "It's not the combo you think it is," and just call it a day. But I like to think that I'm better than that and you expect more from me, so instead lets start by unpacking the Nahiri combo.
Nahiri, the Harbinger is a four-mana planeswalker with four loyalty. Her first ability gives her two loyalty and lets you discard a card to draw a card. Her second ability lets you spend two loyalty to exile a tapped artifact or creature or any enchantment. Her eight loyalty ultimate lets you search for a creature or artifact, put it directly onto the battlefield and then return it to your hand at end of turn. This means that you go get Emrakul, attack for 15 and make the opponent sacrifice six permanents. Thanks to the fetch/shock manabases of Modern this is usually enough damage to win on the spot. If not, it usually gets the concession anyway by wiping the opponent's board and making it impossible for them to come back.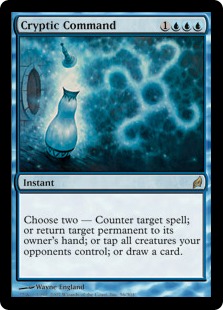 You've probably noticed that I included a number of qualifiers about that combo with Emrakul. There is absolutely no guarantee that the ultimate will win you the game, and I don't just mean combo decks using suspended Lotus Blooms to get around the annihilator trigger. Against sprawling boards and decks that don't damage themselves, a single Emrakul attack will not win the game nor will it turn around a losing position. It's also possible to prevent Emrakul from doing anything thanks to Cryptic Command or Hallowed Moonlight. I never thought a single Emrakul hit was good enough, and if that's how you want to win a game there are much better ways of going about it.
Then there is the issue of investment. To pull off the combo takes three turns, two of Nahiri ticking up and then one to ultimate her. That's a long time. If anything disrupts Nahiri, even a little, then it takes a lot longer. Those turns are all draw steps that might find a permanent answer to Nahiri or simply turn around the game for your opponent and let them race the ultimate (say, a removal spell for a blocker or a haste creature). Control players know that in Modern it doesn't take much for you to lose control, and the time between resolving Nahiri and tutoring for Emrakul might be all the opponent needed to get back into the game.
I want my win conditions to force my opponent to answer them when they resolve or die, not give them the opportunity to draw out of it before I actually do anything. Besides, if you're in position to pull off the "combo" you've probably got things well enough in hand that any win condition would have done it, in the same or less time. Hence I never thought the combo was necessary, and there are more reliable ways to win out there.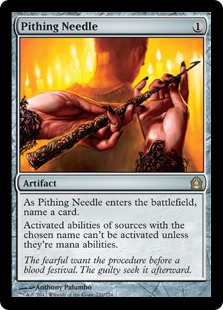 The final issue I have with the Nahiri "combo" is answerability. When you resolve a Baneslayer Angel and your opponent kills it, that's not so bad as long as you have another in your deck that will require another answer. With Nahiri, that works against cards like Celestial Purge and Dreadbore (which actually was played last weekend), but there are other cards that answer the entirety of the combo with a single card.
Grafdigger's Cage turns Nahiri from your win condition into a value engine, which is not bad but it can't actually win you the game. Pithing Needle (which I think is criminally underplayed, by the way) is even worse. A single Needle creates five dead cards in the combo deck (how likely is it for any of the Nahiri decks to hardcast Emrakul? Be honest with yourself). Had Jeskai Nahiri performed well this weekend, I would currently be advocating that all of them maindeck Engineered Explosives or Wear // Tear just so they don't lose to that maindeckable answer to their entire combo. Yes, other planeswalkers have the same problem, but those decks have additional win conditions for that very reason while that isn't true of most Nahiri decks.
In short, relying on Nahiri combo to win you the game requires too much to go right for me to consider it viable. Sorry control players, but you should file this latest hype train alongside Thopter combo and Ancestral Vision in the disappointing and overhyped bin.
That Being Said...
Nahiri herself isn't that bad and could definitely continue to see play in a more traditional role. The first two abilities are very reasonable and the utility is enough to justify the investment. It isn't impossible that going deep and playing madness cards with her is a viable option. What she should be used for is a value engine that, when circumstances allow, can tutor for whatever win condition you're already running. I've seen Mardu lists that use her to tutor for Grave Titan and that seems like the actual optimal use for her ultimate. Make two zombies, attack for six and two more zombies, replay the Titan next turn for more? That I can get behind!
In other words, use her as a bonus rather than the primary win condition, and I think you'll be more successful and also far less vulnerable to one-mana artifacts. Nothing feels worse than losing to Pithing Needle; don't make that a possibility.
Modern's Back!
If nothing else, the takeaway from the past weekend is that Modern has really and truly emerged from the grip of Eldrazi Winter. The dreaded deck is still hanging around but it is nowhere near as prevalent or dangerous as it was in the past. Now is the time to get out there and explore! And learn to play your Vials correctly. I find wrongly timed activations offensive.
See you next week with another edition of Welcome to Modern!