Are you a Quiet Speculation member?
If not, now is a perfect time to join up! Our powerful tools, breaking-news analysis, and exclusive Discord channel will make sure you stay up to date and ahead of the curve.
This week, I want to focus on SCG Orlando. While it's true that Kaladesh will be out shortly, bringing with it a possible shift in Modern, discounting a whole high-level event's worth of data due to the fact that the format might change soon sounds a little foolhardy to me. I plan on discussing Kaladesh spoilers and theorycrafting soon, but for now, I'm sticking within the realms of quantifiable data. As we are on the brink of a possible shakeup, this week's analysis will be framed more along the lines of expressing "broad format conditions" rather than "specific time-sensitive advantages." Let's begin!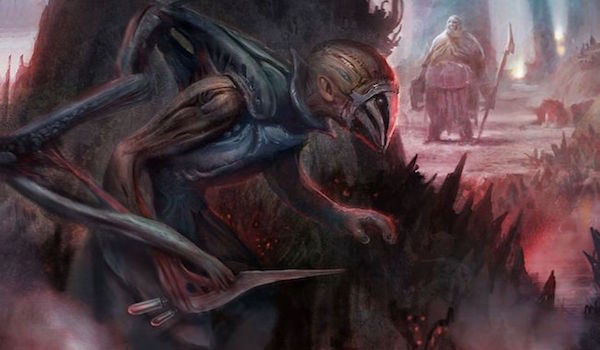 To begin, let's look at a breakdown of the Top 8 finishers at SCG Orlando:
2 Infect
1 Goryo's Vengeance
1 Affinity
1 Knightfall
1 Bant Eldrazi
1 8-Rack
1 RG Valakut
In contrast to recent event results, Orlando's Top 8 looks…fun. By this I mean that it doesn't really look like results I've personally come to expect from a high-level Magic event. No Jund in the Top 8, no Jeskai Control, no Abzan. Recent top performers like Burn, Dredge, and Death's Shadow Zoo are also absent. In their place? FNM decks! When I see 8-Rack, I immediately think about that one guy at FNM, or the goofball on MTGO that has Liliana of the Veil but not Tarmogoyfs and ruins somebody's day. Knightfall is another deck we see in Open Top 8's only rarely. Of note too are the contents of the second page---a smattering of Eldrazi and Infect and still no BGx to be found. What's going on here?
[wp_ad_camp_1]
Midrange in a Bind
Clearly, the format conditions have shifted to a point where midrange is bad for results like this to be happening. A large portion of this blame can be placed on Bant Eldrazi, which is just powerful enough at every point of the game to give reactive decks like Jund and Jeskai Control fits.
While almost every deck in the format can claim a strong matchup against Burn given the right amount of sideboard hate, players are currently spread thin trying to fight Infect, Affinity, Eldrazi, Dredge and a multitude of other unfair strategies. As a result, the format has gotten more linear and non-interactive as a result. The midrange decks "fighting the good fight" have largely been pushed to the side, leaving everyone in the room to their own unfair devices. Modern has become an amalgamation of turn-four decks and linear strategies focused on executing their own gameplan as fast and consistently as possible.
Here's your champion:
Infect, by Brad Carpenter (1st, SCG Orlando)
With Jeskai Control and Jund Midrange on the downswing, the time has never been better for Infect to put up strong results. When removal decks are no longer around and everyone's streamlining their builds in an attempt to race, Infect will continue to dominate. Affinity, Burn, and fast combo can try and race, but Infect can win on turn three frequently, and turn four consistently, even through some disruption. This was clearly Infect's week.
Most lists are usually tight, but there is still some information to be gained here.
3 Kitchen Finks in the board is a clear sign to me that Burn was forefront in Brad's mind. This line of thinking is easy to get behind, seeing as Burn just won one of the latest major events, but Brad's choice also highlights what we suspected before: midrange is just not good right now. With few removal decks around to grind us out, Brad was able to take advantage of great positioning, while tuning his sideboard to fight his toughest suspected enemy on the weekend.
Looking ahead, if players continue to pack hate for Burn we could see one of two scenarios. The first involves Burn being successfully hated out of the top tier by archetypes continuing to pack midrange lifegain cards like Kitchen Finks to fight it. This doesn't automatically translate to decks getting "slower" by employing value cards, but conditions could possibly head in that direction.
In a diverse field like the one we see now, choosing a flexible spell like Kitchen Finks that can gain life while also providing value in a variety of matchups is much more desired than a narrow answer like Leyline of Sanctity (or Worship). For Infect specifically, they often must choose between Kitchen Finks and Spellskite due to mana constraints.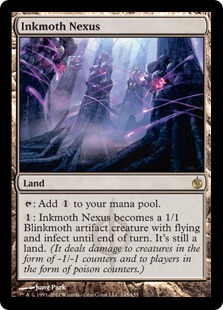 As an aside, Spellskite is (in my mind) the worse choice right now. The current lack of removal in the format reduces its necessity and it's weak to the Ancient Grudge/Destructive Revelry we can expect Burn to be siding for our Inkmoth Nexus.
The second scenario involves an opposite set of results. Players cut sideboard spells for other matchups that have been held down for a while (Dredge/Living End) to fight Burn, at which point those decks start to come back into the fold. Both scenarios lead to a continued linear metagame, but the specific makeup is important to consider. In a slower metagame we might start to see midrange take some market share again, and things could start to look similar to a few weeks ago, when Dreadbore was the hottest card on the block thanks to its ability to kill the "unkillable" Nahiri, the Harbinger. In a Dredge metagame, one linear combo-type deck is replaced with another, and Infect continues to put up strong results.
Griselbrand & Co.
Another linear deck that has been outperforming expectations of late is Goryo's Vengeance Reanimator. Here was the deck that took 2nd place:
Goryo's Vengeance, by David Sharfman (2nd, SCG Orlando)
Who needs Borborygmos and Nourishing Shoal when you can just Emrakul, the Aeons Torn all day?! Collective Brutality is the real key to this deck, giving the archetype a maindeck piece of hand disruption while simultaneously throwing a Griselbrand in the yard (or Emrakul when we have four mana to Vengeance it back immediately).
Ten cards that set up our combo while looting or disrupting our opponent (and killing things, and gaining life) is a bunch of good things, and Sharfman's deck looks terrifyingly consistent.
Really though, this deck is doing well thanks to its speed and the lack of Thoughtseize and counterspells in the format. Sharfman could totally play a Boseiju, Who Shelters All and doesn't, which should ring some alarm bells that the format is currently pretty polarized. With four Leyline of Sanctity in the board to fight Burn, and a bunch of removal for the other aggro decks in the format, Goryo's Vengeance can beat up on the top decks, while taking advantage of those decks' role in pushing out other strategies that could give a list like this trouble (Living End/Dredge).
Stemming the Tide
It seems to me that if we're looking to stop this arms race of linear decks, the answer lies in the viability of midrange. Without a true stopgap at the top end of the format (a title once held by Splinter Twin) I imagine we'll continue to see conditions like these, where midrange is successfully hated out for a while, and everyone carries on playing whatever crazy decks they can,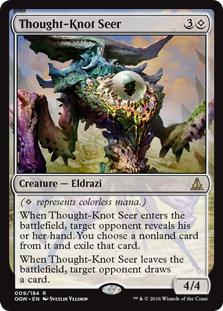 rioting for a while until the format police can suit up and get things under control.
The real villain here isn't Infect or Burn, as they've been around for years and the tools to beat them have been fired up multiple times in the past. No, the blame for the conditions of this past weekend rest squarely on the shoulders of Bant Eldrazi.
While it only put one copy in the Top 8 of this event, the triple GP weekend and the events leading up to it are not that far in the past. I still believe Bant Eldrazi is incredibly powerful, and primarily to blame for the poor performances of BGx and Jeskai Control. Thought-Knot Seer, Reality Smasher, Matter Reshaper, and company are powerful, but Ancient Stirrings is the real glue that holds that deck together and pushes it over the top. Currently Eldrazi has had trouble fighting a diverse field of fast, unfair strategies, but I expect it's only a matter of time until they either develop an answer or the format comes back around to ideal conditions for them to dominate again.
The Best of the Rest
Beyond the finalists, Tom Ross doing well with 8-Rack and Michael Majors doing well with RG Valakut don't really surprise me, and I wouldn't put too much stock in the results. While I think if Tom stuck with Infect he might have won the whole thing, he clearly made a solid choice and did well with it. I think a lot of credit for his finish has to be given towards the skill of Tom as a player and the relative inexperience of his opponents during his matches, as not many people can claim any sort of proficiency against 8-Rack.
It's just not a widely played deck, and stereotypically doesn't attract the strongest players to its banner. Still, it was a great choice for the weekend, as card draw is at its absolute worst right now. When nobody is drawing cards, 8-Rack is actually not a bad option.
Outside the Top 8, a lot of Bant Eldrazi gives a possible ominous warning of things to come, and a few finishes from Burn and Jeskai suggest that the decks both have legs (which we know, obviously) but are facing a hostile field. The second Top 8 for Knightfall shouldn't be ignored, and it's high time I dust off my copy of the deck and take it for a spin. Heading into Kaladesh, I'm looking at new cards, but more importantly I'm focusing on what conditions would have to change to see a return of midrange to the metagame.
What do you think about this week's results? Any cards from Kaladesh that you think will make an impact? Let me know in the comments below!
Thanks for reading,
Trevor Holmes
The_Architect on MTGO
Twitch.tv/Architect_Gaming
Twitter.com/7he4rchitect