Are you a Quiet Speculation member?
If not, now is a perfect time to join up! Our powerful tools, breaking-news analysis, and exclusive Discord channel will make sure you stay up to date and ahead of the curve.
The start of every spoiler season brings the promise of a shakeup in Modern. Whether it's Jund players speculating on Bloodbraid Elf (again), a new mechanic showing promise, or a single powerful-looking card, the Modern community always goes berserk trying to fit new cards into the format. And within a week of release most of that chatter has died off when it turns out that Wizards' Standard design philosophy doesn't mesh with Modern's efficiency. Occasionally though, something slips through. Something worth examining more closely.
If you're living under a rock or are better at ignoring Standard then I am, you may not know that Smuggler's Copter is a good card. The only Standard event of appreciable size so far featured 32 Copters out of 32 possible in the Top 8. It's an amazing card, despite the format's youth. This has led many to speculate that it's Modern-playable as well. Some have even tried it. From what I've seen, it has been disappointing. This is not a knock on the card, because the potential is there. It hasn't found its home yet. Copter will never be format-defining as it (might) be in Standard, but it could be a good role player.
[wp_ad_camp_1]
What is Smuggler's Copter?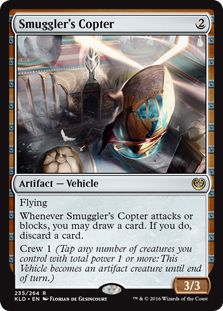 As I always do, let's begin by examining the card in question in a vacuum. While Copter may look like an artifact creature with an odd border, and a very good creature at that, it actually isn't. It's a new card type called a vehicle. As the name implies, you (sort of) place creatures into it and they make it go (that sounded better in my head). To do that you crew the vehicle, tapping creatures with power equal to or greater than the crew number. In other words, when you cast Smuggler's Copter you are casting a two-mana artifact that says Crew 1. Unplayable.
Until you shove a one-power creature in there to pilot the thing, that is. Suddenly, you have a 3/3 flier that lets you loot whenever you attack or block. That is a card worth looking at. Cheap fliers are very good. 3/3's for two are good. And it's a colorless artifact. Together, those stats indicate that we have a very potent card on our hands (and that Wizards may be underestimating the new mechanic. Again). Add in the option to loot and this card looks insane.
What deck can run this? It has to have creatures, and they need to be worse than a 3/3 flying looter. If not, why would you stick them in the Copter? Therefore it needs to be reasonably aggressive. Not necessarily an aggro deck, but the slower the deck, the bigger the creatures that can be run and therefore the less need for the Copter. Graveyard synergy would be a plus, but it isn't necessary. Any deck can benefit from looting, whether by mitigating land flood or screw, or enhancing the chances of seeing their best cards. On the surface, it looks like Smuggler's Copter fits everywhere.
The Obvious Starting Point
Most of the buzz and discussion, especially initially, was about Copter in Affinity. It's an artifact, it's a creature. Made sense.
Except it really doesn't. Affinity is a pile of enablers for some incredibly powerful cards, chiefly Arcbound Ravager and Cranial Plating. A creature wearing a Plating is much better than one in a helicopter...somehow? (I don't think we're supposed to look too closely at the "reality" of such things, to be honest.) Feeding useless artifacts to Ravager is also quite good. Copter doesn't really contribute to that game plan.
The second problem is crewing. A 3/3 is better than an 0/1 or 0/2, but neither Signal Pest not Ornithopter can crew it without help. Realistically the only creature that you want to crew Copter with is Memnite and occasionally Ravager. Those aren't great odds of getting airborne.
The other problem is that Copter doesn't really help Affinity by improving a strength or reducing a weakness. It's just as vulnerable to artifact destruction as the rest of the deck and is shut down by Stony Silence. Affinity almost never wins long games and dumps its hand quickly, so improving draws into the late game is pretty irrelevant. This is not the home you're looking for.
More Than Theory
This is not just theory on my part. I may not be an Affinity player personally, but I regularly play against a number of them. They all agreed that Copter added nothing to Affinity's best draws, but they also noted that (depending on what you take out) it also doesn't really hurt you. It's an artifact, it attacks, it feeds Plating and Ravager. Not great, but also not bad.
One player did try it out and he confirmed that it's very meh in Affinity. When he crewed the thing it was pretty good, but given the choice between crewing and doing anything else with a creature he never crewed. The opportunities to do so were few, and the times when it wasn't better to just attack with that creature and Signal Pest or Plating were fewer. It's not bad when the ground stalls and all you have is Memnite, but it's not good enough to become a staple.
Remember the brewing rules:
If you're making a new deck, it has to be better than an existing deck or be actually unique.
If you're adding new cards to a deck, they must actually improve it.
As far as Affinity is concerned, Smuggler's Copter just doesn't cut it. It doesn't do anything that Affinity can take advantage of, or that it doesn't already do.
Finding a Home
If you want to play Smuggler's Copter in Modern, and given its early performance in Standard I imagine many do, we need to find the right home. Two avenues jump out at me. The first involves improving your creatures. This would effectively turn Copter into a piece of equipment. The second is as an enabler for graveyard synergy and madness, intending to leverage the looting ability.
Take to the Skies
If we use Copter as a creature buff, it makes no sense to try it in synergy deck. There's just nothing to cut from those decks. Merfolk and Elves need their namesake creatures to function and don't have much room for anything extraneous. The fact that Copter has no synergy in such decks is devastating. Yes, a 3/3 flier is better than Llanowar Elves in a race, but it doesn't benefit from Elvish Archdruid or Ezuri, Renegade Leader, or buff Nykthos, Shrine to Nyx. It is also a blank for Chord of Calling and Collected Company. They just don't need the lift.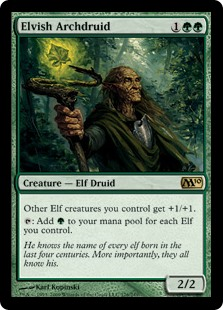 Frankly, we're looking for a Standard-style deck, and the first one to come to mind is Eldrazi. Its creatures are individually good but don't synergize to build an overwhelming board advantage, just like most Standard decks. The problem there is that the creatures that have power are all better than Copter. I doubt that looting is better than just attacking with your Thought-Knot Seer, and it's definitely not better than Reality Smasher. While it's technically better than an Eldrazi Spawn, you weren't planning on attacking with them in the first place (unless it's for the win). I don't think it fits.
When I think of a deck that needs to improve its creatures, I think of Death and Taxes. As good as the disruptive creatures are, they're just not very impressive as beatsticks. In the past I've tried to include Honor of the Pure, Glorious Anthem, and equipment to fix this problem and it never quite worked. The anthem buff just wasn't enough to power through a stalled ground and they were fairly irrelevant where evasion creatures were concerned. DnT also has situationally dead cards that you'd be happy to loot away, namely extra Thalia's and Aether Vials.
Is this deck good? No clue, I just made it up and haven't tested it yet. That said, allowing Thalia to do something positive on a stalled board doesn't seem bad. There are a lot of fair decks that struggle against fliers and adding more to the deck isn't the worst way to get more wins.
Past attempts to make equipment like the Swords of X and Y work in DnT haven't been too effective thanks to Abrupt Decay and the steep cost of equipping. They're just not that efficient against removal-heavy decks, which is where DnT really needs them. Copter is better because there is no mana cost to crew. You're no less vulnerable to creature removal than before, but now you have mana available to do something else on your turn. That alone makes vehicles attractive.
To the 'Yard
In terms of enabling graveyard strategies, Copter probably isn't worth it. Dredge has better options and combo decks don't have the creatures. However, we might get somewhere by using Copter to set up delve spells or Snapcaster Mage. Thought Scour is almost certainly better though.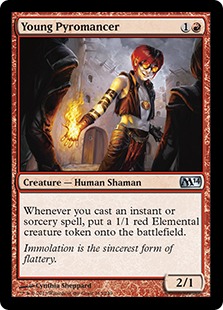 Honestly, my initial thoughts regarding Copter didn't center around DnT, but rather tokens. BW Tokens and Young Pyromancer decks both make creatures that are worse than Copter and have a lot of dead draws that they'd like to loot away. Tokens has a lot of synergy elements that don't gel with Copter, but Pyromancer decks do want to dig for cards, utilize evasion, and stock their graveyards.
Pyromancer decks frequently don't care how small their tokens are, intending to run the opponent over with numbers. In that sense Copter is superfluous. However, Pyromancer decks need to keep their spells flowing and would really like a good looter. Some decks have previously run Jace, Vryn's Prodigy in that role, though he's never really excelled. He flips very quickly and I personally was never impressed with Jace, Telepath Unbound. Of course, thinking along those lines leads naturally to Grixis Delver. Since we have an expert on this site, I'll leave it to him for a judgment of worth (Ryan, thoughts?). Grixis Midrange/Control uses looters more often but they're not likely to want to crew a Copter.
To the Value
I think it's far more likely that a deck that wants an aggressive looter wants a looter that attacks, not one that enables the graveyard. Such a deck wants to smooth its draws, find specific cards, and attack. Yes, I know this screams Delver but I'm actually thinking of Jeskai and UR rather than Grixis. The Grixis decks need a large volume of cards in their graveyard and aren't picky, meaning Thought Scour will always be better there. The other Delver builds like having spells in hand and Snapcaster fodder more than random cards in the graveyard and are less likely to play Scour.
Jeskai in particular seems like a good candidate. It needs a boost more than other Delver shells and can utilize value looting the most. Jeskai's problem has usually been that it occupied a weird space in the metagame. It isn't as focused and stable as UR Delver, while it lacks the power of Grixis's delve creatures or Temur's Tarmogoyf. The main reasons to go with Jeskai are Geist of Saint Traft, Restoration Angel, and Path to Exile. Path is fine, but Resto has the problem of being a four-drop and Geist is very situational. Against control and combo he's excellent but creature decks just laugh. Giving the ghost a ride makes him less worthless against creatures, and also lets you cycle extra copies while digging for the lands to play Resto. You can also get use from Delver of Secrets when he stubbornly refuses to embrace his insectile destiny.
Is this deck better than Grixis Delver? Don't know. In goldfishing I did like the additional reach and consistency Copter granted. I don't know if this is a good Delver list, but it is a good Copter home.
To the Crash
If Smuggler's Copter isn't going to pan out in Affinity, it may yet pan out in Modern. It is a powerful card that could fit anywhere, even if we haven't found that place yet. I will definitely be trying out the DnT list soon, so stay tuned. There's an equal chance that I'll crash and explode as lap the field.