Are you a Quiet Speculation member?
If not, now is a perfect time to join up! Our powerful tools, breaking-news analysis, and exclusive Discord channel will make sure you stay up to date and ahead of the curve.
I've had a theory for a while about the supposed health of Modern. Diversity is a big talking point for people who want to play Modern or Legacy over Standard, and I'm not sure it's quite as diverse as people want to think. It's diverse in the sense that a lot of people play a lot of different decks, but I'm not entirely sure how much of it is by choice. The relative expense of Modern and difficulty of switching decks causes a lot of people to hone their talent with one deck rather than switch to the perceived best deck. I think this is a big part of the reason why Modern and Legacy look more diverse than Standard.
The definition of a truly diverse format varies from person to person. For some it means you can play literally anything you want and still win with it, while others will content themselves with the presence of a deck for every play style. A lot of people say Standard isn't diverse because two decks make up a large portion of the top performing decks. Does that mean that other decks aren't good, or that people don't want to put the time in to make them good?
[wp_ad_camp_1]
Diversity and Cost
Maybe it means that decks are pretty inexpensive and that it's relatively easy to change to the perceived "best deck." Taking a quick look at the 5-0 competitive Standard leagues on MTGO, UW Flash finished 5-0 in approximately one to three of the 10 slots for the past two weeks.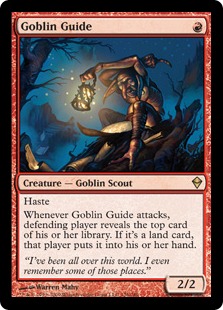 For Modern, almost every Competitive League has exactly one Burn deck that goes 5-0.
Does that mean that Modern is diverse and Standard isn't? I'm not really sure. But assuming we do consider the number of distinctly different decks as a sign of a healthy metagame, then is this diversity in Modern a product of the larger cardpool, or simply because it's really hard to switch decks?
I think the latter factor is far more important than people have generally accepted. Today I'll explain what obstacles are in place that prevent Modern players from switching decks, and how each might be affecting the metagame overall.
Cheap cards promote an easy switch
When the best decks in Standard were price behemoths with 10-12 fetchlands and 4 Jaces, Standard was pretty diverse. Most people couldn't afford to play decks that had all of those expensive cards so you saw a lot more Siege Rhino midrange decks.
With good mana, sometimes it looked like all of the decks were the same, but the reality of that format was you could play whatever you want. Sometimes you played against a Kalitas, Siege Rhino, Crackling Doom deck. Sometimes it was a Mantis Rider, Kolaghan's Command, Jace deck.
Modern is seeing some of the same trends. You want to bring Bogles to a Grand Prix? You can probably win a ton of matches and feel like the deck is really good. Does that mean that Bogles is actually a good deck choice? It depends on what people are playing. If you get matched against Lantern Control and Sun and Moon decks early, you could be dropping before lunch. I don't usually consider decks that have such a hard time beating certain obscure cards "playable." Many people will disagree with that assessment—but there are others who do agree but continue to play decks with these weaknesses anyway. Why do they do it?
It's really hard to switch to the best deck in Modern
Ultimately it comes down to cost. Most decks in Modern have almost no overlap in cards. If you're playing Affinity and think that Jund is the best deck in Modern, how much does it cost for you to switch decks? You're basically forced to purchase the entire deck and learn all of the Jund matchups from scratch. The financial and mental cost of switching decks is so much for some players that they simply refuse to do it.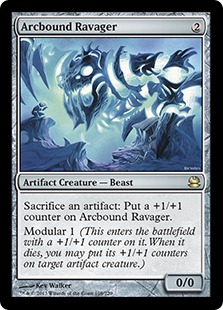 As Modern card prices drop, the metagame seems to get more focused. We can see the effect pretty easily on Magic Online. The Modern metagame changes quickly online and focuses so much more than it does in paper. A big reason for this is that the amount of money you lose for buylisting cards is so much smaller. For example, as of writing the buylist price of an MTGO Arcbound Ravager on Cardhoarder is 6.89 tickets (tickets are worth approximately $1). The sell price is 8.08 tickets. This makes a spread (or what you'd lose by selling them at buylist) of 15%. The spread on paper copies is 37% (assuming buylist of $24 and retail price of $38). So the opportunity cost just for selling and repurchasing a Ravager is more than double in paper. This differential is pretty typical for format staples.
This may be one of the main reasons why people just "play their deck" rather than try to figure out a way to buy a better one. MTGO cards are also just a lot cheaper by virtue of constant reprints via flashback drafts, and a higher volume of drafting in general. You know one of the biggest symptoms of easier access to cards? Entire decks can just fall off the MTGO radar. You might find some 8-Rack enthusiast practicing on MTGO once in a while, but you're more likely to play against five Burn opponents in a row.
The cost of learning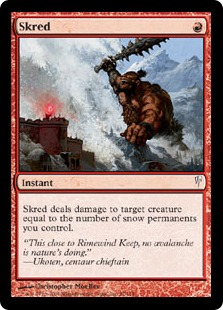 When there are fewer decks to test against it's definitely a lot less mentally taxing to learn to play a new deck efficiently. I've been playing Burn for close to three years. I still haven't played every matchup in Modern yet, but you learn a lot from playing similar decks. I'm pretty sure the only time I've played against a Skred deck was piloting Twin against Jeskai Skred. Does that mean I won't be able to adapt and win a match against Skred Red? No, my familiarity with how Burn sideboards in general should be enough to figure it out. I'll obviously bring in Kor Firewalkers if I have them, and ways to kill artifacts, since I assume some number of Ensnaring Bridges or Dragon's Claws are in their deck. But past that, I don't think I need to play the matchup to know how to win.
On the other hand, I've been playing Dredge casually for maybe a month. I'm not sure if I could find the correct configuration of cards to win sideboard games. Does that mean that I can't win them? No, but it is definitely a cost that I would pay if I were to switch decks. With an unprepared metagame, Dredge is likely my choice for the best deck in the format. But I'm not going to play it at the RPTQ because I know I don't have the experience necessary to play it at a level I'm comfortable with.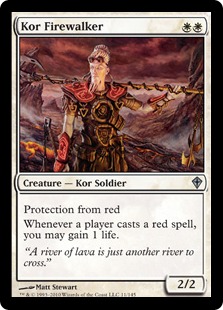 Has any of this run through your mind too? I have to believe I've never had this experience with Standard because the reality of the situation is the smaller card pool is just easier to learn. Even when there are tons of different decks and configurations, I can figure out a way to win in any situation. There are just too many situations that could come up in Modern that require prior experience to navigate expertly. The amount of investment required to learn a new archetype is another thing that keeps players from adopting the best strategies. Maybe a player thinks that Lantern Control is better than their current Affinity deck (and they even have some expensive overlap in staple cards) but they won't make the change because they don't believe they know the matches well enough.
What Can Modern Masters Do for Diversity?
I've already explained the two major barriers to switching decks (money and time)—what happens if one of them is almost entirely eliminated? Reprints bring down the cost of decks pretty significantly (usually). What happens when decks get cheap enough that players can own more than one without feeling bad? I think we are going to see a big contraction in the number of Tier 3 and lower decks and a larger percentage of the meta will become Tier 1 decks.
Is that bad? Maybe, but it will start to make Modern look a lot more like Standard than Legacy at some point. As the number of decks people play decreases, the number of matchups you need to prepare for also decreases. The reality of lower price of entry into Modern is that there will just be fewer decks that people are willing to play. When players weigh the pros and cons of playing certain decks, there is definitely a lot of thought given to the cost of the deck.
Going Forward
We've seen a pretty big downward trend in the price of a lot of Modern cards. Some of it is anticipation of a reprint (like Snapcaster Mage) and some of it is just decks falling out of favor. At some point the demand for these cards will be so low, because of the perceived cost of the deck, that the bottoms will fall out on some of them. Tarmogoyf is a status symbol in Modern. It has fallen $10 in the last month after a year of decreasing price.
While it's the end of the year and prices are likely to sag, an 8% drop on a Modern staple in one month is significant. If this begins to happen to most other staples, I think we'll begin to see a shrink in Modern diversity.
Modern is the most successful and most played format in Magic right now and that likely won't change. There's an even split of Star City Games Opens (between Modern and Standard) in the first half of next year, but I would be extremely surprised if Modern didn't continue to grow and overtake Standard. There is an obvious draw to Modern due to its low long-term costs and increasingly lower barrier to entry. Years of reprints and bans have brought the format to a place where almost anyone can buy in.
I'm worried that with the arrival of even more reprints in Modern Masters 2017 we will see people gravitate to a smaller number of decks. Reprints heavily incentivize people to purchase decks that receive them and I don't think we're too far off having more of the top decks become a larger part of the field as a result. I know it seems weird and counterintuitive, but I think the more reprints we see, the less people will start to enjoy Modern. The freshness and openness is largely influenced by the price. As we see prices go down, we may also see a decrease in the things that make Modern great.