Are you a Quiet Speculation member?
If not, now is a perfect time to join up! Our powerful tools, breaking-news analysis, and exclusive Discord channel will make sure you stay up to date and ahead of the curve.
This one isn't going to have much analysis. You could call it an opinion piece, but really there isn't an opinion I'm arguing here. Rather, this week is just one unfiltered voice, from one Magic player to another. Call that a disclaimer if you want, but today I'm going to be talking about some of the more ephemeral subjects that rarely get discussed. What it's like to be a "writer." How it feels to go through the ups and downs of Magic. What exactly I find enjoyable in this game. At the end, I'll try to tie it all together with a discussion of my goals as a writer. And don't worry—there's a decklist in there for you all too.
If this article isn't of interest to you, I hope there's no hard feelings. Enjoy your Thursday, have a good Christmas weekend, and I'll see you back next week for more usual content. If the tone, topic, and content of this article is of interest to you, let me know in the comments below. I started writing to get better at Magic, to get better at writing, and to get my name out there—but more than any of that I started writing to have meaningful conversations. Hopefully this is one of them.
[wp_ad_camp_1]
Balancing Pressures
When I joined Modern Nexus last summer, I was at the peak of my Magic career, streaming regularly, qualified for Pro Tour Vancouver, and basically living and breathing Magic: The Gathering. Standard was my addicting grind, Modern my love of choice—the Summer of '15 was a blur of Lightning Bolt, Thoughtseize, and Courser of Kruphix. Those times were a blast, but realistically unsustainable.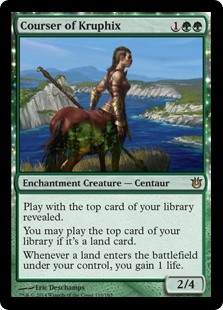 Halfway through a demanding degree, I couldn't sustain the full-time Magic life, and I saw my playing time gradually yet steadily decrease, replaced by textbooks and time clocks.
We've all experienced this, some of us multiple times over. Before my latest lapse, I sold out of my Magic collection three times. Once for bills, once to buy an engagement ring, and once to fix my car. I no longer have that car, or that ring, and I'm still paying for bills. In the six years I've been playing this game, I've gone from playing in tournaments daily, to playing in them monthly, and then to none at all. I haven't owned a real paper Magic collection in at least two and half years now. This is the life cycle of your normal Magic competitor.
Perhaps it's the closet psychologist in me showing through, but how is this aspect of our game rarely discussed? Week in and week out, dozens of MTG strategy sites hawk their wares from every corner, enticing star-struck passersby with their promises of fame of fortune. After each high-profile event, thousands upon thousands of words are spent upon one topic: the edge. We are all looking for that clue, that intangible thing that will elevate us to the stars, looking up to grasp our just-out-of-reach aspirations while right beside us our colleagues are falling away. Imagine a highway, with dozens of cars traveling at breakneck speed, in line with each other, pursuing separate destinations, but for the moment on a shared, collaborative path. One car's tire blows out, and it pulls off the path while wordlessly, silently, the rest of the group carries on their way.
"You're quitting?! You'll be back!"
We've all said it, or heard it said. It's innocent and friendly, but subconsciously a harbinger of a simple truth: we know the curse all too well. Dig through the murky depths of your Facebook friend list, populated by players met once-upon-a-time at FNMs of years past. How many are still playing?
Cultivating Content
As a writer, I bring with me a certain conglomeration of interests, opinions, strengths, and weaknesses. Regardless of topic, these characteristics seep into my writing, twisting and manipulating the inputs into a resulting output that is vastly different from what it would be otherwise.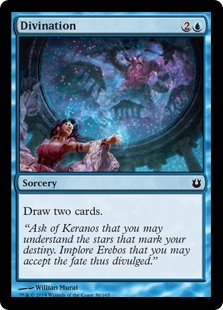 Those that don't write may find it difficult to relate, but the reality is that every individual experiences this on some level—the filtering of incoming information through a lens unique to the recipient. The most basic example of this is the subconscious motivators of political opinion. If you slant conservative, an encountered anti-conservative opinion will be immediately met with confrontation, and vice versa.
For Magic, this could take the form of archetype bias. Red decks are bad, and at mercy of the shuffler; so losing is the result of bad luck, not the glaringly obvious fact that you are mulliganing too often (or not often enough). Divination isn't a good Magic card, regardless of the context, and the sub-par control deck you've built around it is just anchoring your Magic potential.
If all of this leads anywhere, it's this: question everything. Why is Jund winning? Why do I feel like control decks are better than aggro decks? Why do I feel like I should mulligan this hand? Why am I interested in Modern? Don't just search for the answer, but rather why the answer (or what you think is the answer) has come to you in the way that it has. Uncovering your own bias can do more for not just your Magic skill, but for your entire life, than any 1500-word piece on sideboard cards of the week.
Why Am I Interested In Modern?
I love this format. Cards are interesting, we can do powerful things, strategies are focused, archetypes have a distinct character, deck selection brings with it a certain identity. Games are fast, decisions are complex, mana is efficient—a certain mystique exists in playing eternal formats. We are us, and they are them. I know why I play; do you?
It might not seem important, but I've become convinced that understanding why is vastly more essential to growth—real, significant growth—than endless scouring in the dirt for morsels of information. How can you find the answer if you don't know the question? 42.
Still, for all its strengths, Modern can be slow sometimes. We've gone through a period recently where not much has changed, and it can be difficult (for me at least) to find things of note to talk about. Pulling an entire article out of thin air is downright impossible, and we're all intelligent adults here. I've stopped reading multiple sites because I could tell when some authors started phoning it in.
Whether you agree with my opinions or not, like my style or not, hopefully no person could ever claim that I don't have heart. Most of the time that heart is in Modern, regardless if it's looking ugly this month or not. But for all those times I love the richness of this format, there are others where I just die to a Blood Moon, or my opponent casts Melira, Sylvok Outcast, or I get an overdose of Lightning Storm one too many times. Still, I have to write about Modern each week, even on occasions when I haven't had the time to play for a little while. Can I really speak to the manipulations of the format with any confidence in that scenario?
The Fourth Wall
Some readers have suggested that the quality of content on this site has deteriorated in the past few months. I would say that's possible. I can't speak to this without bringing along bias, as I am a writer, among colleagues, with an editor to report to and skin in the game—but I have an opinion as well.
I feel like most of the time negative comments are thrown out with the bath water, categorized as "hate" and ignored, when in reality they can be a precursor to something deeper. There's a danger that comes from biting at every negative line that gets cast, and I've seen my fair share of negativity from streaming (most of the time while losing) on Twitch. Still, I love Nexus, and want to be part of something I feel is great, which is why I'm setting the table for a conversation.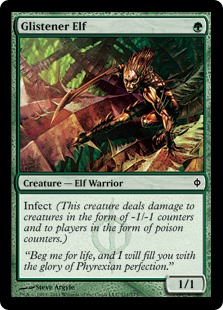 There is no right way or wrong way to write, in my opinion. Some write to present information, others write to detail accomplishments. I write to promote discussion. Even if the position I take is 100% incorrect, I do so in the hopes that I'm cultivating a discussion that's valuable.
Every individual that comes to this site brings with them a certain set of expectations, specific things they're looking to get from a Magic article. Thus what one player considers a valuable discussion, another might find tedious, or simply irrelevant.
Is number-heavy statistical analysis what you want Modern Nexus to be? Is there a place in that conversation for a writer who chooses hypotheticals and musings over percentages and tables? I love analyzing data, and I would hope that isn't in question, given that around half my articles have been about metagame and event analysis. Still, I can't do the same article week after week, and I don't personally find primers and deck techs interesting. We all come to the table with varying levels of skill and experience, but I know my readers are intelligent, and they don't need a 2000-word piece explaining Infect to decide if it's the deck for them. I prefer to learn by picking up a deck myself, seeing how it operates, and experiencing a little discovery—I know many Nexites feel the same. If I'm to hold myself to the standards I set for myself, and those that my readers expect, then my goal is to bring to the table something unique, something thought-provoking, something of worth.
Goals
All I want is to write a weekly column that provides some fresh, exciting insight into Magic: The Gathering. Here in our corner of the internet, nothing we say or read or write will change the world. But if it's interesting, if it's different, if it's something worth remembering, then I consider that a success, and we just might change ourselves.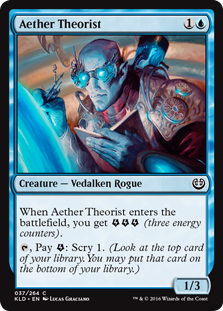 To do that, I need to find the middle ground between my crazy, wandering mind and your very real wants and desires. This weekly article series is nothing if nobody reads it.
There's a spectrum with mailbag articles on one end and developed theory pieces on the other. I find myself much more interested in theory (read: tangential thoughts that tie precariously to Magic concepts) and I find that those types of articles are much rarer compared to what is normally found online. The reasons for this are clear: they are unapproachable, unrelatable, and generally just tough to read (especially on the go). But these articles are the ones that stick with me personally, the ones I go back and read years after the author first published them. Whatever I'm trying to say—and I don't know what that is yet—I'd like to think that each week is another attempt at moving closer to that point. Maybe you can help me get there.
Weekly Update
So, in addition to whatever topic I write on each week, I'll include a section (of varying length) on my weekly thoughts on Modern—what I've been playing, what's working, what's on the rise, what to watch out for. Sometimes I'll have a lot to say, and this will be the whole article for the week. Other weeks (like this one) it'll be small, and I'll spend the rest of the article delving more into the theory end.
With that in mind, here's what I've been playing of late:
Grixis Control, by Trevor Holmes
After months away, I'm back to Grixis Control. No, it's not because I'm uninterested in winning—I believe this deck is close to being good again, based largely on the strength of Surgical Extraction. Yeah, that sentence was a rollercoaster, and I don't expect you to believe it. In this format, removal is good, discard is better, and as long as you can disrupt cheaply and turn the corner quickly you're in good shape. Jace, Vryn's Prodigy and Liliana of the Veil are at their best right now. As with Ancestral Visions, if you can back them up, you don't have to do much (or spend much) to win the game.
Kalitas, Traitor of Ghet is in as more maindeck Dredge hate and game-one lifegain against the field, but I'm often cutting him in sideboard games. Vendilion Clique is killing a surprising amount of Death's Shadow decks out of nowhere, and the triggered ability is better now than ever.
While there isn't a true control deck at the top end to push us around, this archetype can capitalize on the polarized field we find ourselves in, for a little while at least. If this archetype starts to have widespread success (which I've given up hope will ever happen) things might start to level off a bit. But for now, play maindeck Anger of the Gods and Rise // Fall while you can still keep a straight face.
As always, thanks for reading.
Trevor Holmes
The_Architect on MTGO
Twitch.tv/Architect_Gaming
Twitter.com/7he4rchitect