Are you a Quiet Speculation member?
If not, now is a perfect time to join up! Our powerful tools, breaking-news analysis, and exclusive Discord channel will make sure you stay up to date and ahead of the curve.
This week, I plan on doing something unique. Event analysis has long been my preferred approach when it comes to writing—and reading—about Magic, and I feel strongly that my skills in methodically sifting through data, testing hypotheses, and arriving at conclusions is one of my biggest strengths in Magic, both as a writer and as a player. Still, I'm starting to come around to the idea that I should be considering a different direction when it comes to my weekly articles. The week before Baltimore, I correctly called Grixis Death's Shadow as the deck to play on event weekend. The weekend after, I broke down the results (and my claims), evaluating the tournament results and speculating on what to do moving forward. Both of these pieces failed to generate much interest. The way I see it, there are two possible scenarios here: 1) everyone knew about Grixis Death's Shadow, and my claims weren't the hot takes I thought they were, or 2) I must be incredibly boring.
Feel free to tell me if I'm wrong, but for now, I'm going to go with Scenario 2, which means this week is as good a time as any to double down. I successfully called Grixis Death's Shadow this weekend; can I do it again? Today, we're going to take a look at the format as it stands now, anticipate what changes could be on the horizon, and conclude with some definitive claims about where I expect the format to be in a couple of weeks. Hopefully, this will prove as exciting for you as it is for me, as I flex my analysis muscles like never before, and put what little reputation I have on the line.
Modern Today
Grixis Death's Shadow is the new kid on campus, a true dark horse candidate, catapulted seemingly out of nowhere to its lofty throne atop the Modern metagame spread. Central to its success is the relative strength and strong positioning it enjoys due to how its removal lines up against the format's threats, and vice versa. Playing Lightning Bolt and Fatal Push to kill opposing small creatures, while simultaneously sidestepping the same removal with delve threats like Tasigur, the Golden Fang and Gurmag Angler, is the primary reason why Grixis Death's Shadow is the current format king. The deck is fast, powerful, and flexible, and can play any phase of the game from a position of strength.
Hot on its heels, Eldrazi, Affinity, and Burn threaten to take the throne. In recent weeks, Affinity occupied the top spot, but only by default, as prospective opponents chose to devote sideboard slots to fight combo strategies like Dredge and UR Storm. Now, Affinity is seeing its numbers dwindle slightly, not due to any increase in specific hate, but rather a decrease in favorable format conditions thanks to a rise in cheap removal and Kolaghan's Command out of Grixis Control. Burn, on the other hand, is watching its stock rise, as Dredge and Grixis Control, poor and good matchups respectively, trend in favorable directions. Finally, as consistent as ever, Eldrazi Tron remains the culprit behind this highly linear field, single-handedly forcing midrange and RG Tron out of the Modern landscape.
Waiting in the Wings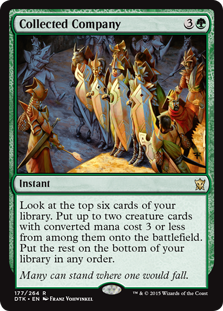 Below these frontrunners are a shortlist of potential candidates, each looking to ascend into the conversation of top decks in the format. Modern's second tier is smaller today than it's ever been, thanks in large part to Eldrazi Tron forcing homogeneity in the format. As has always been the case, and is more so today—do what you want to do, and do it quickly. Jund, Abzan, and Grixis Midrange strategies have an uphill battle against five-plus highly competitive, highly focused top strategies, and stumbling in 2017 Modern is just as fatal, if not worse, as it has been in years past.
Still, UR Storm and Dredge lead a pack of plucky hopefuls, joined by newcomers like Living End and Counters Company. As is the case with Living End, it seems destined always to play second fiddle to Dredge, as it is hurt by the same cards without the consistency or reliability Dredge can claim game after game. Counters Company threatens to take over the format on power level alone (a two-card combo to give infinite mana on turn three?!) but runs headfirst into a format that currently remains prepared to deal with it, thanks to Grixis Death's Shadow and their plentiful disruption and removal.
Two Possible Scenarios
As I see it, there are two possible scenarios that could play out in the next five weeks, a time period I've chosen specifically as it's not too long to become too unpredictable, yet not too short that nothing will happen. While it's true that Modern moves slowly when there are no major events like we saw two weeks ago, five weeks is usually enough time for some changes to be made, both at the top and under the surface. After all, before Grixis Death's Shadow took the lead, Affinity occupied the top slot in the format for at least a month, and before that, Dredge was putting up consistent results while the rest of the format came around to packing the hate they needed to supplant it. Five weeks ensures that the online metagame will "solve" the current format as it stands, whether that means things staying as they are now or molding to how thing should fall, while also giving the opportunity for a large-scale paper event to come along and shake things up.
Now, back to those two scenarios. Don't worry, I won't be hedging my bets and doing one of those, "banking evenly on both scenarios so I'm right no matter what happens" cop-outs here. I am, however, being honest by saying that the future is unpredictable, and the format can move in two very distinct directions based on one point of deviation. Let's look at our options.
1) Eldrazi Tron recedes
First, as I've said for a while, the true villain in the format isn't the top deck of the month—it's Eldrazi Tron. Before, Bant Eldrazi kept many of the "honorable" strategies that struggled through one glaring weakness out of any hope for possible contention. If you stumbled too often, Eldrazi would destroy you. If you couldn't turn the corner, Eldrazi would grind you down. If you didn't find your answer in time, Eldrazi would run you over. Bant Eldrazi is gone from the top tables now, but the format boogeyman remains in the form of Eldrazi Tron—only this time it's gotten even better.
Tron decks have always been the traditional foil to the midrange decks of Modern, claiming strong matchups across many different metagame contexts and format changes. Currently Eldrazi Tron is occupying this role most prominently, as the strongest and best represented big-mana deck. While Eldrazi remains a top-four archetype in the format, midrange will continue to struggle in their current form. The matchup against Eldrazi may look good for reactive decks on paper, but it isn't thanks to a ton of free value and game text that Eldrazi gets to enjoy. It's a true catch-22 scenario—midrange could tool their decks to take down Eldrazi Tron, but in doing so would lose to everything else in the format, which has trended more linear and easily disrupted thanks to midrange not being around to punish them. Were Eldrazi Tron to suddenly disappear, midrange would return in full force, bringing with it sweeping changes to the highly linear Modern format we see today.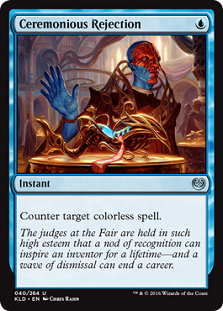 The seeds of Eldrazi Tron's demise were planted two weeks ago, in the form of Ceremonious Rejection. Grixis Death's Shadow proved to the world that it was possible to tune your maindeck to fight a large portion of the field, while at the same time retaining a core strategy, leaving the sideboard to shore up a few concentrated matchups. Three Ceremonious Rejection is a statement—one that, if adopted, will cause things to change, for better or for worse. Eldrazi Tron could adopt Cavern of Souls, but in doing so would have to lose Ghost Quarter, and it's possible Cavern of Souls might not even be enough. Forcing Eldrazi Tron to become one-dimensional, losing out on their Karn Liberated top end (not to mention a ton of their fixing) could prove to be too much for the archetype, and might sponsor a change at the top. If this happens, expect midrange to return, individual archetype representation to fall across the board, and (potentially) a more diverse spread of archetypes to find a foothold.
2) Grixis Death's Shadow folds to hate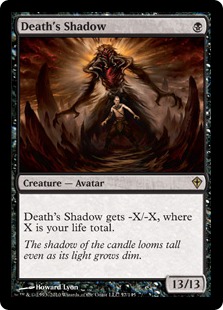 The second option, of course, is basically the opposite. The format chooses to respond disproportionately to Grixis Death's Shadow, attacking its perceived threat to the format status quo, and in turn, Grixis Death's Shadow fails to defend against this new threat while also keeping up its efforts against poor matchups across the board. With Grixis Death's Shadow out of the picture, we could expect to see Burn's numbers dip again, while Affinity potentially regains the top spot as players go back to see-sawing between fighting Dredge and UR Storm.
I find this unlikely, but possible, due in large part to Eldrazi Tron forcing format homogeneity. Grixis strategies of all flavors have suffered when there have been too many enemies to fight, and it's poetic, in a sense, to see its true enemy in the format (Eldrazi Tron) doing it a favor by keeping out potential strategies that could give it trouble. Living End, Merfolk, true control, Scapeshift, and even ramp decks would have success against Grixis Death's Shadow in its current form, but none of those strategies can pass the Eldrazi test that stands as a barrier to entry for the format.
Conclusion
It is my belief that Grixis Death's Shadow will not remain on top for long, but before it falls from its throne Grixis will see the format shift around it in a meaningful way. While five weeks is a short enough time to see a small shift back to the way things were before Modern weekend, I believe that Counter Company as a new archetype in the format will force decks to prioritize cheap removal highly, which will continue to play into Grixis' hands. If more players pick up the deck, which is likely given its strong performance, and said players choose to target Eldrazi Tron with their sideboards, we could see the format stress test take a significant hit.
A diminished Eldrazi Tron would allow multiple strategies into the fold that will in turn diversify the threats against Grixis Death's Shadow, causing its decline (but overall, an increase in format health). Who comes out on top is hard to tell, and frankly, not really that important. Still, I'm banking on Eldrazi Tron diminished five weeks from now, midrange back in the fold, and a more diverse metagame across the board. This thanks to Grixis Death's Shadow, which owes its thanks to Counter Company, which owes its thanks to Eldrazi Tron. The circle is now complete.
Thanks for reading.