Are you a Quiet Speculation member?
If not, now is a perfect time to join up! Our powerful tools, breaking-news analysis, and exclusive Discord channel will make sure you stay up to date and ahead of the curve.
In The Bolt Test: Modern's High-Water Mark, I revisited an old Mike Flores article on toughness. Flores claimed a format was often defined by the amount of damage its red removal spell dealt. Burn spells generally serve as some of the most efficient—and versatile—removal spells in a given card pool, for their cheap costs and ability to go to the head; as such, it makes sense that formats would revolve around them. But today's Modern revolves as much around its other notorious removal spells. Now many months into the emergence of Fatal Push on the scene, I felt it was time to re-evaluate Modern's removal spells, examining where they're played, what they do, and the effects they have on the format.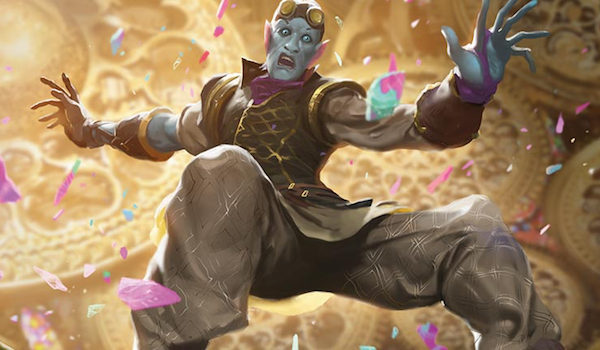 So, I checked the most played removal spells in Modern on MTGGoldfish and compared them to a slew of successful decklists from the Star City Games database. This article explains my takeaways regarding Modern's three defining removal spells: Lightning Bolt, Path to Exile, and Fatal Push.
Lightning Bolt
The first big takeaway from my data collection process (which involved very scientifically looking over recent event results and identifying which decks played which removal spells): Bolt sees play in as many top-tier decks as Path does, despite being a full 12% further down the representation list.
Homes
Analysis
The probable reason for Bolt's appearance in so many decks is its versatility. I called out Bolt as one of Modern's deftest role-players in Modern Top 5: Utility Cards, but reducing Bolt to a mere "utility spell" would have been unthinkable in the format's early days. Still, it's the card's undeniable utility that guarantees it so much action.
Lightning Bolt serves two primary roles in Modern decks. The first is to remove early threats. This mode is employed by decks trying to survive the early game, either to shine in the midgame (Jeskai Control) or to execute a game-winning combo (Scapeshift). Decks have always played Bolt for this purpose, but those that ran it used to be even more diverse, pushing the card into the 40%-played range. These days, rock-style attrition decks have mostly transitioned away from red, and the combo decks that once relied on Bolt as early interaction now have Push to splash for (including some Scapeshift decks). As we've seen, though, quickly removing x/3s is not terribly important in this metagame, thanks in large part to Death's Shadow.
The card's second mode is to just close out games. Players love to claim Bolt is weak against Shadow, but that's like saying Blood Moon is weak against three-color midrange decks. Once Shadow decks see a red land, they're forced to stay above 3 life, and ideally above 6. They're also heavily incentivized to go below 10 life so Shadow itself resists Lightning Bolt. That greatly limits the plays Shadow decks can comfortably make by limiting the window in which they can deploy and benefit from their namesake threat.
What players mean when they say Bolt is bad against Shadow is that it's bad at one of its usual tasks: removing early threats. Shadow's early threats do happen to resist the instant. But Bolt's second mode of killing opponents is still live in the matchup, and becomes relevant much faster than it does elsewhere. I'm not saying Bolt is a fantastic card against Shadow; just that I'm not surprised the card is still a cornerstone of so many strategies even while the top decks—Shadow, Eldrazi, UW Control—blank its removal mode.
Path to Exile
The perennial gold standard for removal in Modern, Path to Exile is currently the format's most-played card. So much for no white in the metagame!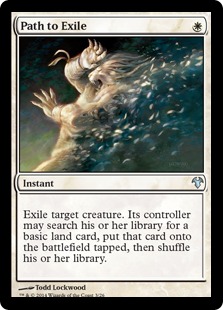 Homes
Analysis
Fatal Push has changed Modern in multiple ways. The re-discovery of Death's Shadow led to a midrange deck that wields Push expertly and gives it relevance in the mirror. Other decks have also turned to Push as a superb way to remove Death's Shadow. All that Push has rendered Modern something of a hostile place for cheap creatures, opening the floodgates for delve creatures, Eldrazi, and Titans to pound through and dodge the removal spell.
Enter Path to Exile, the only one-mana removal spell in Modern that removes all those threats. Path now is looking the best it has since Twin's legality.
The card's role in Modern decks is the same as it always has been: remove a creature, no questions asked. But not many decks can run Path for the simple reason that splashing white is quite costly in Modern. Shadow's brutal efficiency as a police deck forces strategies to become as focused as possible; otherwise, the one-two-three punch of Inquisition of Kozilek into Thoughtseize into Death's Shadow is sure to put a dent in any kind of synergy players have cooking.
"Focus" here means avoiding dilution, which explains why we've seen less-consistent combo decks (due to lack of workable pieces) like Grishoalbrand fall off the map. It also means not splashing extra colors when unnecessary. Consider the aforementioned Scapeshift deck that splashed black for Push and Brutality. While those spells are definitely ones the deck wants, and play to the mid-game better than Bolt does, players have found dipping into a third color so perilous that the splash has largely been abandoned by now.
Fatal Push
Ah, the belle of the ball. For a time some weeks ago, just before Wizards slashed its released MTGO data, Push was actually the most-played removal spell in Modern. But the format has adapted and shifted to fight Death's Shadow, and unlike during the yardstick-most-oppressive Modern format of Eldrazi Winter, the best way to beat it is actually not just to also play Death's Shadow. It's to play Path to Exile. Where does that leave Fatal Push?
Homes
Analysis
In terms of present representation, a few points beneath Lightning Bolt. But notably, Push sees play in fewer decks than either of those spells despite boasting a representation score just 5% below that of Lightning Bolt. The first reason is simple: Grixis Shadow still makes up a sizable portion of the metagame, even though Modern has shifted to attack it directly. For some, that indicates a fundamental (and perhaps bannable) problem with Shadow's power level. But Shadow's shares have decreased some, and I'm holding out for more major event results before also declaring it too strong for Modern—after all, the deck's presence has done a lot of good for the format.
The second reason is also simple, if we can stand to compare Push to Bolt yet another time. Just as Bolt was slotted into a myriad of decks for different reasons, Push finds itself in plenty of Tier 2 and 3 strategies by virtue of being excellent at a similar task. In fact, Push is better at stopping early beaters and breaking up blistering creature synergies than Bolt ever was, since it deals with the likes of Tarmogoyf scot-free and can even take out beefier threats like Kalitas, Traitor of Ghet with a little work. Those numbers add up and help Push claw its way past the 20% mark.
Lastly, I think Push might actually be worth more than MTGGoldfish makes it out to be. Since Wizards stopped releasing so much uncurated MTGO data, we've had for our analyses a more fractured metagame picture than ever. With such a powerful deck in the format, it's not just possible, but likely, that Grixis Shadow sees more play than is indicated by those miserly 5-0s. That predicament alone throws the whole thing off. Shadow has continued to do well at larger events; if my theory proves correct, we'll see it continue that trend at SCG Syracuse this weekend.
Honorable Mentions
There are, of course, other removal spells in Modern. But Bolt, Path, and Push will remain the three most important for years to come. Let's touch on the few other staples anyway.
Terminate
A clunkier Path to Exile, and often just a worse Push, Terminate isn't the Modern icon it once was. Sees play mostly in Grixis Shadow as a way to kill delve threats, Titans, and co., but notably struggles in the face of Kitchen Finks, Voice of Resurgence, and Wurmcoil Engine.
Collective Brutality
Similarly to Lightning Bolt, Collective Brutality is a utility spell at heart. It's black's go-to toughness-based kill spell, and can do more for the mana than anything else in Modern. I can see Terminate becoming more fringe in the future, but Brutality is going exactly nowhere, and should remain a sideboard staple and mainboard tech for as long as Modern remains a tempo-centric format.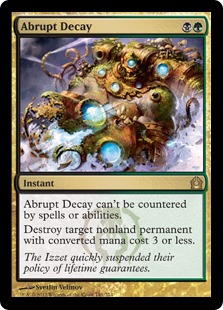 Abrupt Decay
This one's sort of a sleeper right now. Sol Malka ran the full 4 Decay in his aforementioned BG Rock deck alongside just 2 Fatal Push, and I think he's on to something. Decay cracks 'walkers like Liliana and Gideon as well as annoying lock pieces like Chalice and Bridge. It also can't be countered while targeting a Shadow, which is currently huge. I think the main reason Decay doesn't see more play is its color combination. There are simply too few interactive black-green decks right now to cause its representation to increase.
Dismember
Thanks mostly to Burn, Dismember has never seen much play in Modern. These days, many of the decks that might have wanted it simply have better options available to them. That leaves Dismember in a funky spot. Only decks without black, white, and often red, that are in the market for a kill spell, and that have lifepoints to spare, can pack the card. Of course, the colorless Eldrazi decks make great use of it, and I think it could see more play in Shadow decks—it's terrific in the mirror, where it accelerates out your Shadows while killing your opponent's and plays nice with Snapcaster Mage when it comes to filleting Gurmag Anglers.
Get Up on This
There are plenty of ways to kill a creature in Modern, which is great news from a health perspective. Since Push's release, the reviled aggro-combo archetype has all but met its doom, giving way to its more interactive kin in Burn and Affinity. It's probably no surprise that Bolt is my favorite way to say "die," but there's no accounting for taste. What's yours?