Are you a Quiet Speculation member?
If not, now is a perfect time to join up! Our powerful tools, breaking-news analysis, and exclusive Discord channel will make sure you stay up to date and ahead of the curve.
The phrase "I know it when I see it" is rather cliché and typically unhelpful. It is also frequently true: there are phenomena that are easy to observe and record, but actually defining them is a struggle. For instance, physicists cannot agree on a Grand Unified Theory despite broad agreement on its components; philosophical debates can get terrifyingly heated; and the legal definition of obscenity is literally "I know it when I see it." Similarly, in Magic, it can be easy to "see" overpowered or broken cards, but meaningfully defining these ideas is extremely difficult.
During a weekly Modern tournament at my LGS, another player observed that Modern seems much faster and more unfair to him since Bloodbraid Elf and Jace, the Mind Sculptor were unbanned. The observation sparked a lengthy discussion that really didn't get anywhere before the next round started, and the issue was dropped. However, I haven't been able to let the idea go. Today, I'm going to reexamine the meaning of fairness and then try answer the title question with actual data.
Fair vs. Unfair
When you ask players what it means to be unfair, they tend to give some variation of "I know it when I see it." They'll also give this answer for what fair means, infuriatingly enough. When I've pressed those players, I've been given wildly differing opinions on exactly what those terms mean, but there are a few common threads that I've gathered together to form my own definitions.
Fair: Playing the game of Magic according to the introductory rules
When players talk to me about playing fair Magic, they always circle back to the gameplay from the starter kits that were part of the old core sets. You play one land a turn, draw one card a turn, pay the full mana cost of your spells, and if you want to do more than that you have to pay an appropriate price in mana. This style of play encapsulates the slow and grindy, but easy to follow and learn, gameplay that Wizards pushes on newbies to help them learn the game.
The logical next step is to define unfair as the opposite of fair and go to lunch. However, that's not a useful definition. By that measure, almost every tournament-caliber deck is at least a little unfair. And fair enough, that's usually why they're played in the first place. However, a definition that broad is useless. If it includes too many things, it's not really defining anything. Granted, unfair Magic does involve breaking the rules, but in what way or to what degree?
Unfair: Breaking or exploiting the rules of Magic as a primary mode of gameplay
Doing something that breaks the rules isn't enough. To be truly unfair, a deck has to be deliberately unfair most of the time. Playing a card that draws extra cards for little price is not fair, but if the rest of the deck follows the rules, then on whole it's still fair. If instead you build the deck to really take advantage of drawing extra cards for no cost, then you're in unfair territory. The more rules you break to make your deck work, the more unfair you become.
The Fairness Spectrum
I see fairness as a spectrum. On the far fair side we have decks like pre-Bloodbraid Jund or Jeskai Control. They contain powerful cards and value efficiency, but play very close to the rules. Moving along the line, you have decks that utilize some cheats, but maintain a fundamentally fair gameplan.
As you approach the midpoint, you get into the ambiguous zone. I've discussed this area in the past and have always struggled to define it. Decks in this region are either doing something fundamentally fair in an unfair way, or are doing something unfair through fair means. Playing ramp strategies is reasonably fair; using ramp to perform a combo kill is not. Hard-casting huge creatures is fair; generating seven mana for Karn Liberated on turn three is not. Dropping aggressive creatures and pumping them up is a fair strategy, while dumping your entire hand in two turns and then attacking for 20 flying damage is not.
After this zone, you have the truly unfair decks. These rely on breaking rules to win. There are plenty of combo decks here, but this is also where you'd find the Eye of Ugin-powered Eldrazi decks from 2016. Here's a graphic to demonstrate:
An interesting sidenote is that planeswalkers are hard to place on this spectrum. On the one hand, their initial effect is extremely fair: you pay the mana cost then use an ability. If compared to a spell, that is perfectly fair, especially considering how marginal a lot of planeswalker abilities are for their mana cost. However, the point of planeswalkers is that they remain in play and continuously generate advantage. This moves things towards unfair in my opinion. By how much and how quickly is the question, and I have no answer. It may simply be that planeswalkers are neither fair nor unfair.
Power is Irrelevant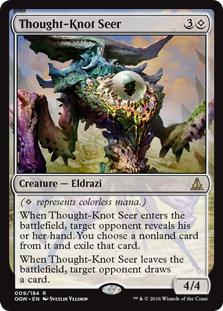 The other thing to remember is that power is just power. Tarmogoyf is undercosted and incredibly powerful. It is also vanilla creature that only attacks or blocks, and is a perfectly fair card. The fact that it's better than anything else at that job has no bearing on its fairness. Wizards is always tweaking power levels. What is too powerful today can easily be par for the course tomorrow.
Obviously, brokenly unfair cards are incredibly powerful, but so is Thought-Knot Seer. As a four-drop, that card is powerful, but fine; alongside the unfair mana acceleration of Eye of Ugin and Eldrazi Temple, it becomes busted. Therefore, raw power or efficiency is irrelevant as far as fairness is concerned.
Is Modern Shifting?
That the metagame is moving is an accepted fact. The return of Jund to prominence after nearly disappearing last year is proof enough. However, how exactly it is shifting and where the metagame is actually moving is unclear. Raw metagame data is unstable, and the picture I've gotten shifting through results is too muddy to deal with, so I'm going to simplify things to make it all comprehensible.
Comparative Analysis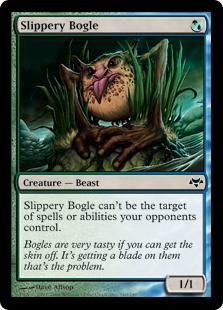 Is there a difference in fairness from the pre-unban metagame to the current one? To answer this question, I'm going to take the 10 Tier 1 decks from before the ban and compare it to the current top ten decks from MTGGoldfish.
I am sorting these based on my criteria of the unfair component being critical to the operation of the deck. Most constructed decks cheat in some way (that's why they're playable); it's just a question of degree. For example, Death's Shadow decks cheat on mana cost thanks to delve, but they have to do a lot of setup work, and that keeps them out of the ambiguous zone, even if it's just barely. Similarly, abusing hexproof and denying the entire concept of interaction is the entire point of Bogles, and this rule-breaking pushes it into ambiguous fairness, if only barely. However, trying to define exactly how or where the decks fall introduces a lot more personal opinion than necessary, so I will stick to the broader categories. There's enough of that just in assigning categories.
| Deck Name | Broad Classification |
| --- | --- |
| Grixis Shadow | Fair |
| Burn | Fair |
| Gx Tron | Ambiguous |
| Jeskai Tempo | Fair |
| RG Valakut | Ambiguous |
| Eldrazi Tron | Ambiguous |
| Affinity | Ambiguous |
| Humans | Fair |
| Gifts Storm | Unfair |
| Counters Company | Ambiguous |
| Deck Name | Broad Classification |
| --- | --- |
| Humans | Fair |
| Jund | Fair |
| Gx Tron | Ambiguous |
| BR Hollow One | Unfair |
| Gifts Storm | Unfair |
| Burn | Fair |
| Affinity | Ambiguous |
| GW Bogles | Ambiguous |
| Grixis Shadow | Fair |
| Jeskai Control | Fair |
In December, there were four unequivocally fair decks, five ambiguously fair decks, and a single unfair deck. At the moment, there are five fair decks, three ambiguous decks, and two unfair decks. That's not substantially different. It is interesting that there's an additional unfair deck, but the sample is now primarily fair. This is still too little data to draw a meaningful conclusion, so I will expand into Tier 2.
| Deck Name | Broad Classification |
| --- | --- |
| Abzan | Fair |
| Jund | Fair |
| UW Control | Fair |
| Dredge | Unfair |
| Traverse Shadow | Fair |
| Eldrazi and Taxes | Ambiguous |
| UR Breach | Ambiguous |
| Mardu Tokens | Fair |
| RG Ponza | Ambiguous |
| Lantern Control | Unfair |
| Deck Name | Broad Classification |
| --- | --- |
| Eldrazi Tron | Ambiguous |
| UW Control | Fair |
| UR Breach | Ambiguous |
| Dredge | Unfair |
| Titanshift | Ambiguous |
| Ad Nauseam | Unfair |
| Ponza | Ambiguous |
| Mardu Pyromancer | Fair |
| Counters Company | Ambiguous |
| Bant Company | Fair |
This is a stronger result. The old Tier 2 metagame had five fair decks, three ambiguous decks, and two unfair. The current one has three fair, five ambiguous, and two unfair decks. That is a noticeable change. Going into Tier 3 adds two fair, three ambiguous, and five unfair decks for the old meta and three fair, three ambiguous, and four unfair for the new.
Meaning
Overall, I don't think this data actually means anything. Taken together, the old metagame same had 11 fair decks, 11 ambiguous decks, and eight unfair, while the new one has 11 fair, 11 ambiguous, and eight unfair decks. In other words, the data as a whole shows no change. Therefore, it does not support that the metagame is more unfair, making the answer to my starting question "no." If it is perceived to be less fair, I believe that comes from seeing primarily Tier 2-3 decks, which had far more truly unfair decks in both time periods.
The Catch
Is Bloodbraid Elf a fair card? If it isn't, does that make a deck built around it or at least made to exploit it unfair as well? I ask because Jund used to be the paragon of fairness in Modern, but I'm not so sure anymore. A 3/2 with haste for four mana is fair, but making additional mana is not. With cascade, Bloodbraid generates 1-3 mana and a card for the price of the 3/2 with haste.
Having an unfair element doesn't necessarily mean a deck is unfair or even ambiguous, but building your deck around such a card does move a deck in an unfair direction. Comparing current lists to older ones reveals an incredible amount of change meant to maximize Bloodbraid's potency. If you count Bloodbraid as an unfair card, then a number of decks have moved closer to unfair status. RG Eldrazi is primarily a fair deck, but the mana acceleration from Eldrazi Temple makes it less fair. Counting Bloodbraid as unfair may move it into ambiguous status. This does not mean that it actually is unfair; I'd have to examine it more. Still, the picture is muddier than before.
The Transition Continues
Regardless of the actual trend in the format, it is clear to me that Modern is still in flux and unlikely to settle for some time. There has been tremendous change in Tier 1 according to this data, and that has a cascading impact on every other deck. We won't know with any certainty what the metagame is actually doing for another few months. My advice in the meantime is to enjoy the breathtaking diversity it while it lasts, as I believe the format will become solved eventually.