Are you a Quiet Speculation member?
If not, now is a perfect time to join up! Our powerful tools, breaking-news analysis, and exclusive Discord channel will make sure you stay up to date and ahead of the curve.
---
Dromoka the Eternal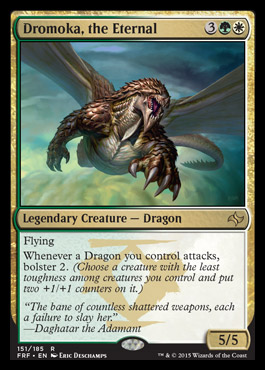 Legendary Creature – Dragon
Flying
Whenever a Dragon you control attacks, Bolster 2. (Choose a creature with the least toughness among creatures you control and put two +1/+1 counters on it.)
This is as good in EDH as it is narrow. Unfortunately for Dromoka, it's in the worst possible colors for a dragon that gets a benefit from lots of dragons attacking. Scion of the Ur-Dragon decks can use this and likely will, and its being a dragon will bolster its price longterm. I'm just not super bullish about its Standard playability, even though it's just fine if it's your only dragon. This is obviously nutty in Limited, and I may try it out in Mayael, but this seems like most of the upward pressure on its price will come from it being a dragon rather than playability. Who knows? It's hard to say there won't be 5 other sweet G/W dragons in the set.