Are you a Quiet Speculation member?
If not, now is a perfect time to join up! Our powerful tools, breaking-news analysis, and exclusive Discord channel will make sure you stay up to date and ahead of the curve.
---
Kolaghan the Storm's Fury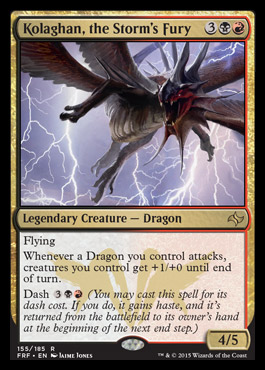 Kologhan, the Storm's Fury is how Wizards chose to spoil the "Dash" mechanic. The mechanic may very well be fine on a smaller creature or one whose dash cost is cheaper than its mana cost. As far as how the mechanic relates to this card specifically, I'm not convinced this will ever be worth a ton. He's legendary, but I am not sure you want him as a Commander. He reminds me a lot of Archwing Dragon in that he is nearly identical to Archwing, only his Dashing is optional. I don't see this being a ton more financially-relevant. Though we are losing a Dragon from standard at rotation, that is a long way off and we still have Sarkhan the Dragonspeaker in the mean time.
Dash is an interesting mechanic, and while I played with Archwing, it never saw enough play to go much above bulk. This card's optional regular (unhasted) casting, buff to other dragons and legendary status will almost assuredly bolster his price above that of Archwing, but to an extent that's hard to predict. We've seen legendary creatures at bulk rare before. We'll have to see how many dragons we have to boost and how many potential EDH generals the set gives us. I don't predict this going above its presale price.