Are you a Quiet Speculation member?
If not, now is a perfect time to join up! Our powerful tools, breaking-news analysis, and exclusive Discord channel will make sure you stay up to date and ahead of the curve.
---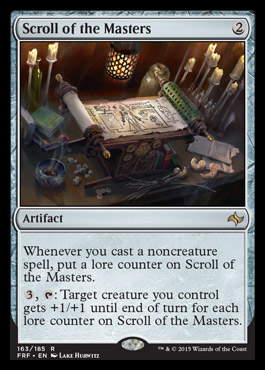 Prowess is a pretty good ability to have. It's not a good ability to pay 5 mana for.
This isn't quite Prowess, though, is it? It's cumulative. Every spell you play every turn accumulates, and when you've played 5 or 6 spells over a few turns, all of a sudden you can give a creature quite a large boost. This lets you swing with relatively small creatures and really screw up their combat math and make them afraid to let even the smallest creature through.
The problem with this card is that there's no real card historically I can compare it to so I feel a bit lost. Yes, once this gets charged up it can be good. Another thing it has going for it is that is that drawing a subsequent one isn't as bad as it could be, because playing it will add a charge counter to the first one, making you more likely to play more copies since it's less of a liability.
Ultimately, sets will have better cards than this that never end up worth more than a buck or two. Maybe I'm shy after watching Dragon Throne of Tarkir, admittedly a card I didn't think would impact Standard, do nothing, but I'm not super bullish on this card. It seems powerful eventually, but I think in decks where you're winning with Prowess creatures, their own prowess triggers are enough and you're rather play non-creature spells that impact the board a bit more and there is no room for this. If you think I'm totally wrong, this could end up worth a few bucks.