Are you a Quiet Speculation member?
If not, now is a perfect time to join up! Our powerful tools, breaking-news analysis, and exclusive Discord channel will make sure you stay up to date and ahead of the curve.
---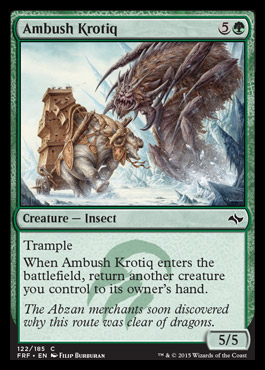 This is another way to turn a manifested spell or land (OK, at 6 mana you probably don't need a land unless it's a splash color) that you need from a creature into what you need. It also can bounce a creature that has a "comes into play" effect and let you rebuy it. This is a solid card and seeing it at common is cool. I can't wait for big green ramp strategies. I think I like every single monogreen creature I've seen so far in this set! It's slow, but we have a mana elf that taps for 2 when we trigger ferocious. This is a solid roleplayer that tops the curve, likely tables and which solves the biggest problem I have with Manifest. Very cool.