Are you a Quiet Speculation member?
If not, now is a perfect time to join up! Our powerful tools, breaking-news analysis, and exclusive Discord channel will make sure you stay up to date and ahead of the curve.
---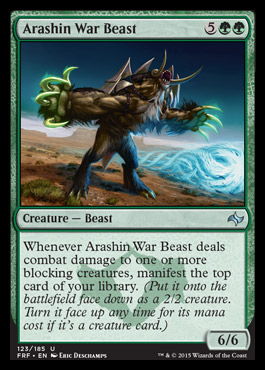 Solid. It's high on the curve, but it presents the opponent with an interesting dilemma; take it on the chin or face even more beasties next attack. Anything that forces your opponent to make a Sophie's Choice like that is fine by me. Green has a few ways to ramp to this, and 7 mana may be just fine in a slow format like this. This can also kill nearly every dragon if they have to block.
The best part is that this allows you to manifest without costing you a card. Expanding your side in a war of attrition and making their chump blocks less beneficial makes this a very solid card. I don't think you want many copies since it costs 7, but it's uncommon so that won't be an issue. This is a playable card and I like its style.