Are you a Quiet Speculation member?
If not, now is a perfect time to join up! Our powerful tools, breaking-news analysis, and exclusive Discord channel will make sure you stay up to date and ahead of the curve.
---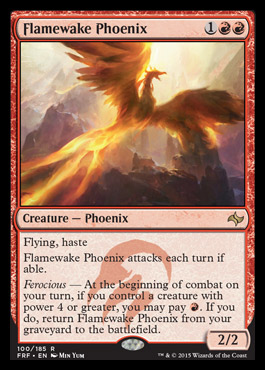 This is the first Phoenix I have been excited about since M14. This is just so... solid.

A well designed Phoenix for once (and at rare and not mythic) could mean that we see people serving with Phoenixes again. This will see play as a four-of if it sees play. So we're betting on whether there is a deck that can trigger its ferocious reliably enough that we can serve with this in Standard. I think with some burn spells and other red, aggressive creatures, we could see Standard really speed up. If this sees no play, $4 pre-order will hurt. We watched Flame-Wreathed Phoenix, a mythic, plummet from a $7-$8 preorder to $1, basically bulk for a mythic. If it does see play, there is real room for growth, but at non-mythic, the ceiling is around $10-$12 unless it is a staple in many decks. I don't see this being worth Courser of Kruphix money, so after fees, best case scenario is roughly a double-up. Seems risky, but if you want these to play with, $4 is probably relatively safe.