Are you a Quiet Speculation member?
If not, now is a perfect time to join up! Our powerful tools, breaking-news analysis, and exclusive Discord channel will make sure you stay up to date and ahead of the curve.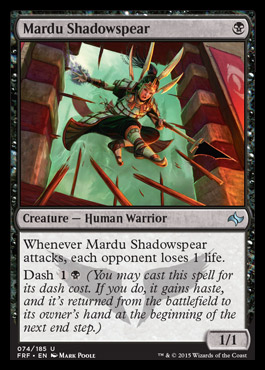 This is fine. I think the word "each" may be the least necessary bit of text on a Magic card! Maybe a Shirei, Shizo's Caretaker deck wants this? Maybe you'll get 3 of these and ruin the 2-headed giant tourney at your prerelease?
More likely this is a solid, grindy card in a mardu deck. I like that this hits for 2 if it's not blocked. This is a real loser in combat, though, and makes me miss Madcap Skills. All in all, I think the promo is likely to be worth as much as past promos of this ilk.
---