Are you a Quiet Speculation member?
If not, now is a perfect time to join up! Our powerful tools, breaking-news analysis, and exclusive Discord channel will make sure you stay up to date and ahead of the curve.
---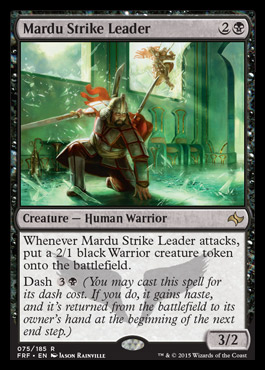 2B
Creature - Human Warrior
Whenever Mardu Strike Leader attacks, put a 2/1 black Warrior creature token onto the battlefield.
Dash 3B (You may cast this spell for its dash cost. If you do, it gains haste, and it's returned from the battlefield to its owner's hand at the beginning of the next end step.)
3/2
This is exciting, and it can spiral out of control. That said, it has 2 toughness and the tokens have 1 and you can only ever make 1 a turn. There are better token makers, better beaters and better dash creatures. Will this see 0 play? Hard to say. I do know that I would hope a $3 preorder would be more exciting. We know roughly that the ceiling for this is $10ish unless it sees a ton of play, so if you think I'm totally wrong and this guy is a 4-of autoinclude, wager your $3 a pop, but I'm staying away.