Are you a Quiet Speculation member?
If not, now is a perfect time to join up! Our powerful tools, breaking-news analysis, and exclusive Discord channel will make sure you stay up to date and ahead of the curve.
---
Ojutai, Winter's Soul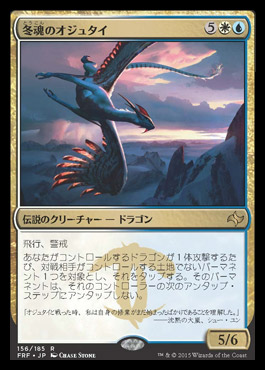 5WU
Legendary Creature - Dragon
Flying, vigilance
Whenever a Dragon you control attacks, Tap target nonland permanent your opponents control. It doesn't untap during its controller's next untap step.
This is a creature that's just fine on its own. It isn't likely to see more standard play than Archon of the Triumvirate and it's worse than Frost Titan in EDH, for a lot of reasons, but some decks might want it.
We're running into interesting territory here, frankly. The adage that "Angels, Dargons and Hydras are always money" is being tested by what is frankly a real glut of these creature types. Hydras are more common than goblins these days. You need to be the best of the best to be worth money. Just being a dragon likely won't be enough to make Ojutai worth money. Doing a bad impression of Frost Titan probably isn't enough outside of Dragon-specific decks where this is probably a role player. EDH players like to copy Frost Titan with Rite of Replication making this a poor substitute. I think if I had a Sion of the Ur-Dragon deck I would likely jam this, but I'll wait until it hits bulk to buy in.