Are you a Quiet Speculation member?
If not, now is a perfect time to join up! Our powerful tools, breaking-news analysis, and exclusive Discord channel will make sure you stay up to date and ahead of the curve.
---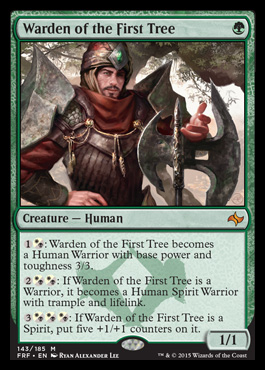 I have seen a lot of mixed reviews online. Durdles have said "I need a playset" and the good (condescending) people over at /r/spikes have said "Seems like a really bad Figure of Destiny" and maybe they're both right. Can't this be terrible and appealing to durdles? Let's look at what it actually does.
It comes down as a 1/1 on 1 sometimes, and can be a Watchwolf on turn 2 at the cost of having a second creature. I'm not super impressed so far. For 4 more it becomes a 3/3 Trampler with Lifelink. 6 more mana puts it over the top and makes it a 8/8, briefly, before someone casts Hero's Downfall on it.
Yes, I realize "It dies to removal" is a facile argument, but in the context of the other things that Abzan-colored decks are trying to do, isn't what it takes to make a creature a 8/8 with no hexproof sort of relevant? Until something changes, Abzan decks are on the Whip of Eerebos plan and this is bad on that plan. Abzan aggro is a thing lately but unless you dump your hand super fast, there is likely something better to do with your mana.
Could this be the last weenie a Soldier of the Pantheon, Fleecemane Lion etc deck needs? A 3/3 Trample, Lifelink is formidable. But spending all turn every turn to get this guy there could be too onerous. This is a $10 preorder and I think this likely ends up around $5 based on what Abzan is going now and the format's reluctance to play small creatures that you can't summon unless you tap a Mountain. The ceiling for this could be as high as $20 if the metagame shifts, though, so if you're betting, you're betting big.