Are you a Quiet Speculation member?
If not, now is a perfect time to join up! Our powerful tools, breaking-news analysis, and exclusive Discord channel will make sure you stay up to date and ahead of the curve.
Last month I brewed up a Bant goodstuff deck featuring Ojutai's Command and Dromoka's Command. While decent in its own right, there's the issue of lacking versatility in answers.
In hindsight, if we're going pure goodstuff, other colours just do this better because of their better answers, so we need some kind of unique angle.
With that in mind, I believe the best routes Bant can take are abusing Collected Company (excluding 4cmc and above creatures and shaving non-creature spells to accommodate it), and abusing "blink" effects (removing creatures from play and then returning them right after to trigger an enter the battlefield effect and/or dodge removal). Both angles are great because we do have a massive amount of very powerful creatures, a lot of which have very welcome ETB effects (much more than a colour combination like Grixis, for example).
Today I'm going to brew up a list based on the latter (and I should have one based on the former at some point in the future), which I dub simply Bant Blink. I debated combining the two into one list, but it felt like there wasn't enough room for all the threats and answers needed on top of Company. Plus, cutting Restoration Angel in this shell is just wrong.
[wp_ad_camp_1]
Building the Bant Blink Core
We know Bant Blink is inescapably a midrange deck, and that requires consistent, potent threats, as well as answers. We also know we want to abuse ETB effects, so if those effects can also serve as answers, we should definitely consider them.
With that in mind, here is the core of our creature base:
Blade Splicer: 4 power, first strike, repeatability, and hatefulness toward removal, all for just 3 mana is stupid good. We have to use this, and we will, happily.
Kitchen Finks: Worst case this gets Pathed and you paid 3 mana for 2 life and a land (not bad at all); best case they use 2 removal spells on it and we Resto Angel in response to the second. Very strong card for us. It helps that it's extremely relevant versus Burn.
Flickerwisp: A 3/1 flyer for 3 is decent unto itself, but a 3/1 flyer that comes attached to a 3/3 first strike golem is even better. It has a variety of other applications of course, not just on your creatures, but your opponents creatures and non-creature permanents.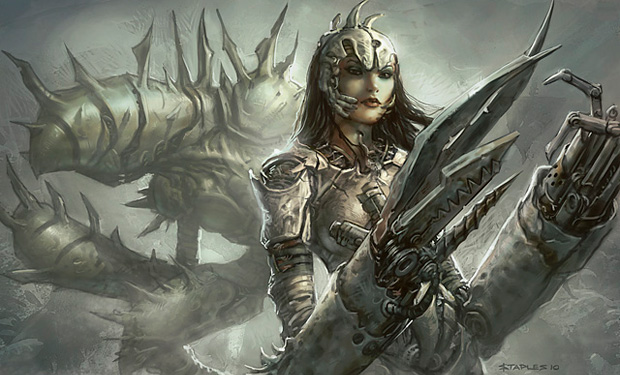 Restoration Angel: It doesn't get much more relevant than a 3/4 flash flyer that can gain you life in Modern, does it? I'll take four.
Vendilion Clique: We need answers in Bant wherever we can get them, but preferably attached to a creature, so this is pure gold for us. We can also use it on ourselves if we really need a draw, which is nice.
Other creatures I debated were Snapcaster Mage, Coiling Oracle, Venser, Shaper Savant, and Mystic Snake. With Snap I just felt like I'd rather be doing other things most of the time; Oracle I quite liked in testing but there just doesn't appear to be room; Venser and Snake are good but we need our creatures to be either a 4-of for consistency or otherwise damn strong and efficient (Clique). And I don't want a 4-of 4-drop unless it's as strong as Resto Angel and not legendary, so these two are out for me.
As for the non-creature cards, we employ the usual slew of Path, Leak, and Remand, because they're cheap, efficient, and the best at what they do. Other non-creature cards I debated were mainly Momentary Blink and Ghostaway. I rejected them because Wisp and Angel are best for the effect. That said, Ghostaway could be nice sideboard, partly to deal with wrath (though we do have some built in ways to deal with it, and even if wrathed, we've already gotten value through ETB effects, so maybe not).
All that's left is a little land (including some utility land) and ramp, and we're good to go.
Bant Blink by Sean Ridgeley
There's no completed sideboard yet, but for now I'm thinking Reclamation Sage (repeatable, and all kinds of targets, but mainly for Affinity), Hurkyl's Recall (swap out some Remand for this to hurt Affinity), Engineered Explosives (extremely versatile and relevant, especially since we don't care about our 1 drops much and don't have any 2 drop creatures), and Loaming Shaman (repeatable hate for Delve decks, Living End, and more).
In Closing
In goldfishing, the deck feels pretty strong and consistent, so at this stage I'd definitely recommend it if you love Bant but don't want to feel handicapped (at least not too much so). Alternately, wait it out for my Bant Company list, which I should have sometime next month.
Until next time!