Are you a Quiet Speculation member?
If not, now is a perfect time to join up! Our powerful tools, breaking-news analysis, and exclusive Discord channel will make sure you stay up to date and ahead of the curve.
GP Charlotte confirmed something I've felt about Modern all year: if you're not casting Tarmogoyf, and you're not casting Blood Moon, you're losing. Obviously the rule has exceptions; many linear decks hope to "get under" Goyf and Moon decks by attacking from angles Modern's interactive top dogs haven't prepared for. But at the end of the day, interactive decks beat the linear decks they care about.
Collected Company won GP Charlotte, but Pyroclasm and Anger of the Gods should check it in the future. Lantern Control and Griselbrand Reanimator also enjoyed some top-table spotlights, but these decks lose with a target on their heads. Linear decks continue to exist in Modern because, without the card velocity and consistency of Legacy staples like Aerial Responder and Preordain, 15 cards isn't enough to prepare for every all-in strategy. You can't always dodge the deck you don't want to face.
[wp_ad_camp_1]
Modern All-Stars
I led with a pretty bold claim, so I'll take some time to elaborate. Tarmogoyf is dramatically better than every other creature in the format. Most of the removal he doesn't dodge costs more than he does. Even Abrupt Decay and Exterminate!, which match him in converted mana cost, force opponents into multiple colors and subsequently soften them to Blood Moon. Path to Exile, the cheapest answer to a Goyf, turns the creature into card advantage. And countering one-half of a Bolt-Bolt response wins games on its own.
Blood Moon is a card people fear. They know about it, they fetch around it, and they still lose to it. You can leave Moon in the sideboard and still expect it to win you games as Grixis Twin opponents cut themselves off double red to keep from losing to the enchantment. How many cards in Modern win you games from the sideboard? Moon's biggest strengths are its splashability and reliability – it fits into everything (Bolt pushes interactive decks into red anyway) and hoses just about every rogue deck in the format. Moon invalidates more strategies than any other card in Modern, forcing deckbuilders to construct efficient, straightforward manabases or to lose half their matches on turn 3.
Back to consistency, one of the game's most powerful mechanics. Can you guess Modern's third play-it-or-die card? Serum Visions give players a huge edge over the nonblue competition. For a tiny investment, it influences whether ensuing draws provide win conditions, interaction, combo pieces, or mana. It's a one-mana Abundance, and why even draw-go decks like UWR Control don't run it continues to bewilder me.
Baboon Bait
Monkey Grow was an easy choice for Charlotte. I'm very comfortable with the lines, which often surprise opponents inexperienced against the deck (read: all of them), and it plays Serum Visions, Tarmogoyf, and Blood Moon. Disrupting Shoal positions Grow better than any other deck against a field of diverse linear strategies, and I can practically "go linear" myself with explosive openings like Delver into Mandrills into Stubborn Denial.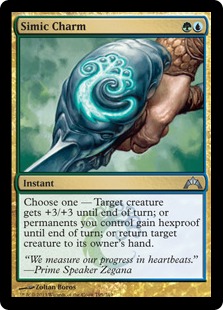 I've tweaked the deck a little since the SCG IQ. Recent testing showed me the absurd relevance of Simic Charm, and I now consider a full set part of the deck's core – my tournament report speaks for the card's strength in this deck. That leaves a single flex spot. I packed Tarfire over A-Mischievous Catgeist // A-Catlike Curiosity as my Goyf-booster of choice, expecting a decent amount of Grixis creature decks (against which it hits Pestermite, Young Pyromancer, Delver of Secrets // Delver of Secrets) and Collected Company (against which it hits everything). My testing against Jund with mainboard A-Mischievous Catgeist // A-Catlike Curiosity proved favorable enough that I figured cutting the enchantment to beat up on mana dorks wouldn't hurt the matchup much.
I was wrong; after going 7-0 on Day 1, I lost two straight matches to Jund, and a third first thing in the morning on Day 2. I also lost to UR Twin and Affinity, neither of which I'm very worried about. Based on my testing against those decks, I'll chalk the losses up to variance and play mistakes. I packed 2 Feed the Clan in the sideboard to bulletproof my Burn matchup, but the deck eluded me both days. So did Company decks, mostly stranding the Pyroclasms I'd been so excited to cast in the sideboard. Here's the list I played:
Monkey Grow, by Jordan Boisvert (GP Charlotte 2015)
Tournament Report - Day 1
Round 1 BYE (Planeswalker points)
Round 2 vs. UW Midrange: 2-0 (win roll)

By UW Midrange I mean Kitchen Finks, Restoration Angel, and Celestial Colonnade. My opponent apparently worked with Jeff Hoogland on the list. Game 1, I keep a hand of 2 Bolts, Tarfire, Scour, and lands, and draw a third Bolt. My opponent's turn 1 Colonnade lets me know this hand might not get me there. Neither of us do anything until I draw a Delver some turns later. Path to Exile targets him on my upkeep but I hardcast a Shoal for 1, then draw a Hooting Mandrills, attack a couple times, and burn my opponent out with Bolts. All he drew was a Kitchen Finks. Game 2, I resolve turn 3 Blood Moon after my opponent taps out for Finks, taking him off white. He eventually draws a second Island and transmutes Academy at Tolaria West for Mistveil Plains, allowing him to flash in a Restoration Angel. But by then my Huntmaster's flipped three times too many.
In:
4 Huntmaster of the Fells // Ravager of the Fells
3 Blood Moon
Out:
4 Lightning Bolt
1 Tarfire
2 Thought Scour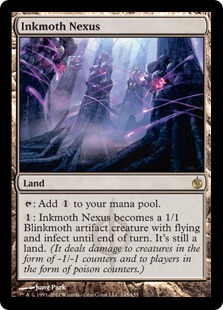 Round 3 vs. BUG Infect: 2-0 (lose roll)
I Shoal a turn 1 Ignoble Hierarch and resolve Delver into Goyf. Goyf gets chumped by a Spellskite and then by an Blinkmoth Nexus, but Simic Charm +3/+3s my Delver for lethal damage. Game 2, my end step Lightning Bolt targeting a tiny Inkmoth gets Dispelled, and next turn my opponent puts a Might of Old Krosa on the Nexus before attacking. I Ancient Grudge it before damage. A pair of Goyfs get there pretty handily. End step Charm bounces one Glistener Elf and the second blocks a Tarmogoyf; another Simic Charm pumps the unblocked Goyf for lethal.
In:
3 Blood Moon
2 Destructive Revelry
1 Ancient Grudge
2 Pyroclasm
1 Dismember
Out:
2 Hooting Mandrills
4 Thought Scour
3 Stubborn Denial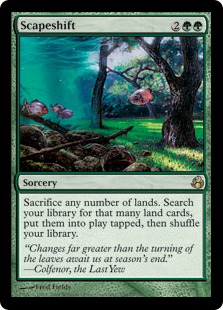 Round 4 vs. RUG Scapeshift: 2-1 (lose roll)
I mulligan twice game 1 and fetch a Breeding Pool, knowing I'll be stuck on one land. I have Thought Scour and Mandrills and am able to power the monkey through on turn 3. He eats a pair of Electrolyzes, but I resolve another Mandrills. I start attacking and casting end step Lightning Bolts, getting off three of them for lethal before my opponent draws Scapeshift. Game 2, I find my lands, but not my threats. Scapeshift kills me. Game 3, my opponent mulligans to 5 and I cast turn 2 Mandrills and turn 3 Delver. Probe shows me Cryptic Command so I cut myself off green with an early Blood Moon. Mandrills kills my opponent before he can draw the third blue source.
In:
3 Blood Moon
2 Destructive Revelry
1 Dismember
Out:
4 Lightning Bolt
1 Tarfire
1 Disrupting Shoal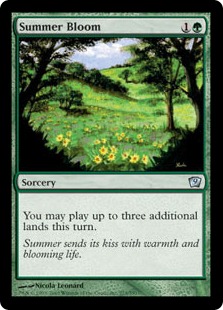 Round 5 vs. Amulet Bloom: 2-1 (win roll)
Game 1, I have Delver into double Goyf and only a Disrupting Shoal to slow my opponent down. But I'm fast enough to get there before he draws anything. Game 2, I mulligan two no-landers and Probe shows me triple Summer Bloom, Titan, and Thragtusk. All I have is Island and Delver, so this one ends quickly. Game 3, I tap out for turn 2 Tarmogoyf, knowing I need a threat and hoping my opponent doesn't have a Summer Bloom. He does, and with a Cavern naming Giant. I figure he has the Titan and know I'm dead to it next turn. But miraculously, I draw Blood Moon off the top. Delver and Simic Charm close out the game.
In:
3 Blood Moon
1 Ancient Grudge
2 Destructive Revelry
Out:
1 Hooting Mandrills
4 Lightning Bolt
1 Tarfire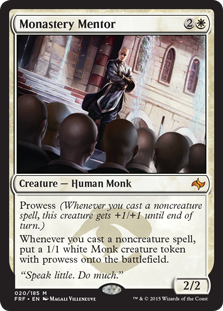 Round 6 vs. Esper Mentor: 2-0 (lose roll)
I lead with double Delver and my opponent's stuck on 3 lands. He has a bunch of clunky Lingering Souls. On the last turn, I bolt a Spirit and Simic Charm pump my unblocked Delver for lethal. Game 2's a grindfest; all my stuff gets killed and Creeping Tar Pit brings me all the way down to 8. My opponent has no nonbasics in play and tapped his Polluted Delta with an Urborg, Tomb of Yawgmoth to animate the Tar Pit, so a Blood Moon locks him out. He finds an Island but dies to Huntmaster.
In:
4 Huntmaster of the Fells // Ravager of the Fells
3 Blood Moon
2 Pyroclasm
1 Dismember
Out:
2 Hooting Mandrills
4 Disrupting Shoal
4 Thought Scour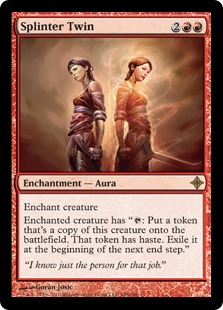 Round 7 vs. Grixis Twin: 2-0 (lose roll)
Game 1, we both mulligan once. My best play of the day: I land a 2/3 Tarmogoyf (Probe and land) and he drops a Tasigur with 3 mana up. I draw Simic Charm and attack with Tarmogoyf. He flashes in Pestermite to tap down my Steam Vents, and I float blue in response. Then he double blocks the Goyf. I use the blue and tap Forest for green to cast Simic Charm, bringing Goyf to 6/7 – just big enough to kill Mite and Tasigur while surviving. I cast Mandrills and take the game. Game 2, I Tarfire + Lightning Bolt a Tasigur so my two Mandrills can do some work. I fetch and Probe like an idiot and end up at 3 life, but my opponent never finds Lightning Bolt and the monkeys kill him.
In:
4 Huntmaster of the Fells // Ravager of the Fells
2 Destructive Revelry
1 Dismember
Out:
4 Disrupting Shoal
3 Thought Scour
Round 8 vs. Jund: 1-2 (win roll)

Nam Sung-Wook is quick to double Bolt my Hooting Mandrills. I'm short one mana to Stubborn Denial the second burn spell, and my follow-up Tarmogoyf is no match for Scavenging Ooze, Dark Confidant, and Liliana of the Veil. Game 2, I transform a pair of Delvers after the third gets Bolted. Ooze has no targets after I delve out my graveyard for Mandrills, and I sacrifice the monkeys to Liliana for the lethal aerial swing off a Simic Charm pump. Game 3, I keep a sweet hand with three threats. I slow-roll my Delver, casting a turn 2 Mandrills to dodge a represented burn spell, but the Ape again eats two Bolts. I follow-up with double Delver, and one immediately dies to Chandra, Pyromancer. I transform, attack the Chandra, and kill it with Bolt. Nam tries to Decay the Aberration next turn, but I protect it with Simic Charm; it still dies to a Liliana. Then I get my Huntmaster Thoughtseized and a Tarmogoyf runs me over.
In:
4 Huntmaster of the Fells // Ravager of the Fells
3 Blood Moon
1 Dismember
Out:
4 Disrupting Shoal
4 Thought Scour
Round 9 vs. Jund: 0-2 (win roll)
I lose my Delver and Goyf meets another Goyf. I don't have the Simic Charm to push through and my opponent draws Liliana to stabilize. Game 2 goes pretty much the same way.
In:
4 Huntmaster of the Fells // Ravager of the Fells
3 Blood Moon
1 Dismember
Out:
4 Disrupting Shoal
4 Thought Scour
Tournament Report - Day 2
Round 10 vs. Jund: 0-2 (lose roll)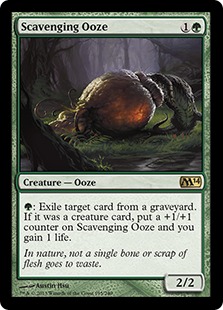 A third straight beating from Jund. Two removal spells and my own two Thought Scours put all my Tarmogoyfs in the graveyard. Mandrills gets close, bringing my opponent to 6, but I have to Leak a Huntmaster, which puts a creature in the yard for Scooze. I've got no choice but to force Scooze and Confidant to double block the monkeys, killing them both, because otherwise Ooze grows to 4/4 next turn. Tarmogoyf from the top forces my scoop. Game 2 I run into a Thragtusk, which I kill. My opponent returns it to his hand with Kolaghan's Command. I seize the opportunity to Blood Moon, cutting him off green, but he draws a Forest naturally before my Delver can kill him. Scavenging Ooze follows the Value Beast and I can't keep up.
In:
4 Huntmaster of the Fells // Ravager of the Fells
3 Blood Moon
1 Dismember
Out:
4 Disrupting Shoal
4 Thought Scour
Round 11 vs. Grixis Twin: 2-1 (win roll)
I mulligan to 5 and my opponent goes to 4. I open with Serum Visions, Tarmogoyf, and Tarfire my opponent to turn on Stubborn Denial and start clocking for four each turn. He makes his land drops and continuously chumps Tarmogoyf while I slow-roll a Bolt with my opponent at 4. I eventually cast it his end step, and he cracks Mire in response to cast Cryptic Command into my Stubborn Denial. Game 2, I mulligan once and draw a lot of nothing. Tasigur beats kill me. Game 3, my opponent mulligans once and is stuck on two lands. Goyf into Mandrills with Denial backup kills him.
In:
4 Huntmaster of the Fells // Ravager of the Fells
2 Destructive Revelry
1 Dismember
Out:
4 Disrupting Shoal
3 Thought Scour
Round 12 vs. UR Twin: 1-2 (win roll)

Game 1, I mulligan once and assemble an army of Goyfs and Mandrills. My opponent stalls just long enough to find Splinter Twin for the Exarch with Desolate Lighthouse at 6 life. Game 2, my turn 2 Mandrills goes unanswered. Probe gets Negated, and I Simic Charm pump with my opponent at 10. He goes to 3 and tries to Dispel my Lightning Bolt, but I respond with Stubborn Denial. Game 3, I mulligan once and am stuck on two lands with a hand of Bolt, Simic Charm, Destructive Revelry, Stubborn Denial, Serum Visions. I have Goyf and Mandrills in play when he goes off, and I try to Deny the Splinter Twin to play around Spell Snare since my opponent's at just 4 life (no sense in maybe blowing him out with Charm). He taps out for Dispel and I'm short the third land to cast Revelry or Charm.
In:
4 Huntmaster of the Fells // Ravager of the Fells
2 Destructive Revelry
1 Dismember
Out:
4 Disrupting Shoal
3 Thought Scour
Round 13 vs. Affinity: 1-2 (lose roll)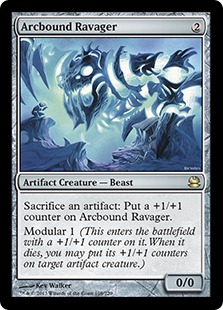 Probe shows me double Signal Pest and an Arcbound Ravager. I Shoal the Ravager but the Pests, backed up by a Welding Jar, prove too much for my two flipped Delvers. A second Ravager puts a counter on Pest so it kills Aberration after blocks. Game 2, Tarfire into Shoal slows my opponent way down. A 6/7 Tarmogoyf puts him on a two-turn clock. He gets Cranial Plating on a Spellskite and attacks me, but I bounce the Skite with Simic Charm and Revelry the Plating. I bounce the Skite again next turn and attack for lethal. Game 3, I'm too slow to burn a Vault Skirge with Tarfire. I was waiting on a Huntmaster to eat the Skirge and taking 1 Lifelink and 1 Infect damage per turn. Couldn't find a single threat of my own to establish an actual clock and Champion + Galvanic Blast killed me.
In:
4 Huntmaster of the Fells // Ravager of the Fells
2 Destructive Revelry
1 Ancient Grudge
2 Pyroclasm
1 Dismember
Out:
4 Hooting Mandrills
4 Thought Scour
2 Stubborn Denial
Round 14 vs. Merfolk: 2-1 (lose roll)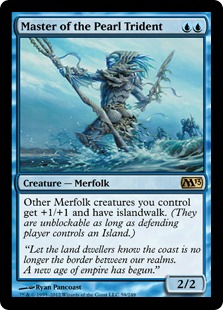 We're dueling for cash at this point. My opponent leads with Island, go, and I correctly peg him for Merfolk. I play a Tarn and pass, Bolting his Lord of Atlantis and following that up with a Tarmogoyf. But 3 copies of Spreading Seas cut me off green and red and the Goyf gets Vapor Snagged. Game 2, I Revelry an Aether Vial then slowroll Pyroclasm to hit Cursecatcher, Silvergill Adept, and Kira, Great Glass Spinner. Eventaully my 5/6 Tarmogoyf is racing a bunch of unblockable Folk. At 7 life, my opponent gets me to 1, and on the end step I Simic Charm bounce his untapped guy. Then I untap, attack, and Charm pump for lethal damage. Game 3, I Shoal a turn 1 Vial. My opponent casts Cursecatcher next turn and misses his second land drop. He finds the Island next turn and plays Master of the Pearl Trident to match my Tarmogoyf, but I Bolt the Master and attack for 4. My two Delvers never flip but my Huntmaster does and I drown the fish in value.
In:
4 Huntmaster of the Fells // Ravager of the Fells
2 Destructive Revelry
1 Ancient Grudge
2 Pyroclasm
1 Dismember
Out:
4 Thought Scour
3 Stubborn Denial
3 Mana Leak
Round 15 vs. Bogles: 2-0 (win roll)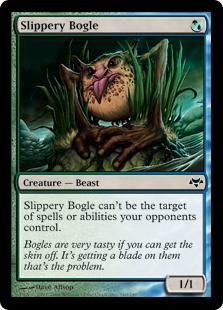 Game 1, we both mulligan and I lead with Probe, Delver. I see Dryad Arbor, Rancor, Daybreak Coronet, Spirit Link, Spirit Mantle, and Temple Garden, and correctly figure he's on an equip-the-tree plan. He lays Arbor and passes, and I play another Delver and attack on the ground for 1. My opponent tries to put Rancor on the Arbor with Garden, but I Bolt it in response. The Delvers flip and are joined by a Mandrills, attacking for lethal the turn after. Game 2, I Shoal Spirit Mantle with a 2/3 Tarmogoyf out, growing him to 4/5. My opponent has Gladecover Scout with Ethereal Armor and Hyena Umbra, and asks how big my Goyf is. I say "4" and he attacks with the Scout. I block and he says, "First strike?" I say sure and then eat the Umbra. Guess he didn't know Goyf had +1 toughness. I scry Stubborn Denial to the top and draw it withGitaxian Probe for life, leaving mana up instead of casting Mandrills and Delver in case my opponent draws a Coronet. He does, and I Deny it before casting my creatures and swinging for lethal.
In:
3 Blood Moon
2 Destructive Revelry
Out:
4 Lightning Bolt
1 Tarfire
Post-GP Charlotte: A Furry Future
Getting Exterminate!d by other green decks taught me an important lesson: as long as BGx patrols Modern, A-Mischievous Catgeist // A-Catlike Curiosity will shine in this shell. No other deck can abuse the card like Monkey Grow. Turn 1 Delver, turn 2 A-Mischievous Catgeist // A-Catlike Curiosity with Denial or Disrupting Shoal for protection wraps games up immediately against most of the field. Meanwhile, the card is integral to victories against resilient attrition decks. My threats would often connect against Jund 2-5 times before opponents found and resolved an answer. At that point, they'd sit comfortably at 5 life and kill me with Goyfs as I drew into lands and counterspells. A-Mischievous Catgeist // A-Catlike Curiosity makes those 2-5 connections draw me that many cards, ensuring I have more protection for my creatures, extra threats to keep the beats flowing, and reach to end the game. It invalidates the BGx strategy of one-for-oneing its adversaries and is just as relevant against Jund as it was against Abzan.
But with 4 Simic Charms, space is scarce. I'm cutting a Thought Scour and the Tarfire for 2 A-Mischievous Catgeist // A-Catlike Curiosity. With double Pyroclasm in the board, Tarfire might be overkill against Company decks. Scour helps set up Mandrills-Denial on turn 2, but it's still weaker than Charm, and probably than anything else in the deck. On other alterations to the core, I can also see cutting one Disrupting Shoal for the fourth Denial in some metas.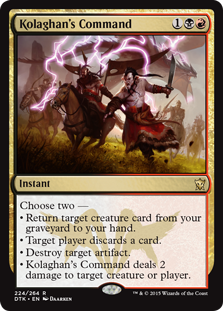 Wizards is surely thrilled with the results of GP Charlotte. The success of rogue decks like Elves and Lantern Control lets them make their favorite claim: "Modern is a wide-open format!" "Wide-open" might be a stretch – the format can be neatly divided into three groups. Barring a couple lower-tier, fair aggro decks (Merfolk, Abzan Company, Zoo), Modern decks mostly fall into two camps: aggressive linear decks, like Storm, Infect, and Burn, and interactive strategies in BGx and URx that bank on pairing off against the linear decks they brought sideboard cards for. The real new deck at Charlotte wasn't the linear Griselbrand Reanimator, but the interactive Grixis Control. SCG Columbus showed us a variety of takes on the deck a couple weeks ago, and its design space remains largely unexplored. A variety of different builds have already seen success in the format, pointing to the viability of the the Thought Scour–Snapcaster Mage–Kolaghan's Command engine. Capitalizing on tempo gained from opponents playing around Splinter Twin enhances the deck's strategy. That Serum Visions and Blood Moon fall seamlessly into the strategy is just icing on the cake. I'll leave you with my initial take on the deck:
Grixis Control, by Jordan Boisvert
Modern might not be "wide-open," but it's definitely varied enough to remain my format of choice. I look forward to seeing this and other archetypes evolve in the coming months.