Are you a Quiet Speculation member?
If not, now is a perfect time to join up! Our powerful tools, breaking-news analysis, and exclusive Discord channel will make sure you stay up to date and ahead of the curve.
Sometimes, Wizards spoils a card that seems potentially powerful if a game operates in an unconventional way. When they do, Magic players often hit the forums to discuss its implications. Day's Undoing is reaching Treasure Cruise-esque levels of hype, which makes perfect sense – like Cruise, the card provides a game-breaking effect (literally power) for a steep cost. "How steep?" creates the buzz. No other spell asks you to end your turn on resolution. The same could be said of Cruise; while we had threshold abilities in Nimble Mongoose, we never had threshold abilities that asked you to get threshold again. As we now know, "delve 7" is a laughably minor cost for such a tremendous effect. So what about "End the turn?"
[wp_ad_camp_1]
Cost Misevaluation
I cherry-picked these posts, but I didn't look far; a quick skim through the first couple pages of MTGSalvation's Treasure Cruise thread yielded these reactions to the spoiler:
"Well, it's fine for a common I guess. I just hope we get a better draw spell with constructed purposes."
"This card is so awful in your opening hand in modern it's offensive. You'll be dead before you can play it. Thirst for knowledge is always 3 for 3 at instant speed."
"This is either unplayable jank or one of the most broken cards ever printed."
The last sentiment is one more widely felt with Day's Undoing. Treasure Cruise Winter left a bitter taste in the mouths of those who ate their words, causing many MTGS users to issue a disclaimer with their dismissal of Day's Undoing. But we still get comments like these in the Day's Undoing discussion:
"Better than Time Reversal but still bulk Mythic."
Day's Undoing is Broken
Obviously, we won't know exactly how good Day's Undoing is until it descends upon Modern on July 17th. But after some admittedly limited testing (I put in about 15 hours since the card was spoiled four days ago), I've come to the conclusion that Undoing will indeed Undo Modern, pushing the format even deeper into streamlined aggressive strategies and away from interactive ones that patiently accumulate incremental advantages.
When Treasure Cruise was legal, BGx and slower blue decks became all but unplayable. Why spend mana (read: time) to Thoughtseize pieces from your opponent's hand when he can tap an Island and draw three cards? Or try inching out value with Electrolyze when your opponent, for the same amount of mana, can play a threat, counter a spell, and draw three cards? Day's Undoing poses the same questions, except its symmetrical nature erases any card advantage gained by other means. Not only is Undoing hands down the most efficient card advantage machine in Modern, but players looking to draw cards in a non-Day's Undoing way will just get trumped by Day's Undoing. Consider a Twin pilot casting Snapcaster Mage to recycle a binned Lightning Bolt. The player paid 1UR for a body, a Bolt, and a card (the in-hand Bolt he didn't need to cast). His opponent untaps, plays out whatever's left of his hand, and casts Day's Undoing. The extra card provided by Snapcaster Mage is gone as both players restock to 7. The Twin player would have been better served casting the Bolt in his hand and doing something more impactful with the remaining mana – I can think of many two-drop creatures with better stats than Snapcaster.
(A quick aside: Tarmogoyf isn't one of them. A resolved Undoing empties both graveyards, setting Tarmogoyf to 0/1 and killing him if he has even a single damage marked before any player receives priority. That makes the Lhurgoyf a pretty bad blocker if you want him to stick around – eat even a 1/1 and Day's Undoing eats the Tarmogoyf.)
"Symmetrical" effects rarely are. Smallpox is only symmetrical if both players have the same number of creatures, lands, and cards. Day's Undoing is only symmetrical if both players have the same amount of cards in hand. Either way, these cards slot into decks that take full advantage of the effect. Day's Undoing in particular is very tempo-centric, favoring the player down on cards and up on board presence. In other words, Undoing rewards players for throwing away cards as quickly as possible.
Finding a Home: Affinity
While "Draw 7 cards" best fits into linear decks, "end the turn" is mostly risky against… other linear decks. Your opponent could untap and slam a good deal of those new cards on the table to overcome whatever board presence you've established. Undoing decks must either be able to stop opponents from casting anything (e.g. Silence), match opposing board presence (e.g. Aether Vial, one-drop threats), or ignore that board presence entirely (evasion, reach). I started with an Affinity shell, since it boasts plenty of low-cost evasive threats, packs strictly-better Lightning Bolts, and can consistently power out Day's Undoing on turn two, netting upwards of four cards against opponents while "forcing" a mull to seven they have no control over.
Undoing Affinity, by Jordan Boisvert
With eight high-power draw spells, Undoing Affinity finds Cranial Plating with frightening accuracy. Memnite, Ornithopter, and frequently Signal Pest are mostly mana dorks that turn into huge piles of damage with a Plating or a Ravager, while Pest helps Blinkmoth dole out non-negligible damage increments (i.e. 3) if opponents want to play the waiting game to counter our bombs. A single Cranial connection usually ends the game; the board gets so developed that the equipment pumps for lethal by itself. Otherwise, we transform into a Burn deck after landing a hit. Between eight Bolts, four Draw 2s, and four Draw 7s, burning opponents out even from 20 proves entirely manageable. Bolts have added utility against the other aggressive strategies sure to dominate Modern post-Origins.
Previously, Affinity only ran 2-3 Memnite, since spending a card on a measly 1/1 body wasn't exactly where the deck wanted to be. But with Days Undoing, we're not spending anything. The sorcery incentivizes us to cast as many spells as possible.
The cards absent from my list represent how deeply Day's Undoing will alter the format. Only the most efficient cards remain playable. Besides Ravager, Plating, and Undoing, every spell in the deck costs one or zero. For a two-drop to earn its place, it must win us games the turn it comes down. Unlike Ravager and Plating, Steel Overseer doesn't deal 12 damage after we cast him. For a three-drop to merit inclusion here, it has to be the best card in the deck. Unlike Undoing, Etched Champion doesn't draw us 7 cards. Since we're so fast, the lifegain from Vault Skirge is irrelevant in enough matchups that I'm fine with them in the sideboard.
Sideboarding Undoing Affinity
Disclaimer: my sideboards for each of these decks are pretty half-baked since I've yet to get any "real" testing in. While I sunk maybe seven hours into Undoing Affinity, I only tested it against existing decks. After Origins reshapes the metagame, we'll have a better idea of what to include.
Wear // Tear seems like the best option against Stony Silence, which causes huge issues for the deck. My plan against Stony has always been to hope opponents don't draw it, since it turns off many colored sources (which cast Tear). Alternatively, relying on opening with Thoughtseize while my opponent opens with the enchantment has always seemed really bad to me. That said, we do need an answer to the card since Affinity will skyrocket in metagame shares after Origins and many players will pack a handful of Stony Silence to deal with us. Wear // Tear's application against the mirror makes it an obvious choice. Ancient Grudge gets shuffled right back into the deck via Day's Undoing, so flashback doesn't make it much better in this matchup than Shatter. Wear // Tear also messes with Bogles, another linear poised to profit from Day's Undoing.
Vault Skirge goes over aggressive decks that attack our life total. This includes Burn and possibly the mirror, especially if other Affinity decks end up running as many Bolts as I do. It also comes in against the low-to-the-ground tempo strategies like Treasure Cruise Delver I expect to
show up in some number (more on these decks below).
Day's Undoing will force aggro decks into the most efficient creatures around, making Whipflare a stellar choice for nonartifact swarm strategies. It kills Delver of Secrets // Insectile Aberration, Goblin Guide, Monastery Swiftspear, and mana dorks for only two mana. The best part: against the decks it hoses, we get it over and over again, since Day's Undoing repeatedly shuffles our four copies back into the deck.
Blood Moon might prove a little slow for the coming meta, but I expect some decks to get greedy with their mana and prioritize aggression. Affinity is the only existing deck capable of consistently powering out turn-two Blood Moons, which devastate even resilient manabases.
Finding a Home: Burn
The next logical step was to jam Day's Undoing into Modern's most linear deck. In Burn, we cast it on turn 3 or 4 after spending all our spells for a new grip. We don't care so much about giving opponents another hand – fair decks will be drawing creatures, which usually don't start attacking until the turn after they resolve. Most of the time I cast Day's Undoing, I'm out of cards and opponents are already under 10 life. The odds of drawing them into something that can deal with three more Bolts are very slim. Here's the list:
Undoing Burn, by Jordan Boisvert
Grim Lavamancer already earns a place in most (good) Burn lists, but he plays a second role in this deck. The drawback of delving out cards for damage can be used to our advantage if we eat lands instead of spells before casting Day's Undoing, since it increases our chances of drawing business later. (The same can be said of delve creatures like Hooting Mandrills).
Faithless Looting is the weirdo card here. It does a few interesting things for the deck: firstly, it finds lands early in exchange for slower burn spells or extra copies of Day's Undoing (we only need one). Making the first three land drops is crucial to taking advantage of an Undoing in hand. It also pumps Monastery Swiftspear, sometimes while drawing us into another one-mana spell we can cast before attacks. I've even flashed it back a couple times for the extra point of damage. Similarly, Looting can stock the Graveyard for Grim Lavamancer. But most importantly, it turns an "unkeepable" seven drawn off Day's Undoing into a goldmine. By the time we cast Undoing, we have 3+ lands on the battlefield, so any extras we draw are basically dead. Faithless chucks them immediately for a shot at more fire, and can be flashed back easily with mana up after an Undoing.
Sideboarding Undoing Burn
To combat aggressive decks, the mainboard already packs Lightning Helix and a full set of Searing Blaze. But even coupled with these removal spells, 4 Destructive Revelry from the sideboard does little to pacify Affinity. In testing I found it best to add a couple of Stony Silence and run 4 Deflecting Palm, which blows out Cranial Plating attacks.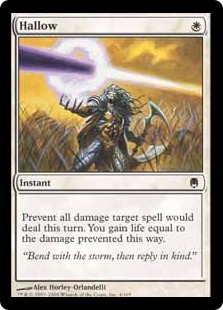 I'm also worried about the mirror. After boarding, 4 Helix, 4 Palm, 4 Blaze, and 4 Skullcrack should help the matchup enormously. Just to make sure we have the edge, I ran a Hallow in the board. The card won me a ton of games against Burn when I played Counter-Cat in the Treasure Cruise era, and I expect it to do the same next season. For those of you doubting this innocuous common, I'll just say you haven't lived until you've Hallowed a Searing Blaze.
In the Burn mirror, nobody wants to cast Day's Undoing; whoever does will probably lose to his opponent next turn. Both players board them out and the game revolves around lifegain and board presence. Elsewhere, Burn takes perhaps better advantage of the spell than anybody, since the cards drawn can go straight to the opponent's head.
Rending Volley was a concession to the Twin decks in my playtest group. I was happy to have it, but I don't see Twin sticking around once Day's Undoing becomes legal. In practice, I did cast Undoing with a mana up and draw into Rending Volley for the blowout twice.
Finding a Home: Counter-Cat
Since I brewed the deck this afternoon, it's untested and has a lot of room to grow. I still wanted to include it to show some other applications for Day's Undoing. Here's my Counter-Cat take on Day's Undoing:
Undoing Counter-Cat, by Jordan Boisvert
Since I brewed the deck this afternoon, it's untested and has a lot of room to grow. I still wanted to include it to show some other applications for Day's Undoing. I miss Tarmogoyf dearly, but one-drops might even be better than the Lhurgoyf in this shell. Undoing Counter-Cat is an exercise in mana efficiency, though it does heavily tax the life total. It operates under the premise that opposing decks aren't as fast, so life doesn't matter much.
Serum Visions, Gitaxian Probe, and Faithless Looting find Day's Undoing while pumping up Monastery Swiftspear. Vapor Snag keeps the board clear and basically becomes a one-mana Terminate (plus damage!) with Day's Undoing. Mutagenic Growth saves our beaters from Searing Blaze and Lightning Bolt, helps them run over bigger blockers, and turns into reach with an unblocked attacker. Swiftspear makes Growth a 0-mana Lava Spike. And Day's Undoing turns Silence into Time Walk.
Silence has never seen serious play because it costs you a card. But nothing costs you a card anymore. With threats on the board, we can cast it on our opponent's upkeep as a one-mana, pre-emptive Remand. They pass the turn right back and we attack again for more damage. Silence makes it harder for opponents to spend their cards as fast as we spend ours, making Undoing even more one-sided. It can also clear the way for lethal burn spells (including a flurry of Mutagenic Growths) or for Day's Undoing itself. If opponents Negate the Silence, we simply pass the turn. If they don't, Undoing resolves, stealing the Negate anyway. After Undoing, an upkeep Silence ensures opponents won't use their new cards before we get to ours.
Sideboarding Undoing Counter-Cat
Rest for the Weary may do more work, but Hallow seems like the best anti-Burn technology here. Lightning Helix also comes in against them, as well as against decks we want to beat with reach or decks with lots of targets. Remand creams slower decks and Stony Silence hoses Affinity. The most interesting card in the sideboard is Pyroclasm, which only kills one of our creatures (Delver of Secrets // Insectile Aberration). I don't expect many creatures in the new meta to be x/3 or higher, meaning Pyroclasm can do the same heavy lifting it did for me when Treasure Cruise was legal.
A Linear Future
Day's Undoing doesn't only slot into Burn and Affinity. All the aggressive linear decks want this card. Bogles and Infect definitely want it. Even Merfolk and Taking Turns want it. Of these, I can only see Bogles sticking around. Aether Vial is just too slow. Taking Turns is way too slow.
If every linear deck benefits greatly from running the card, it's possible that some won't run it at all, opting instead to profit from their opponents' copies. The Undoing-less decks would give up some game against slower interactive strategies, but I don't think those strategies will be viable at all given the sheer number of linear decks that will run Day's Undoing. The card is so powerful because it gives the caster choice over when to fire it off. If an opponent manages to drop his hand before I drop mine, the Day's Undoing will just sit in my hand. If not, it will punish my opponent. It punishes hard enough to probably merit inclusion in the main even in linear mirrors, where it shines on the play (à la Eidolon of the Great Revel).
The worst fate Day's Undoing can suffer in Modern is a relegation to the linear deck's sideboard, mostly to avoid restocking other linear decks. But considering the card's insane applications against interactive strategies – namely, BGx and Twin – I don't see this happening. I see a format full of linear decks and Chalices.
Wizards' initiative to produce maybe-too-good cards greatly appeals to me. The powerful cards that end up okay in a format shake things up and add new dimensions of play. But Day's Undoing is too strong for Modern. We're in for a twisted few months.