Are you a Quiet Speculation member?
If not, now is a perfect time to join up! Our powerful tools, breaking-news analysis, and exclusive Discord channel will make sure you stay up to date and ahead of the curve.
From the response to last week's article, it seems the Nexus readership shares my interest in discussing the parameters and strategic relevance of Modern archetypes. Our community raised some insightful points in the comments, so today I'll address those and expand a little on my theory - especially delving into my thoughts on spectrums.
"Theory" is the operative word here. I don't believe in the existence of a system that flawlessly compartmentalizes all Magic archetypes. Anything Chapin writes, or Sullivan writes, or I write about archetypes merely aims to be relevant enough of the time to prove practical - theories and principles must offer us something to have any merit. Last week, I went over some of the benefits a passable sorting system offers Magic players: the ability to analyze what a deck's plan is, the roles it plays in a matchup, and the role it prefers to play most of the time. These classifications aid with both tournament preparation and in-game strategy. But I'll state here, in no uncertain terms, that the theory I propose in these articles is by no means one to live and die by. It's a tool I find helpful and that I enjoy sharing with other players, in the hopes that they can also make use of it.
[wp_ad_camp_1]
Before we move on with the theory, I have some cleaning up to do after last week.
That's Not Fair!
For one, I'd like to revisit last week's definition of "unfair:"
"A fair deck wins by attacking with creatures, which it does over the course of a game, and not only on the final one or two turns (as a Reanimator deck might). Unfair decks win in nontraditional ways, usually by violating fundamental game rules."
I got a message from one reader who described "unfair" as difficult to interact with, or preventative of future interactions. These definitions look great on paper, but they beg the questions, "how difficult?"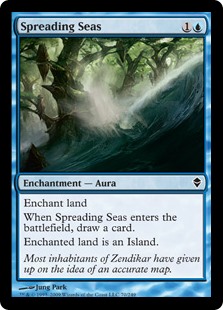 and "how preventative?" Say your Merfolk opponent hits his land drops on time, resolves Spreading Seas on your Stomping Ground, Vapor Snags your Grim Lavamancer, and curves out perfectly with an Aether Vial, killing you with an unblockable team on turn five. These kinds of draws are very difficult for many decks to interact with, and the Seas + islandwalk combination prevents blockers from walling the onslaught (or even leaving your hand!). Still, very few players would call Merfolk "unfair." Doing so leads to the unfortunate scenario of the word losing all meaning, as in Carsten Kotter's nightmarish "Fair // Unfair" from 2013. Kotter muddles "unfair" and "powerful," yielding an article about nothing and a lot of confusion amongst his readership (just take a look at the comments).
We can hopefully agree on the vagueness of "difficult to interact with" and "preventative of future plays." "Nontraditional" is far less vague. We can draw a clear line between traditional and nontraditional by asking, "does the deck win by attacking with creatures?" Some nontraditional means of winning include infinite combos, planeswalker ultimates, damage from reach, and Darksteel Reactor.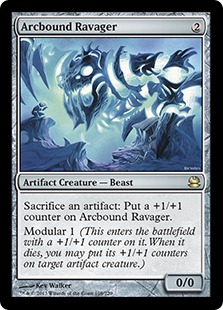 How are Affinity and Infect unfair if they win by attacking opponents with creatures over the course of the game? To address this issue, I've added another framework. For me to consider a deck unfair, it must meet one or both of the following criteria:
Has a reliable, nontraditional win condition
Can go from "zero to hero"
We've already gone over nontraditional win conditions, so I'll jump right into the scare quotes. Going from "zero to hero" means securing a victory in a single turn from a position resembling the game's original state - in other words, dealing 20 points of damage or 10 points of poison. Making 1,000,000 hasty Pestermite copies, sacrificing a developed board to Arcbound Ravager and putting the counters on an unblocked attacker, and Chording for two Shaman of the Packs with 10 Elves on the battlefield are all examples of "zero to hero." (There's still a gray area; a fuzzier "zero to hero" is resolving Emrakul, the Aeons Torn, which gives Tron players another turn to attack for 15.) Aggro decks that go "zero to hero" become Aggro-Combo.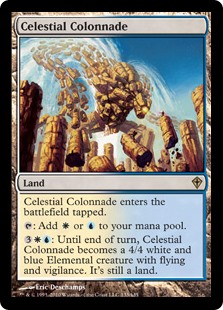 The presence of fair win conditions doesn't make a deck fair. In fact, most unfair decks in Modern also have fair plans. But if a deck sometimes wins in a nontraditional way, or by going "zero to hero," I classify it as unfair. In Jeskai Control, Celestial Colonnade can close out games by itself. Still, that the deck wins with cards like Jace, Architect of Thought categorizes the strategy as unfair. Twin has a fair plan, too, happily killing you with 2/1s. Elves performs just fine grinding you out with Scavenging Ooze or out-valuing you with Collected Company. Regardless of the fair games they can play, these unfair decks regularly defeat opponents without attacking a single time, or by going "zero to hero."
Rethinking Ramp
I had originally classified Ramp as a sub-section of Midrange (along with Rock), and defined Midrange as an Aggro-Control hybrid. While Rock decks disrupt opponents long enough to pull themselves into a
gamestate where they can begin to resolve haymakers (such as Siege Rhino or Keranos, God of Storms), Ramp decks trade Rock's interaction for mana acceleration, allowing them to access the "haymaker stage" much earlier than the opponent. The two decks aren't far removed from each other in terms of finishers, since they both employ some method - either disruption or acceleration - to propel themselves into a stellar late-game. Since Ramp decks generally go so light on interaction, I'm hesitant to classify them as Aggro-Control. That leaves us with one of two options: we can stop calling Ramp a Midrange deck, or we can refute the claim that all Midrange decks are Aggro-Control decks. The first option seems more elegant to me, but how do we then classify Ramp decks? Chingsung Chang calls ramp decks "The Big Spell," and does a fine job of summing up their strengths and weaknesses in relation to other archetypes. But these proactive, linear, and often unfair decks don't fit smoothly into any of the hybrid categories discussed last week, so I move to bench the issue for now.
Splinter Twin as Aggro-Control-Combo
In my analysis of Twin as an Aggro-Control-Combo deck, I never meant to peg it as an Aggro deck. Still, it does frequently operate as midrange or tempo while (or, in addition to) assembling its combo. Grixis Twin shows the strategy at its most midrange, heavily disrupting opponents and winning via attrition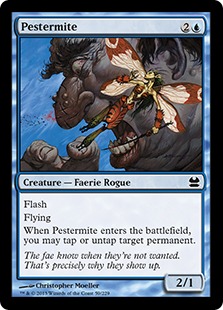 and aggression if it doesn't find a window to go off. Temur Twin represents Twin as a Tempo deck, often winning on the back of Tarmogoyf, Snapcaster Mage, and Pestermite before opponents can stabilize. Both Midrange and Tempo operate in similar ways, supplementing cost-efficient creatures with disruption to win games. As such, they both qualify as Aggro-Control, an interactive hybrid. As seen in Splinter Twin, or the now extinct Birthing Pod decks of Modern past, adding reliable infinite combos to a Midrange or Tempo deck creates Aggro-Control-Combo. Since Aggro-Control decks use tempo, the in-game mechanic, more than other Magic archetypes, they reap extra benefits from adding an infinite combo; just the threat of going off forces opponents to, say, hold up Path to Exile instead of impacting the board. When opponents "play safe" in this way, they give up tempo to the Aggro-Control-Combo player, who may not have a Splinter Twin in his hand - or even in his post-board 60!
Grixis vs. Jeskai
Lastly, I misspoke about Jeskai Control and Grixis Control. MTGGoldfish lists the matchup at 54-47 in Grixis's favor. Since I opened my article with a paragraph explaining Jeskai's dominance here, my claim stands out as an embarrassing blunder. I still think Jeskai has some pull against Grixis, especially if it simply adapts to the metagame - as pointed out in the comments, a couple copies of Rest in Peace would go a long way to improving the Grixis matchup. Either way, the numbers suggest that Grixis has the edge here.
Spectrum Procession
If Jeskai Control loses to Grixis Control, which I identified as a Midrange deck, how does the rest of my article hold up? According to my theory, a Midrange deck shouldn't consistently beat a dedicated Control deck. We'll solve this problem by exploring the archetype spectrum.
Introducing Spectrums
One of the comments on last week's article linked to Adrian Sullivan's article, "Why Midrange Rules Today's Standard." He submits the following graph on Aggro vs. Control, which helps illustrate the physicality of a spectrum.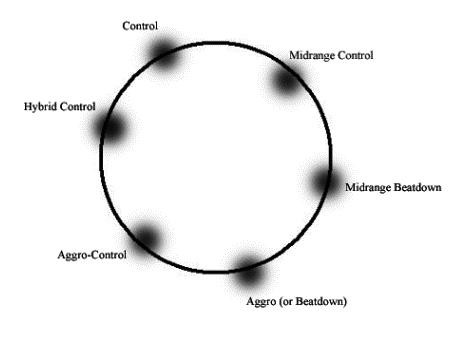 While Sullvan's archetype names don't exactly fit the ones we're working with, we can still follow along the line between "Aggro" and "Control" to measure how "close" a deck is to either strategy. Just based on the visual, we can deduce that a deck located in the "Hybrid Control" category is more controlling than one located on the "Aggro Control" dot. Every non-Combo deck falls somewhere on the circular line between Control and Aggro.
In my adjusted version of the diagram, below, I differentiate each side of the line by color. The side each deck belongs on - left or right; blue or green - depends on whether it wants to commit threats before disrupting opponents, or to disrupt before committing threats. In other words, the side a deck falls on depends on whether it's Tempo or Midrange.
With this diagram in mind, we can physically position decks on the Aggro-Control spectrum.
The following decks land on the blue line, and become more aggressive as they move from the top to the bottom of the spectrum:
We can see that as decks move away from the black Control dot, they give up disruptive elements for increased threat density. Similarly, these Midrange decks become increasingly aggressive as they move from the top of the green line towards the red Aggro dot:
Esper Control
Grixis Control
Abzan Midrange
Jund
BW Tokens.
Last week, I said that "Control beats Midrange." Control decks obviously don't always have the upper hand against midrange decks. But this diagram has a golden rule: in general, as the archetypes move clockwise on the circle, they beat the next one in line (Aggro beats Fish, which beats Grow, which beats Control, etc.).
Grixis and Shifting Roles
I stand by my claim that, in the abstract, Midrange decks lose to Control decks, as Control takes advantage of the late-game better than Midrange. One way to beat Jeskai Control is for Grixis Control to reverse its disrupt-then-commit plan, essentially becoming a slower Tempo deck. "Slower," but not as slow as Jeskai by a long shot - with all those post-board Dispels, Grixis can reliably land a Tasigur and protect it long enough to win.
As discussed last week, Tempo decks beat Control decks. In this case, Jeskai Control remains a Control deck, but Grixis Control sequences its aggro-control elements in a way that pushes it along the archetype spectrum to become favored in this matchup. With its few creatures and heavy disruptive suite, Grixis ends up resembling a Grow deck, and not a Fish deck.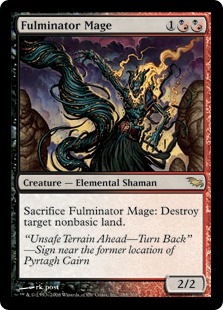 Another tempo element Grixis decks have access to is mana denial. Today, most Grixis decks phase out Blood Moon for Fulminator Mage, which synergizes better with Tasigur, the Golden Fang and Kolaghan's Command. Either way, these cheap sources of mana denial have always devastated control strategies, and rear their heads most often in Tempo decks. Legacy's Canadian Threshold, for instance, combines Stifle, Wasteland, and Daze to give decks looking to cast big spells (not that Sphinx's Revelation is a Legacy card) a tough time. Its mana denial elements give Grixis even more game as a Tempo deck against Jeskai Control.
Grixis Control also has Kolaghan's Command over Jeskai. The card definitely seems sweet for its control applications, but KC's go-long potential doesn't win the games here. Command shines in this matchup because it fits into the Grixis deck's newfound tempo plan. Aggro-Control decks play more threats than Control decks, and since Grixis Control is closer to the Control side of the green line, it doesn't have an unlimited reservoir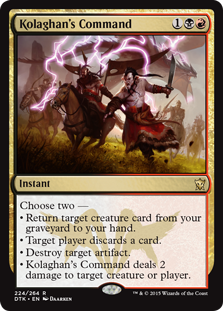 of creatures to throw at its opponent. Grow decks, for example, play 12-16 creatures; Fish decks often play more than 20. This sheer volume of threats overload a Control player's removal when combined with disruption. In the Jeskai vs. Grixis matchup, if a pair of Bolts do manage to take out a Gurmag Angler, Kolaghan's Command doubles as an extra copy of that threat (tearing apart Jeskai's hand, or blowing up a Batterskull, is just icing). Take a look at Patrick Chapin's Grixis Control deck from GP Charlotte. Chapin plays a miserly nine creatures, and four of them die to Lightning Bolt. In the Jeskai matchup, Command retrieves creatures from the grave, raising his virtual creature count to 11 - and, if he's flashing Command back with Snapcaster, the number gets even higher.
We can see that Grixis Control beats Jeskai Control in a full match, at least on paper, because it has the tools to do a reasonable Tempo impression for games two and three. Consider the golden rule: Jeskai Control sits higher on the green line than Grixis Control, but if Grixis moves from just after the Control dot to just before it, that deck suddenly becomes the predator.
Why We Categorize
As I stated earlier, theories are only worthwhile if they help us in some way. So what does slotting decks into places on the blue or green lines do for us as players?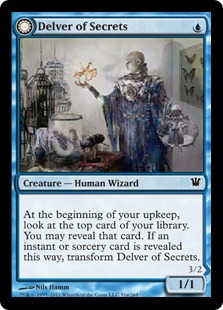 For one, the archetype advantages and disadvantages associated with aggro and control apply to the hybrid decks residing on the blue or green lines. The Grixis Control player can tweak a few cards in his deck and end up with a set of Delvers, helping him play a tempo game pre-board and improving his percentages against Control decks. But since Grow decks generally lose to Midrange, he gives up points against BGx in the process.
Additionally, visualizing the aggro-control spectrum shows us the limits of a deck's transformational capacity. Our Grixis pilot must ask himself between games whether he can out-control his opponent's deck. Against Jeskai Control, he can't, so he swings over to the blue line inasmuch as his deck will allow. Against Jund decks, he has the clear advantage staying within his control rock role, while the BGx mage has to get creative to beat Grixis Control. Probably, he moves down on the green line towards the red aggro dot, aiming to race Grixis before it stabilizes.
It also becomes easier in-game to assess an opponent's potential post-board plans. To beat Jeskai Control (located very high on the green line), Grixis Control abandons its midrange plan to take up a tempo strategy. In doing so, it migrates from its VIP spot on the green control rock dot to a location between Grow and Control, on the blue line. Based on the diagram, opponents of Grixis can safely reason that the deck won't be able to do a complete 180 and become a fish deck; in fact, no deck can execute such a drastic transformation. Similarly, if a Fish deck wants to enact a midrange plan against a much faster Aggro deck, it can at best move closer to the Aggro Rock section, landing somewhere between that and pure Aggro. According to the golden rule, that's where it wants to be: directly before the Aggro deck. Expecting something like Hatebears to gain the same disruptive strength of Control Rock is unreasonable, as a deck can only travel so far away from its default location on the circle.
Integrating Combo?
Sullivan argues that Combo decks operate on another axis entirely, and don't smoothly fit into his Aggro-Control graph. I can think of some ways to integrate combo elements by utilizing the center of the circle, and may pursue this endeavor in another article. For now, I look forward to continuing this discussion in the comments section.