Are you a Quiet Speculation member?
If not, now is a perfect time to join up! Our powerful tools, breaking-news analysis, and exclusive Discord channel will make sure you stay up to date and ahead of the curve.
A few days ago, my buddy commented on Jeskai Control's baby-renaissance. "Why are people hopping back on UWR?" he wondered. "It looks worse than Grixis. It seems slower, too." I dropped some serious knowledge on him: "It's not a question of 'worse' or 'slower.' UWR Control has a great Grixis Control matchup, since Grixis Control is really a midrange deck. Midrange decks lose to control decks, which have a stronger late game." His eyes sparkled, and roaring applause shook the stadium. "You should write an article on that!"
My buddy suffers from a common problem: he doesn't understand deck archetypes. Many articles already exist on this subject: most are dated, none specifically address this format, and I disagree with the lines some draw to divide the archetypes. Today's article describes classic and hybrid archetypes as I see them in relation to Modern. Understanding the interactions between Magic archetypes helps players build better decks, play better games, and ultimately, win more.
[wp_ad_camp_1]
Characterizing Decks
Before getting into the archetypes, we'll look at other ways to characterize decks. Breaking decks into categories helps us understand how different archetypes evolve and interact with each other. I judge decks by three separate metrics.
Proactive vs. Reactive: Proactive decks consistently impact the game zones (hands, boards, and life). Reactive decks stop opponents from impacting these zones. Every deck must take a proactive role eventually, or it will never win.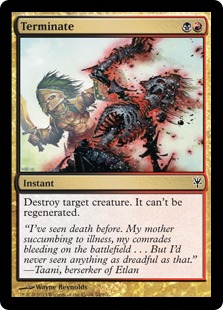 For example, Grixis Control is very reactive, walking opponents into Remand, Spell Snare, and Terminate before taking over with a Tasigur. But against Burn, a deck with more speed and inevitability than Grixis, it's forced into a proactive role, trying to land a delve creature and attack for lethal before getting toasted by Lava Spikes.
Based on the amount of time a deck plays the proactive or reactive role in most metagames, we can assign one role or the other. For more on identifying in-game roles, see the Mike Flores classic, "Who's the Beatdown?"
Interactive vs. Linear: The interactive deck addresses an opponent's plays throughout the game. Linear decks ignore opponents to further their own gameplans, but can pack some interaction (Pact of Negation in Amulet Bloom; Pyroclasm in Tron).
Fair vs. Unfair: A fair deck wins by attacking with creatures, which it does over the course of a game, and not only on the final one or two turns (as a Reanimator deck might). Unfair decks win in nontraditional ways, usually by violating fundamental game rules.
Classic Archetypes: Aggro, Control, Combo
Of Aggro, Control, and Combo, only Combo enjoys heavy representation in Modern. Hybrids that blend one or more of these three classic archetypes make up most of the format.
Aggro
Aggro decks wage all-out assault on an opponent's life total with creatures and without much disruption of their own. Aggro decks hope to race opponents, who either try to race back or to disrupt them beyond functionality. Most Aggro decks in Modern utilize combo elements and don't fall into this section. Some consider Burn, which usually wins with reach, an unfair Aggro-Combo deck; since it leans so heavily on creatures, I've included it here. Aggro decks are proactive, linear, and fair.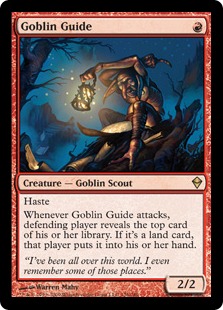 Strong against: Tempo and some Combo. Historically, Combo beats Aggro, as it's a turn or more faster. But the turn-four rule keeps Combo decks no faster than Aggro, meaning Aggro decks sometimes race Combo in Modern. Aggro decks containing reach also do well against reactive Control decks, as reach gives Aggro inevitability: eventually, they will draw more Lightning Bolts than opponents have Negates.
Soft to: Proactive Midrange decks, which can stabilize relevant game zones before Aggro delivers the killing blow, and faster Combo decks.
Example decks: Burn, Mono-Green Stompy, 5-Color Humans
Control
Control decks answer an opponent's cards one-for-one, making "value trades" along the way to gradually accumulate card advantage. Once it's assembled enough card advantage, Control wins with a big threat, a manland, or a planeswalker's ultimate. These decks are reactive, interactive, and unfair.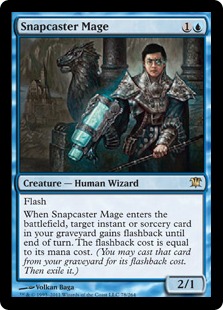 Strong against: Aggro, Midrange, and Combo. Control's sweeper effects, supplemented with one-for-one removal, puts Aggro decks in a tough spot - they can over-commit to deal more damage, opening themselves up to Wrath of God, or try to get by on single threats at a time, handing Control decks enough turns to stabilize. Midrange decks weaken their aggro plan to devastate fair decks, making them easy prey for the unfair Control decks that want to "go longer." Counterspells, hand disruption, and hate cards easily break up Combo's synergies.
Soft to: Decks built to do more more in a late game (i.e. Tron) and Tempo. Tempo decks complicate Control's plan of accruing value with expensive spells; Sphinx's Revelation and Cryptic Command rarely resolve against cheap, soft permission. Aggro-Combo decks sometimes play the tempo role well enough to beat Control. Burn, which doesn't rely on creatures to deal the finishing blow, also beats it.
Example decks: UWR Control, Esper Teachings, Lantern Control
Combo
Combo decks focus on assembling a combination of cards that offers the pilot an immediate victory, or at least a very high chances of one.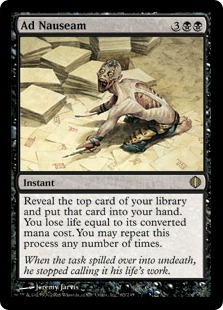 Combo decks rarely care about opponents and epitomize the term "unfair." Every Magic player ruefully remembers the first time they lost to a Combo deck. These decks are proactive, linear, and unfair.

Strong against: Most Aggro decks and Midrange lacking adequate disruption for unfair decks.
Soft to: Control and Tempo, the former of which prevents combos from resolving and the latter of which does so while cheap bodies force Combo decks to go off early.
Example decks: Ad Nauseam, Grishoalbrand, Amulet Bloom
Combo-Paired Hybrids
Aggro-Combo
Along with Midrange, Aggro-Combo takes up one of the largest Modern metagame shares.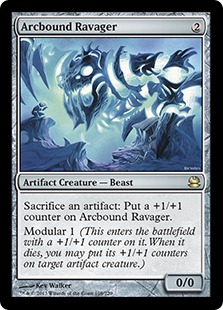 Each strategy attacks from such a unique angle that it becomes difficult to metagame against Aggro-Combo decks as a whole: enchantment hate and Spellskite do wonders against Bogles, but nothing against Elves; Pyroclasm hoses Elves, but Affinity and Bogles frequently ignore it. These blazing-fast decks possess some of the most streamlined cores in the format. Aggro-Combo is proactive, linear, and unfair.

Strong against: A lot, but nothing specific. Aggro-Combo decks decimate Midrange decks that don't pack the right hate and are quick enough to keep a host of slower strategies from ever entering the format. They can sometimes out-aggro Tempo decks or race other Combo decks.
Soft to: Anyone who came prepared, as Modern's hate cards take no prisoners. Aggro-Combo decks also lose to Tempo decks with Disrupting Shoal.
Example decks: Affinity, Elves, Infect
Control-Combo
Control-Combo uses tempo to control the pace of a game until it wins in one fell swoop. (Many of Modern's "Control" decks win by attacking, and begin attacking as early as the third turn, which actually categorizes them as Midrange.)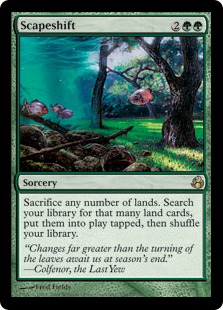 Control decks want to win in some unstoppable way after grinding games to a halt, but Control-Combo doesn't mind only temporarily delaying opponents to fire off wins in a small window. For Scapeshift, the only real Control-Combo deck in Modern, that window resides between assembling seven lands and losing to a Siege Rhino opponents finally resolve through four Remands. Control-Combo is reactive, interactive, and unfair.

Strong against: Aggro, Combo, and Midrange. Scapeshift has enough removal for Aggro decks, enough permission for Combo, and enough inevitability to beat permission-light decks looking to go long.
Soft to: Control and Tempo, which prevent the namesake sorcery from ever resolving.
Example decks: Scapeshift

Aggro-Control Hybrids: Tempo and Midrange
Aggro-Control decks are Aggro decks slowed down with specific disruptive elements (removal, countermagic, discard, etc.) to improve matchups against either unfair or fair strategies.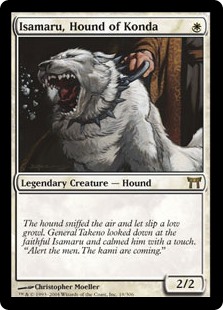 Consider a White Weenie deck that wins by going wide with undercosted 2/x's beefed up by Glorious Anthem. A Control player will happily watch the Weenie deck slam creatures every turn and shut him out of the game with an on-curve Wrath of God. If White Weenie splashes blue to address this weakness by way of, say, Spell Pierce, it becomes a Tempo Deck, sacrificing some speed for points against unfair decks.
Consider the same Weenie deck at a different LGS, where it loses to "bigger" aggressive decks that don't care about Spell Pierce. Isamaru, Hound of Konda matches up poorly against Watchwolf, even if the green creature comes down a turn later. Our Weenie hero compensates by splashing black instead of blue, giving himself bigger creatures that wall the aggro decks and removal to kill efficient attackers. The deck now interacts enough early on to swap its Savannah Lions for costlier, value-generating creatures like Kitchen Finks. White Weenie has become a Midrange Deck: it still attacks to win, but it sacrifices some speed for an edge against fair decks.
Aggro-Control decks are interactive and fair. Tempo decks are proactive early and reactive later, while Midrange decks are reactive first and proactive later.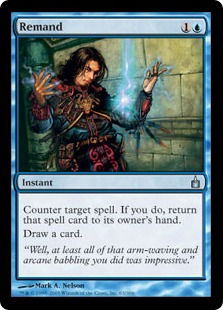 Both Tempo and Midrange use the in-game mechanic of tempo* – or, of buying time – more than any other Magic archetypes. The Tempo deck uses tempo to preserve a favorable board presence, with the goal of killing opponents before they start resolving their ostensibly "better" cards (compare Insectile Aberration // Insectile Aberration to Baneslayer Angel). This deck casts Remand to buy itself another attack step while denying opponents a chance to summon a blocker with the Finks. Midrange uses tempo to find itself in a game state (i.e., the mid- or late-game) where its spells affect the game zones more than its opponent's. It casts Remand on a turn-three Kitchen Finks to Time Walk itself into the next turn, where it can resolve a threat that will outclass the Finks.
*Tempo here refers to a time advantage. This in-game mechanic functions similarly to card advantage, but cannot be accounted for tangibly and as a result is notoriously misunderstood. Unfortunately, we lack a separate term for Tempo decks, Aggro-Control hybrids that commit threats early, then disrupt opponents long enough to win. I'll count on my readers to distinguish, based on context, between tempo the mechanic and Tempo the archetype. [Editor's Note: The names of the deck types are capitalized in this article to help you out.]
Aggro-Control Hybrid: Tempo
Aggro decks watered down to have an edge against unfair strategies, Tempo decks establish board presence quickly, then disrupt opponents long enough to win with that board presence. They require highly efficient threats. As a result, medium-costed creatures outclass the threats in the Tempo deck, which loses to other fair strategies.
Modern is home to two types of Tempo decks: Fish and Grow.
Fish
Named for the antheming Atlanteans that debuted the strategy, Fish decks play a large number of synergistic or disruptive creatures and some light permission.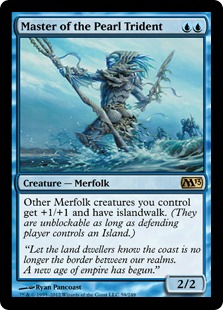 Merfolk obviously falls into this category, as does the less obvious GW Hatebears. Fish decks are mostly comprised of creatures, a few non-creature disruptive elements, and sometimes include mana dorks. About the name: I'm aware that some players exclusively call Merfolk decks "Fish." Here, I'm referring to the Fish archetype as it's historically been cited in Magic writing, and not specifically to Merfolk tribal.

Strong against: Midrange and Control, matchups helped by mana denial. Fish also out-aggresses Grow decks.
Soft to: Aggro and Combo. Aggro breaks up Fish's synergies with removal while summoning bigger beaters. Fish has better Combo matchups than Aggro, but as a less interactive deck, it leaves much to be desired here compared with Grow.
Example Fish decks: Merfolk, GW Hatebears, Slivers
Grow
Grow decks, too, are named for their creatures, which come from a variety of tribes but all get larger as the game progresses. Notable Grow threats include Quirion Dryad, Nimble Mongoose, and Tarmogoyf.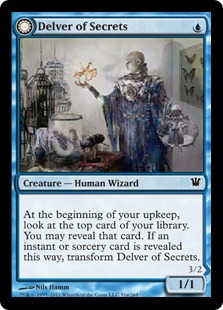 Since Innistrad, Grow decks in all formats have played Delver of Secrets // Insectile Aberration, a card tailor-made for the archetype. The main difference between Fish and Grow lies with threat density. Grow employs fewer threats, but expects each of them to get the job done by itself: a transformed Delver of Secrets // Insectile Aberration will end games a lone Silvergill Adept could never hope to. Grow decks offset this low threat density with cantrips to find the right combination of creatures and answers at the right times. They play flexible, efficient spells, among which Lightning Bolt reigns as king in Modern. Compared with Fish, Grow gives up some game against Aggro for improved Combo and Control matchups.

Strong against: Control and Combo. Cheap threats and soft permission are nightmares for these decks.
Soft to: Aggro, which outnumbers and outclasses most Tempo creature suites, and Midrange, Tempo's natural predator in Modern thanks to the following sentence: "Abrupt Decay can't be countered by spells or abilities."
Example Grow decks: Monkey Grow, iGrow, UR Delver
Aggro-Control Hybrid: Midrange
Aggro decks watered down to have an edge against fair strategies. Midrange either drags the game out to a certain stage in which it consistently casts high-powered spells, or accelerates itself into that stage. Its threats usually follow disruption, so they can afford to cost a little more. As such, midrange is often referred to as "goodstuff," and packs the format's most impactful (and expensive) cards. Like Tempo decks, Midrange decks can be split into two categories.
Rock
These decks get their name from the apparent resemblance of Phyrexian Plaguelord, once a mainstay in BGx attrition decks, to Dwayne Johnson.
Rock exemplifies the midrange credo, dismantling an opponent's hand and board and chasing the carnage with a huge threat. Modern's Rock decks favor Tasigur, the Golden Fang and Tarmogoyf for the role of attacking funeral procession. Compared with pure Control, Rock can use its creatures to pressure Combo opponents early, effectively becoming Tempo decks for those matchups. On the name: while "Rock" has traditionally referred to black and green decks, I'll use it here (and in the future) to refer to any deck with a similar midrange gameplan, regardless of color.

Strong against: Aggro, fair decks, and the linear decks Rock prepares for.
Soft to: Control, which owns the late game Rock aspires to while blanking archetype staples like Abrupt Decay and Lightning Bolt. Combo decks also trump Midrange, which doesn't always draw its relevant disruption.
Example Rock decks: Jund, UWR Flash, Grixis Control
Ramp
Ramp strategies occupy a strange place among Midrange decks, as it trades interaction for mana acceleration and expensive bombs. It ends up losing to Tempo, but beating other Midrange decks, as well as many Control strategies. Unlike other Midrange decks, Ramp strategies are unfair.
Strong against: Non-Tempo fair decks, Aggro, Midrange, and Control. Ramp stabilizes against Aggro, and against Midrange and Control, whoever goes "bigger" takes the trophy. Spoiler alert: nobody goes "big" like Tron.
Soft to: Combo, Aggro-Combo, and Tempo. The first two simply race the Ramp deck, and Tempo chips away at its life while preventing it from doing anything gamebreaking.
Example Ramp decks: GR Tron, Devotion to Green, Death Cloud
Aggro-Control-Combo Hybrids
The G-Class of all deck archetypes. Aggro-Control-Combo buys tempo by threatening a combo finish, which improves its midrange or tempo plan. Splinter Twin combo is Modern's resident Aggro-Control-Combo deck; it changes roles seamlessly depending on the matchup. Evidently, slapping a four-mana aura on a three-mana creature isn't a great strategy on its own, but Twin gets its power from its unmatched adaptability. Aggro-Control-Combo is proactive or reactive depending on the deck, and fair or unfair depending on the matchup. It's always interactive.
While some Abzan Company decks run both disruptive elements (Abrupt Decay) and an "Oops-I-Win" (Redcap/Melira/Seer), the deck seems too linear, and scattered, to make it as an Aggro-Control-Combo deck as of this write-up. But, its late grandaddy, Birthing Pod, much like Twin, typified the archetype. The Angel Pod variant played a superb midrange game with Decay, Thoughtseize, Shriekmaw, and Siege Rhino, but could also combo into a million life/damage with Spike Feeder and Archangel of Thune.
Strong against: The field. Aggro-Control-Combo doesn't "crush" any one strategy, instead boasting game against everyone. This versatility explains Twin's continued relevance in Modern (since the format's inaugural Pro Tour!).
Soft to: Tempo. Grow decks especially can pose problems for Aggro-Control-Combo, which dons the Aggro-Control cap here and struggles to play a tempo game against decks designed for that purpose. Delver of Secrets // Insectile Aberration gets in under counterspells, and soft permission proves especially potent against haymakers like Batterskull.
Example decks: Twin, Birthing Pod (RIP)
Pigeonholing and You
The most important thing a tournament-bound Magic player can do in the preparation stage is categorize decks and recognize archetypes. Armed with an understanding of Modern's classic and hybrid archetypes, strategic tweaking becomes a breeze. Everyone playing Midrange? Add some late-game control elements to your Abzan deck. Everyone playing Control? Break out those Delvers. Heading into an unknown environment? Sleeve up your favorite deck and pigeonhole opponents on the fly to improve your sideboarding.
This article dealt mostly with Modern, but the principles discussed apply to most formats. Demand depending, I'll cover Modern's mini-archetypes, such as Burn, in another article. Until then, happy metagaming!