Are you a Quiet Speculation member?
If not, now is a perfect time to join up! Our powerful tools, breaking-news analysis, and exclusive Discord channel will make sure you stay up to date and ahead of the curve.
StarCityGames has done a lot to support Modern in the past year, and their support doesn't get much better than the October States circuit. Whether you're a player who got to enjoy some Modern action or a format aficionado who got to enjoy 50+ Top 8 standings, States was an exciting midpoint between GP Oklahoma City and GP Pittsburgh in November. In today's article, we're going to look at the metagame implications of SCG States, and how those forces fit into the broader Modern context around these nationwide tournaments.
Our November metagame update is due for release next week, so you can think of today's article as a sneak peek of that column. We'll also spend more time today focusing on States itself, not on the dozens of other events throughout October. In many respects, the collective States results represent the generic, mid-sized Modern event you can expect in the American metagame. This makes it an interesting case study from which we can unpack broader format implications. Whether you are heading to the SCG Open this weekend or just getting ready for Pittsburgh at the end of next month, this article will give you the Modern scoop you need to get ready for an unusually diverse field.
[wp_ad_camp_1]
The Pre- and Post-SCG States Metagame
Earlier this month, we pushed out a mid-October metagame update covering the 9/1/2015 through 10/15/2015 period. Those stats are currently reflected on our Top Decks page. Mid-month updates generally reflect a wider period than month-to-month ones, mostly to account for metagame fluctuations that have not yet run their course. The wider date range also helps bolster sample sizes: many tournaments don't post results as they happen, and a 9/1-10/15 period helps account for this lag.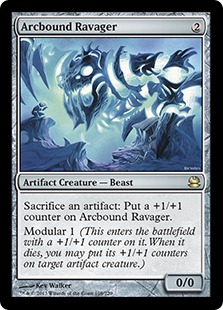 Going into SCG States, we could expect a metagame that wasn't too dissimilar from the September format described in our last breakdown article. You could expect a lot of Affinity, a mix of Abzan and Jund, and much less Twin than we have grown accustomed to. You could also expect a relatively open tier 1 with seven distinct decks, not to mention the combined URx Twin share which was hovering in the 8%-9% range (no single Twin deck was over 4%, however). Grixis was still relatively absent in this update, although the overall tier 2 decks were some of the most diverse we have seen in months, with decks like UW Control and Ad Nauseam showcasing Modern's diversity.
Things look surprisingly different after SCG States. To assess the difference, I looked at the metagame period leading up to States (9/1 - 10/17) and compared deck shares with their representation during the States tournaments themselves. This helps us observe any pre-trends leading into States, but also allows us to challenge those pre-trends based on the event results.
The table below shows this comparison, indicating the difference between the two metagame shares. In the interest of space and consistency, I'm only looking at decks that were tier 1 or 2 going into States with one notable exception. Test your metagame knowledge and see if you can spot it!
Deck
Pre-States
Meta Share
States
Meta Share
Meta Share
Change
Affinity
8.99%
8.82%
-0.17%
Burn
7.88%
8.58%
+0.70%
Jund
7.66%
8.09%
+0.43%
RG Tron
5.99%
6.13%
+0.14%
Junk
3.88%
5.39%
+1.51%
Merfolk
4.22%
5.15%
+0.93%
Abzan Company
2.89%
4.90%
+2.01%
Infect
5.44%
4.66%
-0.78%
Amulet Bloom
3.77%
4.41%
+0.64%
UR Twin
4.22%
3.68%
-0.54%
Elves
2.00%
3.68%
+1.68%
Grixis Control
2.66%
3.19%
+0.53%
Grixis Twin
4.44%
2.94%
-1.50%
Gruul Zoo
1.00%
2.45%
+1.45%
Naya Company
1.89%
2.21%
+0.32%
Ad Nauseam
2.22%
1.72%
-0.50%
Grixis Delver
2.22%
1.72%
-0.50%
Living End
1.55%
1.72%
+0.17%
Scapeshift
1.44%
1.47%
+0.03%
UW Control
2.11%
0.74%
-1.37%
The table is sorted by the SCG States prevalence (second column), but I strongly suggest you also sort it on the "Difference" column to see which decks were the biggest winners and losers.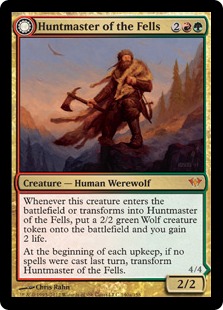 For the most part, these changes are well within the range we would expect of deck shifts from month to month. For example, Jund saw a slight .43% increase, but that probably doesn't mean Jund is really moving up in the metagame standings. Sorry that the Siege Rhino vs. Huntmaster of the Fells // Ravager of the Fells debate won't be settled today! Jund's .43% change is within the expected variation we would get in any sample of tournaments, just like flipping a fair coin doesn't always get a perfect 50-50 split on heads and tails. We've used confidence intervals to help us account for this variance in the past, and we can apply that same method here.
Here's the same table again, cutting out all decks with insignificant change between the pre-States and States period (for you stats folks, our confidence interval is a relatively conservative -.2% - .7%).
Deck
Pre-States
Meta Share
States
Meta Share
Meta Share
Change
Junk
3.88%
5.39%
1.51%
Merfolk
4.22%
5.15%
0.93%
Abzan Company
2.89%
4.90%
2.01%
Infect
5.44%
4.66%
-0.78%
Elves
2.00%
3.68%
1.68%
UR Twin
4.22%
3.68%
-0.54%
Grixis Twin
4.44%
2.94%
-1.50%
Gruul Zoo
1.00%
2.45%
1.45%
Ad Nauseam
2.22%
1.72%
-0.50%
Grixis Delver
2.22%
1.72%
-0.50%
UW Control
2.11%
0.74%
-1.37%
These 11 decks are the big successes and failures of SCG States, although we'll need to go deck-by-deck to really see what mechanisms are at play in their movement. All of these decks experienced unusual metagame shifts that are unlikely to be explained purely by chance. We won't know until the end of October if those shifts are big enough to have a format-wide impact, but they were definitely at play in States and are likely to at least inform the SCG Open metagame we'll see this weekend in Dallas.
In these next two sections, I want to dive a little deeper, doing a quick deck-by-deck breakdown of these winners and the losers. Numbers are only as good as the explanations and context around them, so well need to examine those conditions to figure out why some decks succeeded and others faltered.
The Winners!
Abzan Company (+2%)
Collected Company was by far the biggest winner at SCG States, with its two main decks (Abzan Company and Elves) dramatically outperforming their pre-States metagame shares. Naya Company had a small drop but one within the confidence interval, so I'm not too worried about its prospects. Company decks are on the rise for the same reason Affinity was blowing up all autumn: Twin's surprising decline. We'll get to Twin later, but for now it's enough to acknowledge the URx Twin fall and how this allows Company to excel in Modern. Twin decks have a lot of removal and don't care much about a trillion life, which is bad news for Melira and friends. Add crap like Dispel to the mix, not to mention Blood Moon and Anger of the Gods, and you have a real nightmare. Company players can rejoice that this deck is going down. As an added factor, Company players also have an above-average Affinity matchup, which makes these strategies well-positioned in an Affinity-heavy, Twin-light metagame.
Elves (+1.7%)
More little green men who are happy to see less Deceiver Exarch at the top tables! Elves hates sweepers, doesn't pack a lot of removal, and struggles to assemble synergies under constant burn pressure. If we continue to see less Twin, we'll also see more Elves along the way. Unlike Abzan Company, however, Elves can struggle with the Affinity matchup, which is a big reason you see Company mages sleeving up Abzan cards and not just Elvish Archdruid and his people. We're at a weird point where there's enough Affinity for Abzan Company to benefit from the matchup, but also enough Affinity for Elves to be held back: the relative Company shares could change, depending on how this shakes out.
Abzan (+1.5%)
No matter what the Modern metagame looks like, we can always count on Abzan and Jund to be locked in an eternal struggle for top BGx contender. Jund is on top for now, but don't count on that to last forever. As players start packing larger creatures to get out of Lightning Bolt range, or try to go too wide for Kolaghan's Command to handle, you can expect the BGx mages to return to Path to Exile and Lingering Souls. Stony Silence doesn't hurt either, as no one wants to go into events with a bad Affinity matchup. I don't know if we're at the Jund/Abzan tipping point yet, but as Abzan keeps climbing we might get there soon.
Gruul Zoo (+1.45%)
Remember that untiered list which got added to the table? That would be Gruul Zoo, aka "Small Zoo", aka "Too-Much-Pressure-Zoo". While everyone else was messing around with those silly robots, Zan Syed took a fiery Gruul Zoo build to the gold at an SCG Premier IQ in Atlanta. Nothing says aggro quite like a succession of Burning-Tree Emissarys hitting the board on turn two, and that's exactly what players like Doug Hendrickson did at his SCG States event in Colorado. Gruul Zoo's ascent reflects the Modern penchant to trend linear in open metagames. Gruul Zoo does this well by going wide to the max in a metagame without too many sweepers and where most players are worried about artifacts (against Affinity) or single threats (against Infect). I imagine we'll see more of these Burn/Zoo hybrids, all of which exist on different points of that spectrum, as we move into November.
Merfolk (+.9%)
On the one hand, I'm never surprised when Merfolk does well. It's such a solid deck with lots of random strong matchups and punching power. On the other hand, I don't really understand why this deck is doing well in our current metagame. Twin, Merfolk's best matchup, is on a hard decline. Affinity, Merfolk's worst matchup (and I mean god-awful worst matchup), remains at the top. My only explanation is that Merfolk has a lot of middling 50-50 or 55-45 matchups to make up for the awful Affinity duel, which gives it legs fins in an open, off-season metagame.
The Losers...
Ad Nauseam (-.5%)
I'm only including Ad Nauseam here because it showed up in the quantitative analysis. From a qualitative perspective, I don't see Ad Nauseam being any better or worse off after States than it was before. This is a rogue combo deck that will sometimes excel and sometimes fail spectacularly. It's the kind of deck that is good at smaller events where you can take a field unprepared, but much worse in larger ones where you will randomly stumble on bad matchups. For all intents and purposes, Ad Nauseam should still remain a ~2% deck in your book, even if it was slightly less popular at States.
Grixis Delver (-.5%)
Not all -.5% changes are created equal. Unlike Ad Nauseam's dip, Grixis Delver's small decline represents a real drop in the format. As we've seen over the last few months, Grixis strategies are struggling mightily to remain relevant in Modern. Grixis Control (and its midrangey Liliana of the Veil-powered variants) saw a slight uptick to around 3.2%, and it's no coincidence that this increase (+.53%) is almost identical to Grixis Delver's decrease. This represents Grixis players shifting their cards around to keep competitive in a format that is heavily anti-Grixis. We see this echoed in Grixis Twin's decline (see below), a further indictment of the Grixis color pairings. There are lots of reasons for this shift: decks going big or wide to dodge one-for-one RB removal, a painful manabase that can't recover lost ground against linear decks, etc. The end result is less Grixis in Modern, and although I expect this to turn around in the future, I don't expect we'll see that for at least a few more months.
Infect (-.8%)
Infect always hovers in the 3.5% - 4.5% range, occasionally rising higher when players forget about it. This time, players remembered. Infect had a good September, starting with some strong finishes at SCG Cincinnati and retaining momentum throughout the month. It's no surprise that Infect retreated in October after players caught on and packed their Spellskites. Infect also suffers splash damage from rising Abzan Company shares, all of which contribute to this temporary decline. Expect Infect to stay in this range for the next few months, bouncing up and down as other metagame factors make the deck better (more Affinity) or worse (more Twin).
UW Control (-1.4%)
Poor Sun Titan and Dragonlord Ojutai. After months (years!) out of the spotlight, UW Control finally earned a coveted tier 2 slot in our September rankings. States casts doubt on these September finishes, suggesting the deck might not be as lasting or powerful as many expected. I'm a little surprised at this because UW Control has enough sweepers to handle go-wide linear decks and enough lifegain/mana stability to avoid incidental lifeloss. We might think this would set up the deck for States success. With one notable exception, Craigo Bargo's win at SCG Kentucky, the deck fell flat all weekend. I think this reflects player uncertainty more than deck relevance. The surrounding Modern metagame hasn't changed much since September, back when UW Control made its recent climb, which suggests to me that players are just leaning more linear than controlling. I expect UW Control will return to glory in coming events, especially as players figure out whether they want to play the Emeria version or the more traditional Snapcaster/Angel one.
UR Twin / Grixis Twin (-.5% / -1.5%)
Here we are again: another metagame-related article reporting on another Twin decline. The most important part of the SCG States drop is the split between UR Twin's and Grixis Twin's relative dips. Grixis Twin, following the fate of Grixis decks throughout the format, took a giant hit to its old share. Then there's UR Twin, the time-tested contender, with a much more modest .5% drop. Incidentally (spoiler alert for next week!), UR Twin fared much better in the overall metagame, so I'm willing to write off at least the UR Twin decline as a States-specific oddity. It's certainly not reflected in the overall metagame, where UR Twin is back to a much more respectable 4.2% share after weeks under 3%. Grixis Twin, however, is a very real decline corresponding to the Grixis combinations' very real downfall. Throughout the year, we saw Grixis Twin's fortunes rise with the rest of the Grixis decks. As such, we can't be too surprised when Grixis shares trend in the other direction. To some extent, we'd need a lot more data to know if that's a real relationship or just a cute narrative, but I'm sticking with it at least through the end of the year.
Modern After SCG States
I'm pumped for SCG Dallas this weekend and for its impact on the November metagame update coming next week. Between the old Modern standbys in this article and some newcomers like Knightfall and Bring to Light Scapeshift, it promises to be an exciting tournament. I'm also still working on those Ancestral Vision in UR Twin tests, and you should be hearing about results soon. With all the metagame updates happening, the timing hasn't been good to report back on the banlist testing.
What are some other takeaways you saw from SCG States? Any other metagame movements you think we should ignore or pay attention to? Bring it down to the comments and I'll see you there!