Are you a Quiet Speculation member?
If not, now is a perfect time to join up! Our powerful tools, breaking-news analysis, and exclusive Discord channel will make sure you stay up to date and ahead of the curve.
Last week's article touched off a bit of a firestorm in the comment section. I'll admit I didn't phrase my point as well as I could have, but I still maintain the hysterics are overblown and, despite its power (and metagame share!), Eldrazi can be beaten. Later on, I'm going to show you how by diving into some decks that have proven that they can take on the Eldrazi. But before that, I feel the need to eat a little crow over how I approached last weeks article. If your only here for deck tech skip down a bit but for those who actually enjoy Trevor being Trevor, I've got some Trevoring to do first.
Part One: Opinions (or, The Spilling of My Heart Onto Your Screen)
I've never professed to be something I'm not. I've Day Two'd a couple of GP's, gone deep in a few StarCityGames Opens, and got to 8-8 at a Pro Tour, but never cracked the barrier into Top 8. I dedicated myself heavily to the game of Magic for a few months and got good, maybe even very good, which (with a bit of luck) I used to get myself onto that Pro Tour stage. For that tournament, I did the best I could without a testing team, and relied on prior format knowledge and a few drafts to get my feet wet with the new set to pass as "preparation".
[wp_ad_camp_1]
I started that Pro Tour 1-4, and started to question whether I had any business playing this game at all. Maybe I just faced a soft Regional Pro Tour Qualifier crowd, and I really don't have what it takes to play Magic. Maybe I've read enough articles that I consider myself intelligent when it comes to this game, but really I'm just delusional. Maybe I should go back to playing Destiny and focus more on architecture.
Three wins. Three wins equates to an 8-Player single-elimination event win on MTGO, which is good for a pack or so and about 80 SchruteBucks nowadays. Three wins gets you a sweep of a draft, which does feel pretty good (if it's an 8-4). Three wins gets you victory in an insert-random-three-out-of-five challenge here. But three wins got me into Day Two of Pro Tour Magic Origins in Vancouver and, more than that, three wins got me the confidence I needed to finally start believing in myself and my abilities.
The only thing that I can truly call mine are my abilities and my opinions. I posted this in the comments of my article last week, but I want to re-state them here (as last week's discussion is the genesis for my topic this week):
"It has always been my hope that the truly awesome readers of my articles would understand that my primary goal as a content producer for this site is not to "be right", or "seem smart" or "get it first". I have been, and always will be, focused on attempting to generate interesting conversation and a unique point of view."
Whether we realize it or not, almost everything we experience in life is an opinion of some form or other, put through some type of filter. News broadcasts are spun to fit political ideologies, if not in content then simply by the choice of what and what not to report. Scientific research studies are rarely credible; both methods and vernacular of data presentation can be manipulated to fit any preconceptions.  Economics studies are one example, unemployment numbers are another. Google "coffee studies" right now and you'll find five different opinions as to how much you should/shouldn't drink, with credible data to back up every side. Why do we take these as facts, when they are clearly not?
There are, and always will be, smarter individuals with better accomplishments than me writing words about Magic: The Gathering. However, I think there's a reason that you listen to me even if my accomplishments are few, my writing style is atrocious, and my humor is flat. Why? Because, and I'm guessing here, I offer something unique (or you're just really, really bored).
What makes me unique, in my opinion, is my honesty, and the way that I embrace it. I may be wrong in some places (the Eldrazi feel pretty dang strong...), I may be right in others (gotta love Origins Jace!), but I will always be honest about my opinions. As long as there is an audience to listen, I will present them to you the only way I know how. Sometimes, it's with puns, witty humor, and off-the-wall references. Sometimes, it's with barely passable connections to seemingly dissimilar topics. Sometimes, it's with sarcasm; edgy, unsettling, bordering on offensive. I may not be right all the time. I may not be right half the time. But at least I'm honest, and at least I own my opinions as my own.
Hopefully you didn't come here for hard, unyielding facts alone. You came here for my opinion about those facts, or to be entertained, or to be persuaded, or because football season is over. I strongly believe if everyone else is focused on discussing how and why the Eldrazi deck should be banned, I should take a different opinion. This doesn't make me an idiot who doesn't understand the fundamental rules of Magic. This makes me unique, or at least semi-interesting to listen to, which is, and always will be, my primary focus.
Part Two: How To Beat Eldrazi
Anyway, enough naval gazing! Last week I argued the Modern community was severely overreacting to Eldrazi and that if we put our brains to it we could Wipe Away the threat and continue about our business like there never was a panic. That's a hard sentiment to stand by given what we now know definitively about the metagame, but I maintain the deck is beatable by conventional means. We need to at least examine our options and try to win before running around like the sky is falling (even if it actually is).
Eldrazi is one of the fastest and most powerful aggressive decks to ever exist in Modern. The combination of undercosted fatties and multiple Ancient Tombs sets the deck's speed and power well apart from the pack, and to forget this is fatal. However, at the end of the day it is still a linear creature deck that runs almost no interaction (Dismember and Thought-Knot Seer alone doesn't cut it).
This isn't Affinity, with multiple angles of attack and the ability to shift gears in the middle of the combat phase. Eldrazi is a souped-up, colorless version of Zoo. If you can survive the initial explosion, traditional control methods can still take over and win the fair way. Or you can take advantage of their lack of interaction and less-explosive draws to simply out-unfair them. Rather than panicking, I'm trying to adapt to and defeat them. To that end lets look at some decks that actual have been beating Eldrazi online. MTGO has been running PTQ's and while, yes, Eldrazi has been winning them, other decks have done surprisingly well. With some work and dedication, we may be able to push back the tide and win the day, Gatewatch or no.
I said Grixis could take Eldrazi. Many of the comments said Grixis could never take Eldrazi. Nothing could take Eldrazi. But lookie here, Grixis DID take on Eldrazi, and acquitted itself quite well.
"Grixis Control, Ingrish, 6-2 – MTGO PTQ"
First, opinions. Now, the facts, bullet-point style.
Two Damnation in the main isn't just for Eldrazi. It fits into the overall strategy. This deck always should have been playing Damnation main, and I wish I'd realized that sooner. I had one in the board that always came in against Jund, every creature deck, Living End, etc. Talk about missing a hint...
Spreading Seas is in the board. No Fulminator Mages or Molten Rain, so the Spreading Seas are a swap for those spells to better fight against Eldrazi. Two-mana land destruction is so much better than three, especially when it cantrips. Against Eldrazi, we're really looking to shut down Eye of Ugin and the unending threat stream it brings. Seas is perfect for the job, with the added benefit of a better curve position.
Ensnaring Bridge is excellent, both against Eldrazi and random beatsticks you don't want to spend a Lightning Bolt on. Combined with Keranos, Bridge is a hard lock against most of the format.
Despite all this and Ingrish's MTGO run, I'm not quite sure if Grixis Control has what it takes to survive in a post Splinter Twin world. Piloting Grixis Control, I was always happy to play against any blue deck, but that might be due to my preference and skill playing blue mirror matches rather than any distinct advantage the deck had against Twin. Grixis Control always seemed stretched a little too thin trying to fight Affinity/Infect/Tron/Jund/Scapeshift/Burn/Twin, and maybe the new metagame without Twin and Scapeshift could let it focus a bit more on beating the top archetypes. Certainly now that we know Tier 1 is almost exclusively linear aggro, control players have a much easier time selecting answers and building their gameplans. Ensnaring Bridge pushes the deck firmly into topdeck-Jund territory after boarding, and definitely makes me want to take a second look at the archetype. It may be that playing a Burning Bridges style control deck is what Grixis mages have been looking for this entire time. Definitely something to watch.
Next we have something to warm the cockles of not only control players hearts but former Twin players' hearts. Eldrazi might rule the ground, but the sky still belongs to Restoration Angel and infinite combos are still very good.
"Jeskai Control, Godfather, 7-1 – MTGO PTQ"
Four Wall of Omens buys time against Eldrazi Mimic, which is really all you need. Sure, it's chumping when Mimic is triggering off Reality Smasher and Thought-Knot Seer, but saving four/five damage and drawing a card is worth two mana to me. Besides, if you ever blink it with Restoration Angel you're immediately ahead, and a deck with this many one-mana removal spells needs a way to generate card advantage.
This deck does all it needs to for beating Eldrazi; kill stuff, buy time, combo out. Colorless Eldrazi lists are running a playset of Dismember at most, and Thought-Knot Seer gets worse when we're drawing so many cards after turn three. Eldrazi may have an advantage in explosiveness and power but this deck holds card advantage fueled inevitability and the ability to just win unexpectedly.
I really like the idea of Kiki Combo, even if it needs a better name. Threatening to win over an untap step from far behind is still very good, especially with a deck as potent as Eldrazi stomping around. However, I feel the
Supreme Verdict
s really needs to be maindecked, and not just because I said to run
Damnation
last week and in the Grixis section. Aggro decks are
everywhere
and despite the card draw and removal, having a reset button for when you fall behind is very good. Still, if you're pining over lost infinite Exarchs, this is probably the way to go.
And finally, because it's always best to end on something fun and different, have some Eggs.
"Krark-Clan Combo, Spokes, 5-3 – MTGO PTQ"
I admit, this is just here for the lol's. Still, 5-3 in an MTGO PTQ is fun. Come on guys, live a little!
You only have a few business spells but the deck is so full of cantrips you don't always have to mulligan to find them. This gives Thought-Knot Seer fits too.
Radiant Fountain and the spellbombs out of the board buy you a surprising amount of time against aggro.
Admit it, you've always wanted to hardcast Emrakul!
In all seriousness, Eggs was a very competitive deck before Cifka convinced Wizards to ban Second Sunrise.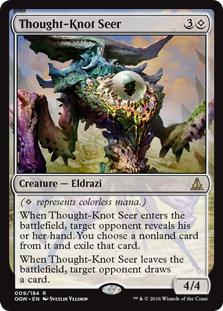 Even now, it's not a bad deck, and with the format being pushed in an aggro direction unfair combos may be a legitimate way to go. Old School conventional wisdom always assumed combo beat aggro, so if you're going to try and take advantage of the warped metagame then going for an unfair, uninteractive combo is a good place to start. Thought-Knot Seer may be good at taking a critical combo piece, but when your deck is so packed full of cantrips it is far less damaging than you think. With counters at an all time low Eggs is far better positioned than it has ever been. It is still a bit risky to durdle around with all your eggs which is probably why Spokes had a full set of Aether and Sunbeam Spellbombs in his sideboard. Thankfully, processors aren't popular anymore because running Relic of Progenitus scrambles Eggs.
Conclusion
Sheridan does the metagame information updates and statistical breakdowns that will make your head hurt and wish you paid attention when they were teaching bar graphs in school. Patrick Chapin does the "actually is a genius, so here's 2000 words that blow your mind" pieces. ChannelFireball... well, I stopped reading their stuff, because their articles have absolutely no heart. That's what I'm all about: heart. When you're putting yourself completely out there, some people will find it uncomfortable. Some people will hate you. Some people will find it entertaining, and worth a minute of your time. Regardless of which one you are, I'm glad you took the time to read this, and I hope I'll see you next week. As always, thank you from the bottom of my heart for reading.
Trevor Holmes
The_Architect on MTGO
Twitch.tv/Architect_Gaming
Twitter.com/7he4rchitect