Are you a Quiet Speculation member?
If not, now is a perfect time to join up! Our powerful tools, breaking-news analysis, and exclusive Discord channel will make sure you stay up to date and ahead of the curve.
Well, there's really no denying or even downplaying the issue now, is there? Eldrazi is horrifyingly broken. Not only that, but it's occupying metagame shares that are unprecedented in the history of Modern (as far as we have data for anyway). And this confuses me. It really does. Looking at this deck on paper, its success should not be. At best, it appears to be a glorified, undercosted Zoo deck that lacks reach. And yet, we have the Pro Tour and StarCityGames Louisville to show us how wrong that is. What is going on?
Sheridan will be in tomorrow with a crisis report on the metagame, and while I know the numbers are will likely be met with the odd mix of begrudging acceptance and exasperated rage that any discussion of the current metagame generates in the Modern community, to me it's just mystifying and demands answers. Yes, when Eldrazi, particularly UW, is firing on all cylinders, its overwhelming power is obvious. However, when that deck clunks it is shockingly clunky. 3/3's for three and 2/1 fliers with upside for three were not great in Modern prior to this deck for a reason. But getting them out way too early suddenly makes them broken beyond measure. Like I said, this deck is fundamentally colorless Zoo but better, so there has to be something else going on. I've been thinking about the problem for quite some time, and I think I have the answer, but to make it understandable we're going to have a history lesson. Take your seats and pay attention, there will be a test later. And I don't give retakes!
[wp_ad_camp_1]
Finding the Eldrazi Deck
If you're new to Magic in the past few years you may never have heard of Mike Flores. If you have, it's only through his giveaways on TCGPlayer, or his doing features for the Wizards site. Dinosaurs like me, on the other hand, remember that he wrote some of the most fundamental (and comprehensible) theory pieces in the history of Magic writing. Everyone knows about Who's the Beatdown? (and if you haven't read it, do so now) but nobody seems to remember his equally important Finding the Tinker Deck. This piece articulates the basic archetypes of Magic and how they relate to each other at a fundamental level, why you rarely see anywhere else, and, when you do, why they're borrowing heavily from Flores' work. If you don't understand it then my upcoming discussion of Eldrazi will make no sense, so don't read any further until you finish that article. I'll wait.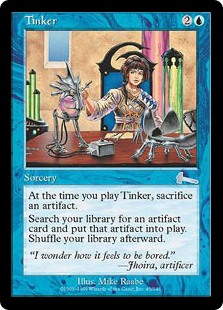 I'm serious, if you're reading this and you haven't read Finding the Tinker Deck, click on the link and read it.
All of it.
All of it.
Done now? Really?! Ok good, let us begin.
Yes, the specific examples in the article are very dated (Storm is probably its own category today), but the principles are still sound. Counter-Sliver decks play cheap threats and protect them. Necro decks use powerful card-drawing engines to overwhelm opponents with cheap spells. Prison decks lock down the board. Sligh combines a superior mana-curve with late-game reach. Stompy uses cheap but large creatures and mana denial. Weissman answers everything. Toolbox has efficient, repeatable tutoring to find a bullet for everything. Tinker accelerates out big spells, and "The Enigma" are the mistakes Wizards made. There can certainly be overlap: our Modern Zoo example has elements of both Sligh and Stompy, while Modern Merfolk combines Stompy and Counter-Sliver (the Legacy version is almost pure Counter-Sliver, by comparison). Now that we have our definitions established, we can ask about where does Eldrazi lie?
What is Eldrazi?
For simplicity's sake, I'm going to lump all the Eldrazi decks together since the core of the deck (the 20-some colorless creatures and Eldrazi lands) never changes. The deck is clearly a Tinker deck in the same way as Fires or The German Dragon was.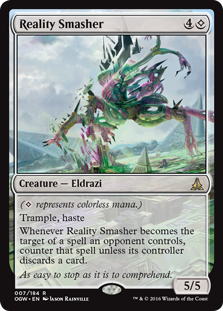 It plays powerful accelerants into expensive, even more powerful threats. Here are our first two clues: Eldazi's payoff spells are already undercosted, and its accelerants avoid the traditional Tinker weakness by being lands. I don't think I'm being too controversial by saying Eldrazi Mimic, Thought-Knot Seer, and Reality Smasher are all undercosted. Endless One is kind of nebulous, since there's some history of X/X creatures for X being fine, though context matters. Smasher has too many abilities for its cost. Seer's power and toughness are too high for an upgrdade Vendilion Clique. Mimic's cost may be fine, but its costing generic and not colorless pushes it over the top.
This brings me to the lands. The traditional Tinker deck was always very powerful, but was at risk of drawing the wrong mix of accelerants and threats (or worse, drawing them in the wrong order). It was frequently its own worst enemy.
Look at Tron, another powerful land-based Tinker deck, which has a small number of bombs surrounded by land search. If it fails to draw a Karn or Wurmcoil (or, frequently, several) the deck does nothing because it had to give up so much to make its acceleration work. Now look at Eldrazi. Unlike the other mentioned decks that need multiple accelerants to assemble, it only takes one Eldrazi Temple to get the deck going and one Eye of Ugin to make the deck broken. A single Eye can generate six mana on its own per turn, easily generating four, and it can even tutor for more creatures. Compared to the original Natural Order or Tinker, there's no risk to this acceleration package and no way to answer it before the damage is done.
In many ways, Eldrazi is the ultimate triumph of the Tinker strategy. Its combination of Sol lands and undercosted, yet extremely powerful, creatures makes it the fastest Tinker deck in recent memory (maybe not of all time, however).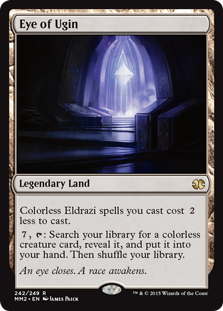 I realize Sol lands are nothing new, but that kind of acceleration is nothing compared to Eye. Sol lands in Dragon Stompy power out fairly-costed and far less powerful creatures and all have to tap for mana. The fact that Eye enables multiple 2/x creatures on turn one followed by turn two 3/3's and 4/4's without tapping puts it in a league of its own. Eldrazi Temple is powerful, certainly, but it's just a land compared to Eye. This is the source of Eldrazi's Enigma level power. The Eldrazi lands allow the deck to bypass the traditional weakness of Tinker, which make it much harder to disrupt, and the undercosted creatures let it play Stompy style creatures with a curve Sligh can only dream about. Cheap powerful creatures in large quantities undisruptably in the first few turns? Sounds like The Enigma to me.
What About Treasure Cruise?
So what's the story behind Eldrazi's metagame share? No deck has achieved this level of dominance since we started tracking metagame data (maybe in Magic's history. Modern Nexus has no comprehensive data to evaluate this, but Cawblade likely rivaled Eldrazi). Again, I think if we look at previously busted, Enigma level decks and their context we will find some answers. Let's make this as simple as possible and just focus on the last two banning updates: Splinter Twin, Summer Bloom, Birthing Pod, and Treasure Cruise. These cards enabled very powerful (and, in most cases, busted) decks, but none of them ever held the kind of metagame share that Eldrazi does. To evaluate this, I'll break down where the decks fell in Flores' spectrum and their context in the metagame and use this to explain Eldrazi.
Pod was pretty clearly a Toolbox deck. Efficient, repeatable tutoring engine? Check; it's a "fixed" Survival of the Fittest, after all. Selection of silver bullet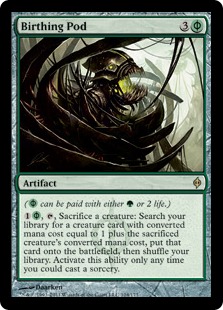 creatures? Check. Ability to adapt to any situation and win by generating overwhelming board advantage? Check. Toolbox has a history of bannings, with Survival being banned in multiple formats and tutors generally getting hammered. What made Pod unique compared to the various Survival decks was it was never a dedicated Toolbox deck and had several very good backup plans. From Tinker, it had acceleration in the form of Birds of Paradise, Wall of Roots, and Noble Hierarch. From Stompy, it had a solid beatdown plan of (mostly) green creatures pumped by Gavony Township, all of which were integral to the engine. The deck initially existed for years as a good, combo-centric engine with a Township Plan B. What finally pushed it towards Enigma power was it became an overwhelming value engine to power out a stream of Siege Rhinos, often with the threat of a combo in the wings. That simply overpowered every fair deck and outraced most of the unfair ones.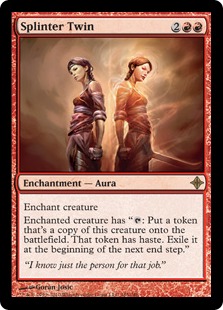 Twin is going to be the odd man out here because I'm not convinced it was ever a truly Enigma-level threat. Yes, it had an Enigma level two-card combo but most of the time it floated between Counter-Sliver and Weissman depending on the matchup. Ability to slide cheap threats under opposing defenses and protect them? Check. Potential to answer everything from the opponent? Check. Blue? Check. Twin was always a threat, and arguably oppressive, but it never felt too unfair and lacked the unbeatable, unanswerable power of Enigma. Instead, it played a lot of answers and tried to ride small creatures to victory when there was an opening, very much like the Counter-Rebels deck Flores cited.
Again, Amulet Bloom was obviously a Tinker deck. Acceleration into huge threats? Check. Explosiveness? Check. Vulnerability to drawing poorly? Check. The deck accelerated out Primeval Titan and used early Blooms and Amulet of Vigors to generate absurd amounts of mana, sometimes killing on turn two. This pretty clearly moves it into Enigma territory. Although its metagame share made it top-tier in the eyes of Wizards, it was only a small fraction of the Eldrazi insanity we're seeing today. While the deck still technically exists without the Bloom, the explosiveness factor has diminished to the point that there's little reason to prefer it over other options.
Alright, test time (I warned you). What category did Cruise era URx Delver fall into? Write your answer in the comments, no cheating.
[su_spoiler title="Click for answer" style="fancy" icon="arrow"]
It's Necro. Mana efficient threats and answers? Check (Can't get more efficient than one mana). Lots of them? Check. Powerful card draw engine? Check. Wins via card advantage and mana efficiency? Check.
Delver tapped out every turn, drew tons of cards and possessed a card draw engine to keep the threats and spells flowing. Clearly Necro. It was the sheer efficiency and speed of the deck, thanks to its operation fueling and finding Treasure Cruise that pushed it firmly into Enigma level power and ultimately the banned list.[/su_spoiler]
Of course, URx Delver wasn't the only home for Cruise, but it is the one that abused the engine most effectively (sorry Jeskai Ascendancy, you just didn't cut it) and was ultimately the primary reason for the banning.
Context
Here's the thing about all these decks: they existed alongside each other (yes, even Bloom - that deck had been around for at least two years before Justin Cohen's breakout performance at Pro Tour Fate Reforged). That's three definitively Enigma-level strategies, and one Wizards at least felt was Enigma. It is reasonable to assume they kept each other in check to some extent (certainly true of Pod vs. Delver and Twin vs. Bloom, and arguable for the others). Furthermore, if you didn't like one of these strategies there were other, equally powerful options to choose from, which meant there was no incentive for everyone to play the same powerful deck. With Twin out of the picture, there isn't another deck that can really claim the Enigma mantle since the decks that remain are either highly disruptable or too fair, which means, for one of the first times in Modern history, all the Enigma power is concentrated in one single deck: Eldrazi. Of course, this isn't to we need more broken decks (by its own definition, Magic is better off when there is no Enigma). Rather, it's to acknowledge we're in a weird place where the known Enigmas were all gone and if you want to play that kind of game there's only one choice. You can play varieties of that theme, but nothing equal to it.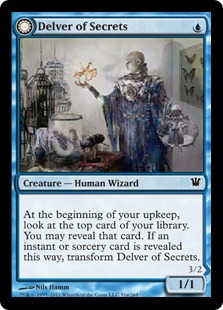 The other thing about these previous decks is there was space around them. They stuck to one or a few archetypes and when there was bleed it was low, especially compared to the Eldrazi core straddling three very different strategies (even more, when the various flavors are all taken into consideration). In the Cruise era, it was possible to go Stompy on Delver with Death and Taxes and constrict and disrupt their mana enough to keep the Necro gameplan in check. It was possible to shut down Pod's tutoring engine. Twin kept many other, far more broken decks down by forcing them to interact or perish. Because Eldrazi does so many things and does them faster than the decks that normally occupy those spaces, it has stolen archetypal space that would have otherwise existed. Thus, in order to fight back, we need to look to other achetypes that Eldrazi can't touch to find room to win.
In other words, Eldrazi arose at exactly the right time in exactly the right form to be incredibly overpowering. If Pod, Twin, Delver, or Bloom still existed in their unbanned form, there would be some incentive to play another deck at that powerlevel. As is, you must either play the deck or target it, the true mark of a truly dangerous Enigma.
Conclusion
As Flores noted, there's not a lot you can do against Enigma except try to target it. Unfortunately, since the broken part of Eldrazi is its lands, that is very hard to do. With an emergency ban not in the cards (rightly, I might add), we need to try and adapt to the problem. Toolbox and Counter-Sliver strategies have considerable value against Enigma, as Jeff Hoogland and Aaron Reed showed, so if you're not playing Eldrazi that's where I'd start instead.
In many ways, I think Wizards is a victim of its own success. It has spent every banning since Modern's inception trying to remove the known Enigma level decks and it finally succeeded in time for another one to swoop in and dominate without a comparable deck to oppose it, or proper regulatory cards to manage it. According to multiple sources, Wizards doesn't look for new Modern decks when they develop new sets (they just test Standard), this looks to be just another case where Wizards made a mistake and it will be corrected in due time. Hopefully, now that you understand the source of this menace's power, you will have the tool(box) to contain it. Or at least hold back the tide until rescue comes in April. Good luck, and if I make it to Detroit I will let you all know how successful I was. In the meantime, I'll be grading your responses in the comments.