Are you a Quiet Speculation member?
If not, now is a perfect time to join up! Our powerful tools, breaking-news analysis, and exclusive Discord channel will make sure you stay up to date and ahead of the curve.
Rejoice, fellow Nexites! The Powers-That-Be have at last stepped in to put an end to Eldrazi Winter. We may at last emerge from the ruins, gaze upon the metagame again with clear eyes and eager hearts, and go forth and enjoy this beautiful new world. Breathe in, good Nexites, and breathe out a great, joyful sigh of relief.
So, did you get all that out of your system? Good: don't get too carried away with the festivities. This is Modern Nexus and we are factual analysts here, so lets back up a bit and try to look at this realistically. The banning part of the Banned and Restricted Announcement really shouldn't have surprised anyone. Aaron Forsythe was unequivocal about Eldrazi being a problem, and everyone knew Wizards was going to ban at least one of the Eldrazi lands. The unbans are a much greater surprise, though back in January it was mentioned part of the rationale for banning Splinter Twin was that it made cards like Ancestral Vision a plausible unban. My cynicism will not allow me to believe that Wizards timed these unbans as anything other than an apology for the past few months, but that's neither here nor there: they've happened, so it's time once again to evaluate how we will all be affected.
Rather than focusing on the logic of this latest banning (Sheridan covered that yesterday, and will elaborate tomorrow) I'm going to focus on looking ahead to how the metagame will shape up, just like I did in February prior to Regionals. To that end I will evaluate both the banned and unbanned cards and develop my ceteris paribus assumptions for the first week of this new Modern.
[wp_ad_camp_1]
Eldrazi (Not Quite) Begone
As I alluded to above, everyone was expecting Eye of Ugin to get banned. I know there was an argument for banning Eldrazi Temple, and frankly it wasn't a bad one, but when it comes down to it Eye was always far, far more broken than Temple.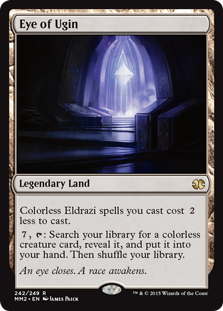 Lands should tap to produce mana, and if you want to use them for mana more than once a turn, you should have to pay for the privilege. Eye broke both those rules so the ban decision makes sense. This means the explosive Eldrazi draws are gone and with them its ridiculous Enigma-level power. The ability for Eldrazi to simply play threats "off curve" is also severely diminished.  Eldrazi pilots are unlikely to mulligan as aggressively for their four-of Temple and this will slow down the deck enough that it should fall at least a tier. With only the four Temples, the forgiveness of free mana doesn't make up for the card disadvantage as often and the poor odds of "hitting" on a mulligan means Eldrazi will have to play the same game as the rest of us, which will probably turn a lot of pilots away.
The deck will not be gone, however. Thought-Knot Seer and Reality Smasher are too powerful for that to happen. The question is what form the new deck will take and there isn't enough data yet to make a truly educated guess beyond it containing the aforementioned cards. Eldrazi Mimic may still be playable, and the devoid creatures are still good enough that I suspect for the first few weeks or so you'll just see slower versions of existing Eldrazi decks. After that, anything is possible. I know players will try to make processors work again (especially with all those suspended Ancestral Visions) but I never thought Processor Eldrazi was very good. While Thought-Knot does play well with that theme, why would you want to cast Blight Herder or Oblivion Sower when you could cast Reality Smasher?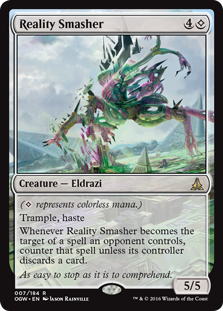 On the other hand, it is unlikely the current builds are as good without Eye, so there will be considerable debate and rebuilding going on. It is unlikely the question will be answered before StarCityGames' States series, and it may take until the next Grand Prix before we know just how effective this ban actually was.
If I sound a little doubtful then I have good news! You have excellent reading comprehension. Eye may have removed the explosive draws but Eldrazi Temple is still an extremely powerful Sol land and I'm worried allowing any land like that in Modern is dangerous. I know Forsythe said Wizards wants there to be an Eldrazi deck in Modern but I think Thought-Knot and Smasher are reasons enough and players really don't need Temple to make them play Eldrazi. Again, this is pure speculation but I wouldn't be surprised if Temple eats a ban in a year or so for remaining too big a presence.
Collateral damage
The other deck affected by this banning is RG Tron. Eye was Tron's get-out-of-mana-flood free card, providing late game use for its land search and smoothing out the clunky, all-mana draws that traditionally plague ramp decks. This had been an argument against banning Eye, but I celebrate this aspect of the bannings. This isn't because... well, it isn't just because I despise RG Tron, but rather because this actually saves the deck. RG Tron has long been on the knife-edge of being oppressive and has certainly been a diversity killer, and if something wasn't done to nerf it soon it would almost certainly have necessitated a more aggressive ban down the line. Yes, that is a bold claim: let me explain.
When Tron was just ramping out Karn Liberated and Wurmcoil Engine with an Emrakul, the Aeons Torn endgame it was powerful but not dangerous. It had good matchups against slower decks, but the aggro decks laughed at Karn and could get around or manage Wurmcoil well enough that they kept Tron in check. Old Tron needed multiple Oblivion Stones to beat Merfolk or Zoo decks with Fulminator Mage, and Twin held it in check as well. Infect was unwinnable. This made it a metagame call for when BGx and other midrange decks were big rather than a permanent presence. Ugin, the Spirit Dragon changed all that. It is an on curve threat that beats any non-Affinity board and swings aggro matchups in Tron's favor (Burn is still a problem but that's because it's Sligh to Merfolk's Stompy and isn't reliant on creatures). That, coupled with Twin's banning, means that all Tron really needed to really take over was a little more consistency or a better six-drop than Wurmcoil. With Wizards pushing colorless permanents recently, it was only a matter of time. Now that its late game is much weaker, Tron suddenly becomes more vulnerable to attrition strategies which should prevent the deck from growing too oppressive.
The other consideration is diversity. Everyone knows about RG Tron keeping control decks, particularly counterspell-based control decks, down. What no one ever notices is the effect RG Tron had on other Tron decks. There has been only a single version of Tron since Cloudpost was banned. Yes, players have constantly tried to make blue, blue-white, and black Tron work, but they're just not as good as RG and largely fell by the wayside. Think about it: RG had the most consistent Tron of any version thanks to all its cantrips and land search. As a result, it was more likely to see more of its impact cards than any other version. If one deck is packing counterspells where the other has cheap cantrips, and they're both on the same general gameplan, the cantrip deck is more likely to actually do its powerful thing than the counterspell deck. It is also more likely to have more things to do afterwards.
Blue Tron almost never ran Eye or Emrakul because it favored Platinum Angel and Mindslaver with Academy Ruins, which gave it less inevitability than RG Tron. Now there is an actual choice between versions. I believe that inevitability has shifted to the Mindslavers, but RG Tron remains more consistent which creates a nice tension in deck choice. Ironically, the freeing of Blue Tron will keep Cryptic Command decks down (Blue Tron always had an advantage against those decks in the past and I don't think that's changed), but the net diversity gain should be positive and work to correct any negative drift caused by the unbannings.
These arguments therefore lead me to the following assumptions about the meta based on the Eye ban:
Eldrazi decks remain powerful though in a slower and less consistent form

It is not clear what that form is

RG Tron will get weaker

This will allow more slow blue decks to exist
Some of these slow blue decks will be Blue Tron
Hopeful Visions
I expected Ancestral Visions would be unbanned following the reveal by Wizards that with Twin gone it was now under consideration. What I didn't expect was that it would be this soon. Now, everyone and their speculators (it's Monday night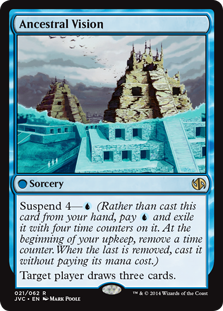 and Visions is over $50 and nearly sold out everywhere!) have been going wild about this card as control's savior, and they're not too far off base. Drawing three cards for a single blue is very good and waiting four turns is not that big of a burden, especially in card-draw starved Modern. Back in January when the Twin announcement was made, I quietly looked into how good Visions would be and I was surprised. The burst of card advantage helped control decks power through though attrition fights and made it easier to survive to the late game. This leads me to believe that Visions is a very reasonable control card and will see quite a bit of play.
A Sadder Reality
And this will be far more than it really should. My testing showed it was good, but not $50+ and almost completely bought-out good, which is why I didn't pull the trigger back then (though my bank account is angry at me for this now). The good news for the BGx players out there is that Visions does not hurt you all that much and the core GBx cards are still devastating against slow blue control decks.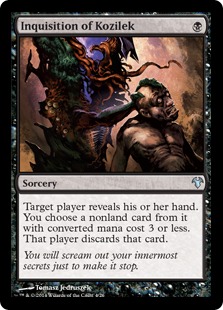 Disruption and cheap threats that get under counters remain very good against control and Liliana of the Veil is close to game-over against these strategies, especially when she's paired with all the manlands that are now available. All BGx needs to do is slip a Tarmogoyf or Dark Confidant onto the board, CounterSliver style, or use Inquisition of Kozilek to force through Liliana. If that happens, the delayed draw from Visions will not matter: the blue deck will be too far behind. Is this a major change of playstyle? Maybe. Is it particularly burdensome? No.
Also, and I know this is a bit of a cliché, but you also need to survive the four turns for your Visions to arrive. Even if you do suspend it turn one, Modern aggro is powerful enough that you may be dead before that happens. This is also why it is such a terrible topdeck, especially on an empty hand. The only Eternal play Vision received prior to this was in Shardless BUG in Legacy where cascade made up for the card's weakness. As the announcement noted, with the best cascade card banned, this is not likely to be a viable option. I am not saying Visions is a bad card but I am saying that Modern is very different from Extended and Standard where once it shined. Card draw does not magically erase a deck's vulnerabilities which leads me to the following conclusions:
Players will play Ancestral Vision in any deck that it will fit in

Players will therefore overplay and over-rely on Vision
Strategies that worked against control before will still be effective

Blue-based control will become more popular
Incoming Thopters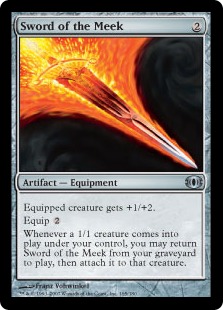 The most unexpected and possibly significant announcement was Sword of the Meek being unbanned. This deeply concerns me. I vividly remember Thopter Depths' domination of Extended in 2010. The combination of Sword, Thopter Foundry crushed aggressive decks so badly they were almost completely driven from the metagame despite the efforts of Domain Zoo players. Admittedly it was the combination of Thopter combo and the Dark Depths combo that made the deck dominant, but the fact remains that gaining as much life while making as many chump blockers as you have open mana is very, very good against aggressive decks. I have long argued this would be unhealthy for the meta and I still think this combo will severely harm aggro decks, which interestingly was the stated intention of the unbanning.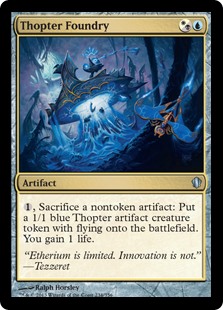 The other thing I fear is the impact that Thopter combo will have on diversity. The whole combo only requires five cards (three Foundry and two Swords) and it isn't strictly necessary to play any other artifacts (Depths generally only ran Chrome Mox). Any deck that could run this combo has a pretty good incentive to do so even if they're not focused on the combo, which is the same argument I've made against Stoneforge Mystic incidentally. Wizards said they hoped Thopter combo would enable new combo-control decks to rise and that it would see a lot of play, but I suspect a lot of that play will be in existing decks like Grixis that are looking for an easy way to fight Burn. This makes me very worried that aggro will get hated out, leaving only Infect as a viable strategy to get around the lifegain.
How time flies
Fortunately, 2016 is not 2010 and it is probable that Thopter combo is healthier now than it was back then, even if I don't think it's healthy enough. Unless I am very mistaken, back then the best artifact hate was Ancient Grudge and the most effective graveyard hate was Yixlid Jailer or Extirpate. Grudge was not that effective against the combo, Jailer was vulnerable, and Extirpate could be played around. The following year, possibly as a reaction to Thopter Depths, Stony Silencewas printed and Rest in Peace followed the year after that. Coupled with Abrupt Decay and Scavenging Ooze, and Magic is equipped to effectively fight that combo for the first time.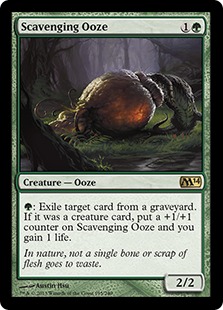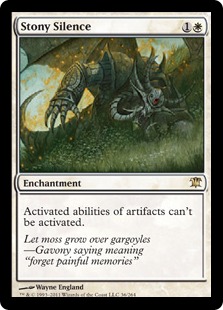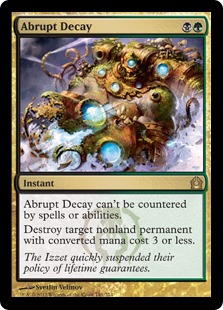 This proliferation of hate cards, many of which see considerable maindeck play already, should serve to keep the combo from being too overwhelming, at least at first. Control players are pretty good at adapting and may find ways to overcome the hate. I suspect while there will be considerable value in just jamming Thopters into any deck that can support the five cards, it will take a dedicated combo strategy like the old Thopter Depths package to really take advantage. Even then, the splash damage from Affinity decks will limit the impact. While I disagree with this unbanning decision, I am willing to believe I'm wrong and Modern can now handle this beast. Thopters will also push players to play more counterspells which should keep the combo decks that already exist, and the new ones sure to spring up to outrace Ancestral Vision, in check. This leads me to conclude:
Thopter Foundry/ Sword of the Meek combo will be very popular

Splash damage from anti-Affinity cards will keep its effectiveness and numbers down

The most effective hate cards are in white, green, and black
Putting it All Together
Having done the individual analyses, the next step is to put it all together to actually see what it says about the expected week one metagame. As a recap:
Eldrazi decks remain powerful though in a slower and less consistent form

It is not clear what that form is

GR Tron will get weaker

This will allow more slow blue decks to exist
Some of these slow blue decks will be blue Tron

Players will play Ancestral Vision in any deck it will fit in

Players will therefore overplay and over-rely on Vision
Strategies that worked against control before will still be effective

Blue-based control will become more popular
Thopter Foundry/ Sword of the Meek combo will be very popular

Splash damage from anti-Affinity cards will keep its effectiveness and numbers down

The most effective hate cards are in white, green, and black
This tells me three things. First, there will be a lot of slow blue decks and they will all have
Ancestral Vision
and probably Thopter combo. Secondly, BGx has the most tools against these expected blue decks, particularly Abzan. It also benefits from the weakening of RG Tron. Third, Eldrazi still remains a threat to be respected regardless of the new decks. Therefore, I expect for the first few week at least, the metagame will revolve around the new blue decks and BGx with all the other tiered decks trying to regain their feet around this new metagame. Infect will be popular in response to Thopter combo and Eldrazi will remain a force, though how much of one is unclear. I doubt the actual metagame will shake out according to my predictions, but this is definitely where I would start my preparations for the upcoming Modern season. If you have your own predictions or analysis I would love to hear them. See you in the comments!