Are you a Quiet Speculation member?
If not, now is a perfect time to join up! Our powerful tools, breaking-news analysis, and exclusive Discord channel will make sure you stay up to date and ahead of the curve.
Someone who was maybe Ghandi once said, "An eye for an eye leaves the whole world blind." If Modern were a person, it would probably ascribe to this inspiring motto. When Wizards of the Coast took Modern's Eye, the format repaid them with a beautiful metagame they're happy to take credit for. The story doesn't end there, and neither does this desperate analogy; after all, blind men can still speak. And walk. And... CRUNCH!
Eldrazi might be disfigured, but it's far from dead. In today's article, we'll consider the effects bannings have on archetype diversity, review Eldrazi's format history, and examine where our pal Thought-Knot Seer is headed in the next few months.
[wp_ad_camp_1]
Card Pool and Power Level
As they move into older non-rotating formats, players often find that despite great increases in card pool size, fewer cards become playable. Did your Standard deck last season play Wild Slash or Lightning Strike? Such limited formats often force deckbuilders to make painful decisions. In Modern, we can just sleeve up the strictly better Lightning Bolt and call it a day. Another example: Modern is shaped by the relative power of midrange fatties. Legacy, a much faster format, doesn't usually accommodate Siege Rhino. In Vintage, an even smaller amount of legal cards see regular play.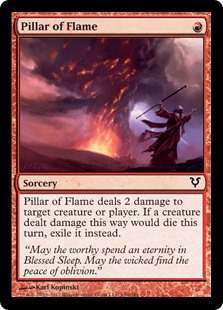 Banning powerful cards shrinks a format's playable card pool, and generally has positive effects on diversity. If Lightning Bolt were banned from Modern today, players would dust off their Pillar of Flames, Flame Slashes, and Tarfires. That doesn't mean a Bolt ban is good for Modern; it just means that previous under-performers get a chance to shine when a format's card pool gets smaller.
Taking this theory one step further, archetypes also get more diverse with bannings. Although some bans can render archetypes unplayable (see: Hypergenesis), others merely create the space for splintered versions of the old archetype to thrive. In the wake of the Splinter Twin ban, many blue midrange decks began popping up, including Grixis Control and most recently Jeskai Harbinger. After the Treasure Cruise ban, Delver of Secrets // Insectile Aberration lovers broke off into cliques championing either Grixis, Temur, or UR. This push towards archetype diversity is one of the intended effects of bannings in Modern.
Eldrazi History X
Eldrazi's history supports this theory. With Eye of Ugin legal, the deck rapidly evolved into its optimal build---UW Aggro. With Eye gone, the deck's pieces are finding homes across Modern's archetype spectrum. Here's a brief overview of the archetype's metamorphoses while Eye of Ugin ran rampant.
The first wave of Eldrazi decks made its rounds in Modern after Battle for Zendikar's release. The expansion was panned by players and Modern Nexus writers alike, but it wasn't long before Eldrazi Temple and Eye of Ugin were discovered to play very nicely with the new, cheaper Eldrazi.
At Pro Tour Oath of the Gatewatch, Team Channel Fireball and Team Face to Face collaborated on what went down in history as the deck that would go on to ruin Modern. Despite only boasting 8% overall representation, the Eldrazi deck yielded a completely colorless Top 8, with just two Affinity pilots left defending the Gatewatch from Kozilek's brood. Team East West Bowl's UR Eldrazi deck ended up securing the trophy, but this event will forever be remembered for the nightmarish consistency of Eldrazi Stompy's turn-one Chalices.
Star City Games' Louisville Open some weeks later saw the deck take its final form. The hyper-aggressive UW Eldrazi deck was perfectly optimized. It terrorized Modern through the subsequent triple GP weekend and promptly got Eye of Ugin banned.
Kozilek's Return
In terms of diversity, that Eye ban worked wonders for both Modern and the Eldrazi archetype. Last weekend gave us a pair of tremendously dynamic GPs, each with a few flavors of Eldrazi sprinkled among the top seats. Bravo, Wizards! Here are Modern's currently viable Eldrazi strategies as I see them.
I consider Bant Eldrazi the natural evolution of UW. Even in terms of card choices, the deck looks extremely similar to its predecessor. Bant splashes green for some extra acceleration, running Noble Hierarch and Birds of Paradise to power out turn-two Thought-Knot Seers like in the good ol' days. It also runs UW's going-long combo of Eldrazi Displacer and Drowner of Hope. The deck is highly streamlined, and unlikely to change drastically in the coming months.
Also known as Eldrazi & Taxes, Eldrazi Hatebears splashes spaghetti monsters into the Wx Aether Vial/Leonin Arbiter deck. Who'd have thought we'd ever see a fish strategy cast Reality Smasher?
"El Drizzly Bears" might not have been viable with Eye of Ugin shoving all Eldrazi strategies towards the maximally efficient UW machine, but in today's Modern Eldrazi Temple finally gives players a convincing reason to play the historically fringe Death & Taxes. Until recently, the deck could never dream of swinging with nine power on turn three while disrupting opponents. The Eldrazi package offers this enticing possibility to any deck willing to play colorless-producing lands.
GR Eldrazi was around when Eye of Ugin was legal, and the late-game versatility of World Breaker kept it in the game. This variant ramps up to seven mana with Talisman of Impulse or Mind Stone, and finishes the game with a horde of beefier Eldrazi. Eldrazi Ramp strategies sit somewhere between Eldrazi Midrange and UrzaTron on the archetype spectrum, usually going bigger faster than fetch-shock midrange decks until the very late game. (In my experience, interactive lynchpins like Jund and Jeskai can take over that late game with cards like Dark Confidant and Sphinx's Revelation.)
A few weeks ago, I unveiled TarmoDrazi, an interaction-heavy midrange deck with 12 cantrips, various Lightning Bolts, and of course, king-size Lhurgoyfs. I've since improved on the original build, cutting Serum Powder entirely (commenters: you were right!) and integrating a set of Mishra's Bauble to make Traverse the Ulvenwald into a reliable Sylvan Scrying early on.
Here's what the deck looks like now:
TarmoDrazi, by Jordan Boisvert
One thing you'll notice about this deck: it's not established. The list is still changing, and nobody's put up any results with it. I think there's plenty of room for brewers to fiddle around with Eldrazi Midrange variants until an optimal build is found, if one ever is. Other midrange decks like Blue Tron have integrated some Eldrazi components successfully, and the journey doesn't stop there.
Lately, I've turned my attention away from TarmoDrazi to check out the much-talked-about Nahiri hype-train for myself. And I don't mean by breaking out my Snapcaster Mages. Once you go Thought-Knot, you never go back.
Emrakul? In My Eldrazi Deck?
It's more likely than you think. Nine out of ten pro players agree: you're not really winning in Modern unless you're flavor-winning. What better way to succeed on that front than to act out Wizards' Shadows over Innistrad storyline in real-time for your captivated opponent?
Eldrazi Harbinger, by Jordan Boisvert
We've seen Nahiri be phenomenal in a midrange shell. She removes problematic permanents (I sniped a Worship this afternoon), slows down assaults by exiling creatures, loots through lands to find business, attracts opposing resources, and rapidly ticks up to a (generally) game-breaking swing. But I also think Nahiri can be great in a more creature-centric deck than Jeskai Harbinger. She's great on an empty board, but even better on a favorable one.
Even before last weekend, Nahiri made a splash in Modern Kiki-Chord. Fatties like Tarmogoyf, or even career blockers like Kitchen Finks and Wall of Roots, do a great job of playing bodyguard for the planeswalker. The Eldrazi fit this bill nicely, while also turning sideways themselves. If opponents want to attack our unprotected Nahiri, they leave themselves open to another hit from Reality Smasher.
In this deck, Nahiri provides an elegant answer to Blood Moon, which can cripple our manabase. All we need to do to ensure protection from the enchantment is fetch up a Plains. Or even a Forest---resolving Oath of Nissa (and seriously, who wants to destroy Oath of Nissa?) lets us land Nahiri worry-free with a bunch of Mountains.
Lastly, I want to touch on the importance of Nahiri's ultimate. In a deck full of Reality Smashers, it's tempting to cut Emrakul altogether. But her very presence makes Nahiri much better, even when she isn't counting on summoning her. Knowing that Emrakul is in our deck, opponents will do everything in their power to keep us from untapping with eight or more loyalty counters on Nahiri. She puts enormous strain on players to commit resources to dealing with her when they have other problems on their plate. You know, Reality Smasher problems. And sometimes, Reality Smasher won't be good enough. (And sometimes, your opponent has Manic Scribe.)
So there's the idea behind this deck, in a nutshell. The other reason to play Eldrazi Harbinger is that it plays so many tried-and-true Modern all-stars.
The Best Removal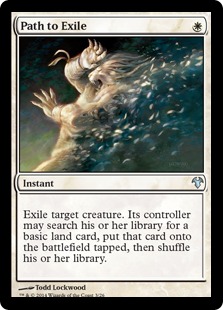 BGx, the face of Modern's interactive alliance, has long altered between one of two strains: Jund, which splashes red for Lightning Bolt, and Abzan, which goes into white for Path to Exile. Granted, there are other reasons to consider red or white in BGx, among them Terminate, Siege Rhino, and Lingering Souls. But I think the strength of these decks relies on their ability to play one of the two most-played spells in Modern.
Bolt and Path kill creatures more efficiently than anything else the format has to offer, and Nahiri, the Harbinger happens to incorporate both spells' colors into her casting cost. That means just about any deck running Nahiri should run the full eight removal spells, especially in a format as creature-dominated as Modern. Eldrazi Harbinger is no exception.
The Best Eldrazi
UW and Bant Eldrazi have a high threat density, allowing them to drop creatures almost every turn of the game. That's par for the course in an aggro deck. Midrange strategies generally play fewer creatures to bulk up on disruption, be it Bolt and Abrupt Decay or Path and Mana Leak. What that means for Eldrazi Midrange decks is we need to play the best of breed, and nothing else. I've been very happy with a core of Matter Reshaper, Thought-Knot Seer, Reality Smasher, and Tarmogoyf in these decks, and I've re-employed that core for Eldrazi Harbinger.
The (Second) Best Selection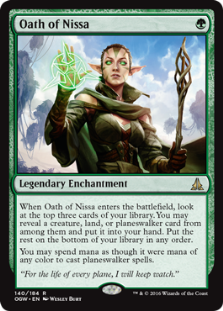 Just as Jeskai Harbinger runs a set of Serum Visions to grease the gears, Eldrazi Harbinger packs some cantrips of its own. TarmoDrazi went to great lengths to abuse Traverse the Ulvenwald package, which dominated midrange mirrors but underperformed against linear decks.
Lacking the space necessary to enable it, I cut that cantrip in this build, but kept Oath of Nissa and Ancient Stirrings. The former finds Eldrazi Temple, any of our threats, and Nahiri herself; the latter excels at fixing our mana and finding colorless bullets like Pithing Needle and Kozilek's Return from the sideboard.
(Not) the Best Mana
To play all those sweet Eldrazi, removal spells, and cantrips, our manabase unfortunately suffers from minor consistency issues. Oath of Nissa and Ancient Stirrings pull a ton of weight when it comes to finding the right mix of lands, but some dreamy double-Temple hands can lack the green source needed to cast them.
Since those are double-Temple hands, missing green shouldn't prove too much of an issue. I've found I often need to choose either red or white to supplement my green early on, and sometimes don't find the other color for a few turns. A mix of removal spells, then, isn't what we want in an early-game hand. I don't consider this too troublesome---we search for red if we have Bolt in hand, or for white when we have Path. Sometimes, colors aren't an issue at all, as we naturally draw or open multiple colored lands. Our occasional inability to hit RW also doesn't affect Nahiri much, since Oath of Nissa's "hidden mode" lets us cast the planeswalker off any four lands. But should the problem grow in seriousness, options like Rugged Prairie exist to lighten the load.
An Exciting Future
The Eldrazi might not have the Tier 0 representation of their heyday, but the archetype has never been more alive, at least in the protean sense of the word. Modern is all but guaranteed to see interesting evolutions of Eldrazi Midrange in the coming months, as well as a sustained Bant Eldrazi presence and the continued existence of GR Eldrazi Ramp.
You can quote me on all of that. Unfortunately, I also can't promise this section's header will be the last of my series of predictable puns on Eldrazi Temple's hilarious flavor text.