Are you a Quiet Speculation member?
If not, now is a perfect time to join up! Our powerful tools, breaking-news analysis, and exclusive Discord channel will make sure you stay up to date and ahead of the curve.
With Eternal Masters being a set designed with nostalgia in mind, a decision was made to change the functionality of one of the cards. Rather, to change back that functionality. Once upon a time, years before I would crack my first pack, there was something called a "continuous artifact", which meant that the artifact didn't do what it does when tapped. If you look at the Alpha printing of Winter Orb, you'll note that it was one such continuous artifact. With the removal of this line of text, the functionality of Winter Orb changed, and leading up to Eternal Masters the card just "worked" regardless of whether it was tapped or not.
As of the EMA printing, Winter Orb will now have the additional text "As long as Winter Orb is untapped..." This means that if you're able to tap the Orb on your opponent's turn that all of your lands will untap while their's will be restricted.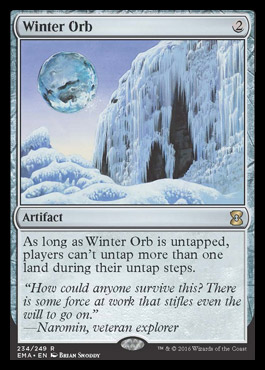 Winter Orb isn't currently Modern legal, and it's been a minute since you'd want it in your Legacy deck, though this errata could have some Commander applications. Surely there are still plenty of griefer Commander players, and I imagine some of them play decks that would benefit from a Winter Orb that only impacted the rest of the table. While the Orb itself isn't a great speculation target given that it's about to be reprinted, cards that fit into such a deck could be solid pickups right now.
I'm the wrong person to ask about Commander, though I happened upon a Reddit thread where somebody suggested Ring of Gix as a pickup in light of this errata. The card is not what I'd call good, and the application is niche, though I can think of worse ways to spend a couple bucks than on a handful of bulk rares that are on the Reserve List. You'll get better returns than a lottery ticket, anyway.