Are you a Quiet Speculation member?
If not, now is a perfect time to join up! Our powerful tools, breaking-news analysis, and exclusive Discord channel will make sure you stay up to date and ahead of the curve.
Last week, I began a five-part series focused on analyzing the varying impact each color in Magic has upon Modern, based on the individual cards that see play in the format and, to a broader extent, the archetypes made possible by these cards. If you missed last week's article on white, check it out there; I'll be using a similar format but elaborating in a few key areas. Through this analysis, our goal should be to highlight a large (but not comprehensive) list of some of the key blue cards in Modern, and with it gain some insight as to the relative strengths and weaknesses blue provides in the format. Through this process we can gain a better understanding of blue's color identity, what it does best, where it struggles, and how it can be improved through future innovation. Let's begin!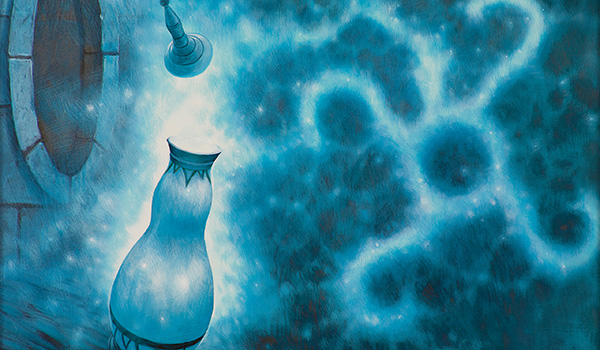 The Cards
Staples
Sideboard Powerhouses
Strong Options
[wp_ad_camp_1]
Blue's color identity in Modern is almost singlehandedly defined by one thing: card advantage and selection. Its best three spells (Serum Visions, Ancestral Vision, and Snapcaster Mage) all are focused on generating advantage of some form, be it re-buying spells, cantripping with selection, or just a delayed Ancestral Recall.
Any archetype with access to blue will almost automatically include 4 Serum Visions and 4 Snapcaster Mage, and every list that these cards supplement is arguably better and more consistent for it. The importance of card advantage is generally well known in the Magic community. Understanding why it's so crucial will help us identify blue's role in Modern.
The inherent variance of Magic that lies at the core of every game and allows for variation in gameplay and replayability is simultaneously a boon and a curse for Magic players everywhere. We've all been victim to fate, whether we call it "variance," "bad luck," "mana-screw," or a million other terms---the fact remains that Magic games are often decided by the order of the cards, and access to library manipulation can drastically shift a player's odds. Scrying with Serum Visions to dig deeper for specific answers, sideboard powerhouses, or even simply more lands/more action can often be the difference that sways the course of an entire game. Bottoming two lands that we otherwise would have been forced to draw can avert disaster, and that's just one of the surface-level uses that Serum Visions can provide.
The fundamental principle of card advantage is relatively straightforward. Access to more resources to leverage against an opponent will translate into greater material advantage in the end, all things being equal. Electrolyze killing a Dark Confidant and cantripping counts as card advantage, as does Izzet Staticaster invalidating a plethora of opposing creatures out of Abzan Company/Infect/Affinity. Card advantage rarely has to include the actual words "draw a card" printed on a piece of cardboard, but of course blue does that quite well too.
Note that cantrips like Serum Visions don't technically generate card advantage, but for the purposes of reducing variance they do the trick just fine. In the late game especially, bottomed lands often are virtually identical to extra drawn cards, as the eighth land drop (and so on) typically isn't worth a full card.
With this main strength in mind, let's take a look at a few lists that seek to push this element of card advantage as a main path to victory.
Jeskai Control, by Francis Cellona (9th, GP Los Angeles)
The purest form of a "card advantage engine" available to us in Modern, Jeskai Control is built to accomplish one purpose: survive. Besides lands and one true win condition, every card in the deck is focused on either making exchanges with the opponent or pulling ahead with card advantage.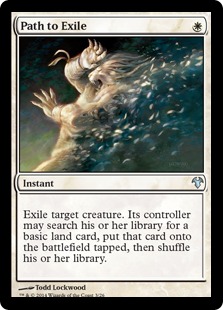 Here we see Serum Visions and Snapcaster Mage, along with other blue card advantage-generating spells like Electrolyze and Cryptic Command, working to bend the natural one-card-per-turn resource bottleneck that normal decks experience in Magic. We've all seen these cards before, but incorporating them into our archetype carries with them a few connotations.
As a control-type strategy built on making exchanges and pulling ahead through card advantage, Jeskai Control (and similar strategies) are reliant on a certain amount of redundancy in terms of their reactive elements. For example, Path to Exile handles pretty much every creature well (besides tokens). Lightning Bolt does just as well considering its cheap mana cost, and can even combine with a Snapcaster Mage to kill a large creature, attack a planeswalker, or even damage an opponent directly. Mana Leak handles most threats well enough to be functional, albeit awkward, though the comparative merits of counterspells in Modern are perhaps better elaborated on in another article.
While certain spells might trade variability for power (think Lightning Bolt vs. Flame Slash as an extreme example) as a general rule we often see reactive strategies employ the most variable answers as possible to react to opposing threats.
Imagine a common scenario as Jeskai Control, where an opponent plays a Tarmogoyf while we're tapped out. While it's true that we deserve the beating we're about to get, as we should never have gotten ourselves in this situation in the first place, our goal is regardless to find an answer to the Mean Green Machine as quickly as possible. This is where blue's knack for card advantage and selection shines, as we can power through our deck with Serum Visions and Snapcaster Mage to dig for a Path to Exile or other answer to handle the Tarmogoyf. Were our deck filled with narrow, awkward answers (think Grixis Control trimming Terminates for Kolaghan's Command and other tricky spells) we would have difficulty finding our target spell in time, effectively spinning our tires chaining cantrip into cantrip yet actually getting nowhere.
Grixis Control, by Corey Burkhart (8th, GP Los Angeles)
Grixis Control is another example of a reactive strategy built on exchanges that seeks to pull ahead through the use of card advantage to gain a material edge against the opponent and leverage that towards a win.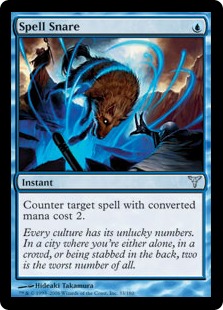 Here, Corey is using the trifecta of Snapcaster Mage, Ancestral Vision, and Serum Visions, backed up by a whole bunch of removal and other card advantage spells to tie it all together.
While I won't talk too much about the intricacies of this specific list, those familiar with Grixis Control in Modern will see the dedication Corey applied to the concept of card advantage, including the now defunct Thought Scour alongside the Big Three Blue spells for a functional 16 copies of cheap cantrips! All those instances of "draw a card" will do wonders for Corey's mileage out of his sideboard spells, not to mention helping him find extra lands when he needs them and powering out cheap, quick copies of Tasigur, the Golden Fang.
Permission
The other major contribution blue offers is its suite of counterspells. These run the gamut from more situational (Spell Pierce, Mana Leak), to hard counters that remain live long into the late game (Cryptic Command, Spell Snare).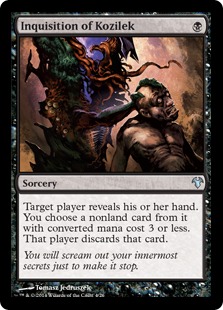 As an answer, a counterspell presents certain unique advantages over disruption cards in the other colors. Compared to discard spells like Thoughtseize and Inquisition of Kozilek, the counterspell doesn't suffer from the top-deck problem. A late-draw Thoughtseize can sometimes be dead, whereas ripping a Cryptic Command off the top usually fills the blue player with a cushy sense of security for the future, assuming the game isn't already decided. Answers that aim to remove a permanent after it comes down, on the other hand, won't always negate the effects of the spell. Enters-the-battlefield abilities are a dime a dozen in creatures, and in fact constitute one of the major hurdles Modern-playable creatures must clear. The power to simply say "no" is hard to outclass in Magic, and helps explain why so few non-blue control strategies exist.
Enabling Combo Kills
The natural strengths of blue tend to make it suited to combo. This doesn't take the form of any specific combo itself, but rather the surrounding shell that blue can provide. Cantrips and card selection let combo pilots find the specific piece they're missing at any given point, mitigating the downside of running so many situational or "dead" cards that can spell doom for combo archetypes.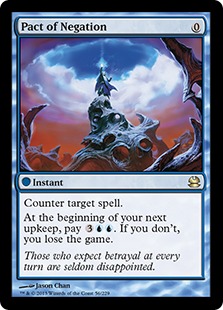 This selection often doubles as extra insurance against hate cards post-board, digging for the counter-hate, permission, or alternate win condition we've brought in.
Permission can also play a key role in these combo archetypes, as the answer to whatever disruption the opponent presents. When you're trying to kill using a very specific interaction between just a few cards (often just two), the number of relevant cards from the opponent goes down markedly. A well-timed counterspell often will clinch the victory for the blue combo pilot, stopping the lone kill spell, opposing counterspell, or other disruption piece the opponent is able to muster.
Modern is littered with all sorts of combo decks that aim to take advantage of the selection and counter-disruption blue can offer. Storm, Ad Nauseam, and the now-defunct Amulet Bloom make prominent use of cantrips to put their plan in action. In the case of the latter two, Pact of Negation is a crucial component. More controlling strategies like Scapeshift tend more towards the permission avenue, looking to go long and fire the combo off with protection. Even Infect, an aggressive strategy at heart, employs combo elements as well, using cantrips to piece together the perfect hand on the critical turn and things like Spell Pierce to keep the opponent off balance.
Major Takeaways
While blue in Modern has shown that it's capable of doing things other than library manipulation and permission, most of those options can be grouped under the umbrella of tempo. Merfolk as a strategy basically consists of a group of like-spells that work better together, and Aether Vial helps to power them out quickly.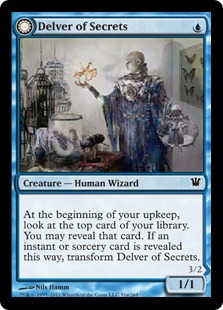 While very different in terms of overall strategy and execution, Delver of Secrets // Insectile Aberration and Blighted Agent are both looking to push a specific form of tempo as well---Delver by itself and Blighted Agent in concert with pump spells for a quick kill.
Beyond that, blue is almost entirely defined by card selection and permission. Like white, it lacks truly powerful creatures or threats of its own (unless you plan on dedicating a whole archetype to synergistic threats à la Merfolk, similar to Tokens, Soul Sisters, and Death and Taxes in white). Snapcaster Mage is absolutely a powerful creature, but more so as a result of the utility he provides re-buying once-used spells and not as a creature ideally suited for actual combat. As a result, blue often finds itself paired with other colors capable of either presenting powerful threats (green for Tarmogoyf, red/white for Nahiri, the Harbinger) or applying those card selection and permission attributes towards combo strategies.
Conclusion
To fight Blue, disruption and cheap threats have been used to great effect in the past. These can either overload blue's permission elements or capitalize on its "answer-light" nature by taking a specific reactive spell like Path to Exile with a Thoughtseize and then hoping blue stumbles in its attempts to find the right answer.
More than anything else, blue has found difficulty contending with the sheer variety of powerful things players can bring to the table in Modern, having to simultaneously fight against Lava Spike, Cranial Plating, Scapeshift, Tarmogoyf, and more. Blue in Modern has always existed in this delicate balance where it just barely is able to contend with a multitude of things being thrown at it at once, but the printing of a Counterspell-type effect would also prove too powerful and push it over the top. Right now, blue is at one of the best spots it's been in Modern, and I don't see that changing anytime soon.
Thanks for reading, and I'll see you next week!
Trevor Holmes
The_Architect on MTGO
Twitch.tv/Architect_Gaming
Twitter.com/7he_4rchitect