Are you a Quiet Speculation member?
If not, now is a perfect time to join up! Our powerful tools, breaking-news analysis, and exclusive Discord channel will make sure you stay up to date and ahead of the curve.
Modern never ceases to amaze me in its constant innovation and evolution. From crazy one-off brews, to slight metagame tweaks in established decks, to defunct archetypes that rise pheonix-like from the ashes with a new printing, there's always plenty to discover. I spent most of the weekend chaining Eternal Masters drafts like a degenerate and watching coverage of the Star City Games Modern Open in Dallas. While I imagine most of you won't benefit from the former, I hope you can from the latter. Today I'd like to go over some interesting cards that popped up across several archetypes. Most of these cards aren't complete surprises, to be sure, but their pedigree in Modern is not cemented yet and players are still figuring out how to use them best.
Thing in the Ice
From the time it was spoiled, Thing in the Ice // Awoken Horror sparked lots of discussion of eternal playability, including in Modern. The promises of the "blue Tarmogoyf" have been left largely unfulfilled, and the hype surrounding the card has subsided. It turns out we might just have been trying to jam it in the wrong deck all along---this weekend Thing in the Ice // Awoken Horror made an appearance in the sideboard of Aaron Barich's 14th place-finishing deck... Infect!
[wp_ad_camp_1]
Infect, by Aaron Barich (14th, SCG Dallas Open)
Thing hasn't panned out in Delver-type strategies for a couples reasons. First of all because the "clock" it presents doesn't pressure life totals immediately.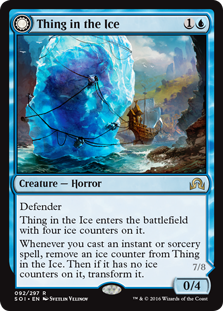 As a kind of alternate win condition, it suffers from the problems of attacking on a different axis from the rest of the deck, and doesn't combine well with other creatures like Delver of Secrets // Insectile Aberration or Tarmogoyf that it risks bouncing on the critical turn. The fact that the remove-a-counter trigger is mandatory makes things especially awkward, as you might inadvertently trigger your Thing when you're trying to protect one of your other threats, remove a blocker, or cantrip into more business. It still combos well with the old Bolt-Snap-Bolt to nug them for 6 damage (and rebuy your Snapcaster Mage trigger), but in practice this has all proven to be more cute than powerful.
Infect, on the other hand, seems like a much better fit. Delver strategies aim to cast one or two spells each turn, keeping the opponent off-balance while their signature threat(s) beat down slow and steady. Infect is much more geared towards a single critical turn, when a tapped-low opponent provides them the opportunity to finish things off with a flurry of interactive, one-mana spells.
Infect even has maindeck protection for Thing in the Ice // Awoken Horror naturally built in with Apostle's Blessing and Vines of Vastwood. You'll also note that Become Immense plus any four-point pump spell (Vines, Might of Old Krosa, Groundswell) on a Thing adds up conveniently to the magic number of 17... often just what the doctor ordered in a fetch-shock format.
Infect has always been able to kill the "honest" way when the situation called for it, and many a Dryad Arbor or Noble Hierarch has taken down an unsuspecting opponent who wasn't concerned about their non-poison life total. Thing provides another avenue for this purpose when something like a Melira, Sylvok Outcast is giving you trouble. As an 0/4, it's nice that Thing in the Ice // Awoken Horror also dodges much of the traditional answers to Infect's threat base---from Grim Lavamancer, to Pyroclasm, to Night of Souls' Betrayal, to the omnipresent Lightning Bolt.
Notably, Thing was also featured in Jack Kiefer's Blue Moon deck, which likewise finished well (in 13th). Here Thing in the Ice // Awoken Horror plays more to the control role, again showing how the initial predictions about its natural home were wrong. Where Infect tries to kill on one turn from nowhere, Blue Moon aims to get the job done at its leisure, when it's good and ready and the opponent is well locked out. Here Thing doubles as defense by jumping in front of smaller attackers or bouncing a problematic threat to buy time. It has interesting synergy with the card Blood Moon, which sometimes suffers from the problem of "locking out" an opponent who's already winning on board. Thing cleans up any creatures that got in under the Blood Moon, and assuming the dreaded lock piece is doing its job, strands them in the opponent's hand indefinitely.
Wasteland Strangler
Wasteland Strangler in some ways was one of the canaries in the coal mine before the full-on format collapse that was Eldrazi Winter. Along with other relatively fair creatures like Blight Herder, Conduit of Ruin, and Drowner of Hope, Strangler made its Modern debut in the Mono-Black Eldrazi deck that started to make waves before the release of Oath of the Gatewatch.
Flanked by the unlikely maindeck Relic of Progenitus and Scrabbling Claws, Strangler granted its early adopters a cheap Shriekmaw effect that could capitalize on the other tribal synergies of the Eldrazi. By the time Pro Tour Oath came around, the mono-black version had been largely supplanted by the colorless and blue-red versions. In the new, busted world of Thought-Knot Seers, Reality Smashers, and Eldrazi Displacers, Wasteland Strangler was largely forgotten and fell by the wayside.
As it turns out, Wasteland Strangler is still a powerful card, and may indeed merit a place in the post-Eye Modern. Joseph Freeman took three copies to a ninth place finish with his take on BW Eldrazi Taxes. He isn't the first person to add the black splash to Eldrazi & Taxes, but the list of successful decks in Opens or Invitationals is short---it begins with Jim Davis in April, Gregory Matthews in May, and ends with Freeman's list from Dallas.
BW Eldrazi Taxes, by Joseph Freeman (9th, SCG Dallas Open)
This deck just seems ready-made for Strangler. Instead of messing around with borderline stuff like Scrabbling Claws, the exile effects come naturally in the form of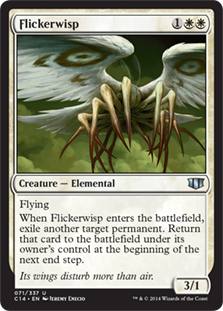 Flickerwisp, Tidehollow Sculler and Eldrazi Displacer. As another cheap Eldrazi, it leverages the equity of Eldrazi Temple and leads to more busted draws. Aether Vial lets us get extra mileage out of the Last Gasp effect, potentially allowing it to eat larger creatures in combat. And a splashed color in Eldrazi Taxes is basically a perfect fit, as the archetype is already in the market for painlands to cast Thought-Knot Seer and activate Displacer.
All in all, this looks like the strongest version of Hatebears/Death and Taxes/Eldrazi Taxes to me, and if I was interested in a disruptive white-based shell, I'd probably start here.
Open the Armory
Yeah, you read that title right. Limited unplayable and virtually-unminted-at-tournaments-of-all-kinds Open the Armory. This effect has seen play before in Steelshaper's Gift, which Affinity has employed at times to fetch out the terrifying Cranial Plating. Now if only there was some kind of deck looking to find a high-impact aura to jam onto its bogle creature-base...
GW Hexproof, by Ian Jasheway (17th, SCG Dallas Open)
In the same way that Steelshaper's Gift can act as Cranial Plating number five in a deck that's particularly good at abusing it, the one-of Open the Armory finds copies of the most powerful and unique aura in Hexproof, Daybreak Coronet.
But it also opens up a mini-toolbox tutor package, allowing the Bogles pilot to find umbras for wrath and removal protection, Unflinching Courage for the Burn matchup, or Spirit Mantle to cheerfully waltz past chump-blockers. Even Gryff's Boon makes an appearance here, as one more way to grant evasion (and potentially mitigate the nightmare scenario where your bogle actually hits the bin). It doesn't seem beyond the realm of possibility for something even spicier to make its way into the deck, like a one-of Gelid Shackles or, dare I say, Pacifism.
As Sheridan explains today in his Quiet Speculation article on the Eldritch Moon spoilers, three-mana tutors have shown themselves too expensive for the Modern format. But two-mana ones, even if narrow, seem to meet the required metrics of the format. This is exemplified by Sylvan Scrying in Tron, and to a lesser extent Glittering Wish. It may be that we've found another playable tutor in this vein in Open the Armory. Jasheway wasn't even the only player on the tech, as it appeared separately on camera in the hands of another pilot.
Zur the Enchanter
Finally, we have an old non-tiered archetype that has long captured the hearts of brewers everwhere. Zur the Enchanter is certainly not a new idea, but the interesting thing about Lance Austin's take is his adoption of Jace, Vryn's Prodigy // Jace, Telepath Unbound and Geist of Saint Traft. He originally piloted a copy of the deck to 6th place in the Orlando Classic, which he updated sightly for the Dallas Open. While he didn't fare especially well in the end, he was featured in a deck tech where he laid out the principles of the archetype.
Esper Zur, by Lance Austin (465th, SCG Dallas Open)
The traditional way to build Zur is with the intention of suiting up the Enchanter himself to keep crunching into the red zone and fetching up more nonsense turn after turn. If you work hard enough you can create a lifelinking, unblockable, untargetable monster.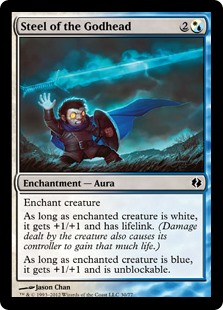 As Austin explains in the deck tech, Geist of Saint Traft provides the deck a much faster avenue to accomplish all this, and is the preferable target for Steel of the Godhead. You'll notice there's very little "cute" in this build, and Austin has opted for the leanest enchantment package necessary to get the job done, ensuring fewer randomly bad topdecks. This is further augmented by Jace, which can loot away superfluous enchantments or redundant copies of Zur himself that decide to show up at an inopportune time.
Like with Armory, the possibilities for customization and metagame tweaking here are enormous. For example, the one-of Thassa in this latest version was a concession by Austin to a more controlling meta---it could just as easily be a Ghostly Prison for aggressive strategies, or an Eidolon of Rhetoric to combat combo strategies. Ultimately it doesn't seem that Zur is likely to jump up the tiering scale any time soon, but the prospect of a tutor (really a Tinker) every turn is nothing to sneeze at---the archetype is something to keep in mind when and if any new enchantments of interest get printed.
Modern, a World of Innovation
Hopefully you enjoyed this romp through the less-established parts of the SCG Dallas results. Perhaps you're already familiar with these developments, have tried them out yourselves, or even helped to spearhead them in the first place. Either way, keep brewing and iterating, and I'll catch you next time.