Are you a Quiet Speculation member?
If not, now is a perfect time to join up! Our powerful tools, breaking-news analysis, and exclusive Discord channel will make sure you stay up to date and ahead of the curve.
In case you missed the news yesterday, Inquisition of Kozilek is back! Yes, IoK is being upgraded to a rare for its printing with brand-new art in Conspiracy: Take the Crown, aka Conspiracy 2. While cards from this set are not usually Modern-legal, this time we have a reprint that is obviously geared toward the Modern crowd.
Moderners have been clamoring for a reprint of Inquisition for quite some time, and this will bring plenty of copies into the hands of players, despite being a rare.
The rarity change shouldn't be a big issue either---the Eternal Masters printing of Heritage Druid at rare nevertheless brought the price down a ton. Pre-Innistrad commons and uncommons are hard to come by, and when they get popular they get very expensive. This should help alleviate some of the supply issues with Inquisition of Kozilek. I'm expecting these copies of Inquisition to be between $2 and $5 by December.
While we got one pretty high-profile reprint in Conspiracy: Take the Crown, I am not expecting to see many more. It's not a Modern Masters set so there isn't really a lot of incentive for Wizards to reprint more eternal staple cards in this set. The quirky draft cards are more than enough to sell it.
SCG Syracuse and Dredge Hate
At the Star City Games Open in Syracuse this past weekend, the talk of the town was Dredge. A lot of the Roanoke SCG guys were on the deck and Ross Merriam was able to take it to a win.
What does this mean for short-term Modern prices? Well, next weekend is the SCG Invitational (which is split-format Modern and Standard) and then the following weekend is a triple Modern GP weekend in North America, Europe, and Asia. I have a feeling going into next week that people will have to dedicate more sideboard slots to beating Dredge. Expect this to put upward pressure on prices of anything that catches on. On the other hand, the cards in Dredge themselves are posting very high prices. If you're not looking to play the deck yourself, now is a good time to move any extra copies you have lying around.
Today I'll cover some of the notable cards affected by Dredge's rise. I'll offer my thoughts on their effectiveness at combating Dredge strategically, as well as where I see their prices settling in the near-term.
[wp_ad_camp_1]
The K.O. Staples
These cards have varying levels of effectiveness and playability, but they're all proven players in combating Dredge and other graveyard shenanigans, both in Modern and in other formats. These are the best of the best, and as the go-to answers they should all see some price movement.
The lowest price you can find Grafdigger's Cage right now is $10.50, and with a top buylist price of $7.50 it's clear that vendors have a positive outlook on the card. I wouldn't be surprised to see Grafdigger's Cage hitting $20 the weekend of Grand Prix Indianapolis if dredge has a good weekend at the Invitational. Now's the time to pick these up if you're inclined to play them.
Buylists for Rest in Peace are currently only at $2.65, with it selling for nearly double at $4.50. Grafdigger's Cage hails from Dark Ascension, a low-print-run set that only saw regular drafting for a short period. Rest in Peace, on the other hand, was printed in a large fall set, which means more copies floating around. I wouldn't expect Rest in Peace to reach the $10 that Grafdigger's Cage is at right now, but we should still see some solid growth over the next two weeks---a peak of $8 isn't unreasonable. If you have a bunch of extra copies you will probably see some absurd buylist prices on the Friday before the Grand Prix.
Last week, buylist prices on Leyline of the Void were as high as $8.50 and although they have simmered down to a more reasonable $6.50, the card still commands a $10+ price tag. I would not expect many vendors to be sold out in the next two weekends as people scramble to figure out how to beat Dredge. My expectation is that Leyline of the Void closely follows Grafdigger's Cage in price.
Some Weird Ones
Sell, Sell, Sell!
As I mentioned above, several staples of the Dredge deck are unreasonably expensive right now. Even if Dredge remains a Tier 1 deck and continues to post high finishes, the ceiling for these cards just isn't much higher. There are four in particular I'd be looking to offload (again, assuming you won't need them to play):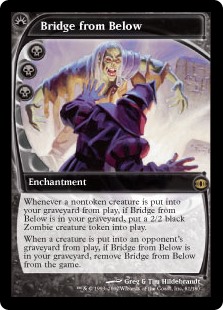 Prized Amalgam, Greater Gargadon, Bloodghast, and Bridge from Below.
Prized Amalgam is a $4 in-print rare that hasn't made any waves in Standard tournaments. Greater Gargadon was a bulk rare turned into $25 rare overnight. An extremely sluggish $5 buylist price on Gargadon tells me this price is not sustainable---certainly vendors feel that way. Bloodghast has been growing for the past year pretty steadily but is ready for a price correction. At nearly $30, it's hard to see it keep climbing.
Bridge from Below has been a steady $5 card until June, and now in August is all of a sudden $16. Spikes of that magnitude that hit this fast are rarely sustainable, and I think Bridge is no exception. Note as well that while Ross Merriam's list ran the full four copies, Tom Ross elected to play just two---and non-Gargadon builds online have eschewed Bridge entirely. It's not as good at setting up kills like in Legacy and we may see Dredge builds shedding copies or moving away from it completely.
Questions, Comments, Zombies
Hopefully that gives you an idea of the financial picture I see in store for our new Zombie overlords. If you have any questions, hit me up in the comments below. I'm also still waiting to hear more from our readers about where you'd like me to take this column. Let me know in the comments or on Twitter, and I'll see you next week.