Are you a Quiet Speculation member?
If not, now is a perfect time to join up! Our powerful tools, breaking-news analysis, and exclusive Discord channel will make sure you stay up to date and ahead of the curve.
Last week I went against my better judgment and wrote about the Modern banlist. The piece seemed to be generally well received, though as one would expect, there were disagreements. Most seemed to be with regard to levels of understanding or differences of philosophy, though there was one commonly expressed sentiment that I felt deserved its own response. I completely disagree with the notion that Mox Opal and Simian Spirit Guide should necessarily be of the same legality in the Modern format. Today I'll lay out my case for why.
In my article I made comparisons to both Lotus Petal and Chrome Mox—both cards that are illegal in Modern. I haven't seen anybody arguing that Chrome Mox should be unbanned, nor that Lotus Petal should be reprinted in a Modern-legal capacity. We all understand the dangers of fast and free mana, though there seems to be a breakdown when it comes to understanding exactly what should and should not be Modern-legal.
Chrome Mox and Lotus Petal are easily identifiable as particularly egregious due to their ability to generate mana of any color and to enable storm decks, though clearly we allow some amount of fast mana to be Modern-legal. Tron and Eldrazi Temple get to continue to exist in no small part because they heavily restrict the sorts of spells that the fast mana enables. Birds of Paradise is way too powerful of a mana accelerator for current design philosophy, though once again, Birds really only plays well in creature-centric decks. In each of these cases, the legal fast mana card imposes deck-building restrictions that are totally fine within the context of Modern.
[wp_ad_camp_1]
Mox Opal: Faster But Vulnerable
This is where the difference between Mox Opal and Simian Spirit Guide becomes pronounced, and where I think some players seem to ignore or be unaware of some very pertinent data. A big part of my argument last week lied in the fact that Mox Opal doesn't enable anything especially degenerate at this point in time. Technically there is an Open the Vaults combo deck that's fringe-playable, though when it comes to popular and powerful Mox Opal decks, we are referring to Affinity and Lantern Control.
Lantern Control, by Carter Newman (10th, SCG Columbus Open)
Affinity, by Robert Cucunato (3rd, SCG Columbus Open)
The common link here is that both of these decks utilize the fast mana available to win the game with permanents. Lantern Control technically closes the game before it actually wins, though the fast mana in both of these decks merely enable the pilot to commit permanents that hopefully close the game. Ensnaring Bridge isn't exactly a fun card to play against, but the deckbuilding restriction that Mox Opal imposes makes it so that these decks are still vulnerable to artifact hate. The practical application of the card makes it so that Mox Opal is specifically a shot in the arm for artifact-heavy decks, which are vulnerable to the wealth of powerful artifact hate in the format.
Spirit Guide: Defying Interaction
The danger of fast mana is that it can enable a player to actually win the game before the other player gets to take relevant game actions. Mox Opal doesn't really facilitate that in Modern. If Ad Nauseam was the only Simian Spirit Guide deck, then you would have reason to believe the same of that card. However, that's not even the most recent Spirit Guide deck to place well in a Modern event.
Dredge, by Matt Ayers (2nd, SCG Columbus Open)
The sole purpose of Simian Spirit Guide here is to cast Cathartic Reunion on turn one, to cast two of the one-mana looting spells on turn one, or to flashback Faithless Looting on turn two—all in the hopes of killing your opponent on turn three. Unlike Mox Opal, adding Simian Spirit Guide to Dredge didn't require changing any other slots, with the fact that it only makes red mana only mattering occasionally.
This list is still pretty fresh, and you can make the argument that this isn't the best build of Dredge, but that argument doesn't really promote the position that Simian Spirit Guide is a positive feature of Modern. It is true that this is just one data point, so let's take a look at what else Simian Spirit Guide is up to. The finals of the most recent SCG Classic is a good place to look—both sides of the finals at that.
Sun and Moon, by Todd Stevens (1st, SCG Knoxville Classic)
Titan Breach, by Clayton Vogelgesang (2nd, SCG Knoxville Classic)
It's easy to mistake Sun and Moon for something it's not. Sure, it has midrange planeswalker elements, but fundamentally it's a turn-one or -two Chalice of the Void/Blood Moon prison deck. Technically it gets wins in other ways, though the deck is only competitive because of the ability to power out oppressive permanents that prevent opponents from playing Magic.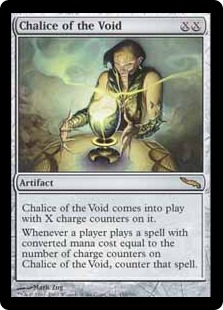 Unlike Lantern Control, artifact hate won't really help you here, as you'll only have one target for it. The impact of Simian Spirit Guide is that it takes this slower prison deck, and gives it the potential to functionally win the game on turn one. Chalice of the Void is a pretty heinous card, but if you can play your one-mana spell, say a Thoughtseize, on turn one, its presence is totally fine. It's the fast mana that is the deal breaker.
In Valakut decks, Simian Spirit Guide is just there to enable more turn-three Through the Breaches. Search for Tomorrow is a staple of ramp decks, letting you ramp your mana on turn one and get to five mana on turn three, and Simian Spirit Guide supplements these fast kills. It takes away some consistency from the deck, but it enables difficult-to-interact-with fast kills. It does give you fewer topdecked Mountains once you have an active Valakut, the Molten Pinnacle, though this is a minor deckbuilding cost to be more competitive with the fastest decks in the format, which are generally the Valakut decks' worst matchups.
Costs and Benefits
Ultimately, the costs of putting Mox Opal and Simian Spirit Guide in your deck are very different, with SSG being much less demanding. The current payoffs are similarly unequal. Opal lets your deck play the game faster, but only by interacting or presenting strategies that can be interacted with.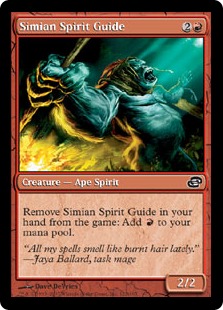 Spirit Guide speeds up wins that defy interaction. Yes, they're both fast mana, but not all fast mana is equally degenerate.
An argument I'm more sympathetic to is that Simian Spirit Guide[mtg_card] really only rears its ugly head when the rest of the format is oppressively fast. It was a tool available to Valakut decks previously, though the hit in consistency was generally considered too steep of a cost. It's entirely possible that if you ban something out of Dredge and/or [mtg_card]Mutagenic Growth, you might see the Simian Spirit Guides disappear from the format. But the fact remains that the card can slot in to most any strategy that's just looking to kill a little faster at a very low cost. Minimally, this is something to monitor.
Blanket categories tend to hurt more than they help when it comes to high-level discussion of a topic, and I hope I've done a good job of illustrating why Simian Spirit Guide is more problematic than Mox Opal. I will reiterate that I don't expect a Spirit Guide ban with the Aether Revolt update. But the argument for one is sound, and should be an independent discussion from that of Mox Opal.
Thanks for reading.
-Ryan Overturf
@RyanOverdrive on Twitter