Are you a Quiet Speculation member?
If not, now is a perfect time to join up! Our powerful tools, breaking-news analysis, and exclusive Discord channel will make sure you stay up to date and ahead of the curve.
Since the rise of Dredge, Modern has undergone some frightening changes. Linear aggro-combo decks have experienced a renaissance to fight off the Grave-Troll menace. Toting Eldritch Moon sleeper Grim Flayer, Jund has secured additional metagame shares as it combats these strategies. And Tron, never a favorite against pump-based aggro, has experienced perhaps more shifts than any of Modern's archetypes as it adjusts to an increasingly polarized metagame.
Modern is also stirring at the non-meta level, and increasingly so as our calendars approach the fabled January banlist announcement. The format is no stranger to ban-mania, as any Nexus reader knows full well. Our own team has provided some level-headed banlist content, but I've read particularly egregious pieces from elsewhere this cycle (the linked articles include suggestions to unban Mental Misstep and bring the hammer down on Reveillark).
We haven't had a data-driven banlist article (outside of David's banlist testing series) at Modern Nexus since almost a year ago, when Sheridan left our team. Today, I'll try my (unfortunately, non-statistician) hand at a fact-based banlist prediction for January 18th in the same vein as those we used to do.
[wp_ad_camp_1]
Assessing the Metagame
Any credible banlist article piece begins with a context exposé. It's true that Modern Nexus hasn't had a traditional metagame update since September (a situation that our editor has assured will be rectified in the fast-approaching new year). But we're not completely lost when it comes to metagame analysis. Sites like mtgtop8 and MTGGoldfish, for all their faults, reliably release fresh data every day, pulled from both paper results and online tournaments.
Based on those numbers, here are the decks that have seemed to make up Modern's top tier for the past two months. I used only the live tournament numbers from mtgtop8 (paper-based) and the home page stats from MTGGoldfish (online-based) while constructing this table, which is meant to provide a general sense of how Modern currently looks rather than a comprehensive breakdown.
| Archetype | mtgtop8 % | MTGGoldfish % |
| --- | --- | --- |
| Infect | 9% | 8.6% |
| Jund | 6% | 8.9% |
| Dredge | 7% | 4.9% |
| Tron | 5% | 5.9% |
| Burn | 4% | 4.1% |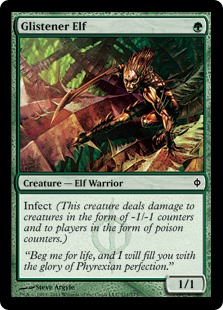 At a glance, this metagame doesn't look so bad. No one deck takes up 10% or more of the metagame, and there seems to be a healthy spread of archetypes present. Infect is the clear top dog, and Jund comes right behind it, boasting one of the best Infect matches in the format. Up next are Dredge and Tron, softies to Infect that crush fair strategies like BGx. Burn takes last place, joining Infect as a linear aggressive strategy that has no problem dismantling the attrition breakers. We're met with a classic rock-paper-scissors scenario: linear aggro beats Dredge and Tron, those decks beat BGx Midrange, and BGx beats linear aggro.
When we take a look at data from the last two weeks only (provided by mtgtop8), and allow online events, the numbers start to demonstrate something different.
| Archetype | mtgtop8 % (online + paper) |
| --- | --- |
| Dredge | 14% |
| Burn | 10% |
| Jund | 9% |
| Infect | 8% |
| Tron | 7% |
| Death's Shadow Aggro | 6% |
| Abzan | 6% |
Same rock-paper-scissors, much larger scale. Again, we have Death's Shadow, Burn, and Infect representing linear aggro, BGx Midrange chasing them down, and Dredge and Tron choosing paper every time. But in this table, the top-tier decks take up twice as much space. Combined, these decks fill up a whopping 60% of the Modern metagame in their two weeks, leaving very little room for the many lower-tier strategies Modern is known for to pull in wins themselves. To make matters worse, the format's interactive top tier consists entirely of BGx Midrange, which between Jund and Abzan presents Twin-level homogenization.
Two weeks of data certainly is less reliable than an entire month's worth, so it's possible these numbers are just an artifact of a small sample. But, for the remainder of this article, I will proceed on the assumption that it represents the meta faithfully. We can call this format from the past two weeks polarized: a few best-of-breed contenders have emerged that fall under distinct umbrellas, and everything else struggles to keep up. In Modern, a format founded on and maintained by the principles of deck diversity, such polarization is unacceptable.
Thus, if we want to fix this issue, we must ask what factors have led to the polarized metagame. That way, we'll know which problems need to be addressed.
May the Force Not Be With You
One of Modern's fundamental problems (or quirks, depending on your standpoint) is its lack of generic answers. Without Force of Will and other efficient Counterspell effects, tremendous strain is placed on sideboards to address the many powerful strategies employed in Modern. When players need to beat a lot of unique decks, though, they run out of space in their sideboards quickly.
Additionally, since Modern is such a fast format and games frequently end around turn four, players must play many copies of hate pieces in order to draw them early enough that they matter, which further devastates their sideboards. Top-decking Surgical Extraction on turn three, by which time an opponent has a few Prized Amalgams in play, probably isn't going to do a Grixis mage much good.
Players as respected as Paulo Vitor Damo da Rosa have suggested solutions to this quirk (see whose side I'm on?), the most extreme of them being to increase the sideboard limit for Modern. Of course, the format has some terrific sideboard options, among them Rest in Peace, Stony Silence, Ensnaring Bridge, and Spellskite. But Modern is so vast that playing too many of one type of hoser can prove fatal.
Pardoning Consistency
Modern's playable consistency tools are Serum Visions, a significantly weaker cantrip than the now-banned Ponder and Preordain, and Ancient Stirrings, which only slots into very specific decks (Eldrazi, Lantern, and Tron—all of which, incidentally, are currently viable). If stronger consistency tools were legal in the format, interactive decks besides BGx Midrange might have better access to the tools needed to put up more of a fight against Dredge and Tron, as well as against the linear aggro decks. As things stand, players looking to locate cards with frequency in Modern are forced to run those cards in multiples. If they want the cards early, which they often do, they need to aggressively mulligan for them.
The consequence? Decks likely to survive in a Dredge metagame are ones that can afford the sideboard slots to run three or more pieces of dedicated hate. In other words, very few. As Dredge continues to perform well in tournament settings, the format continues to become more polarized. Of Modern's interactive decks, only those with the absolute strongest cards available (Jund, Abzan) put up results. And these BGx Midrange decks now have both Grim Flayer and Dark Confidant to provide consistency, putting them leagues above any other interactive strategy in Modern.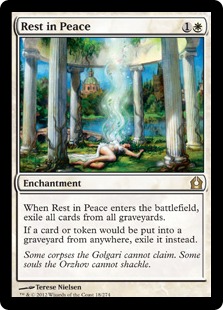 Neither of those creatures cares too much about graveyards, either, giving BGx yet another leg up on its interactive would-be-colleagues: with all the Dredge running around, Rest in Peace, Relic of Progenitus, and Leyline of the Void have become common hosers. The huge chunk of lower-tier Modern decks that relied on the graveyard (Storm, Chord, CoCo, Grishoalbrand, Monkey Grow, etc.) have lost even more ground—if you're going to lose to grave hate, you might as well play the best loses-to-grave-hate deck in the format.
We're seeing a similar trend with the linear decks. Instead of getting by on raw power, these decks live and die on the redundancy of their pieces, achieving consistency in a Ponder-less world by running a critical mass of relevant cards. It's no wonder Burn and Infect are doing so well in this metagame—they're full of four-ofs!
These decks have also become much faster, freeing up sideboard slots traditionally dedicated to cards with mid-game utility. Without a mid-game, linear aggro decks don't need these cards. Savvy players are simply sleeving up the fastest linear aggro decks and spending the spare sideboard slots on Ravenous Traps, leaving "slow" linear decks like Ad Nauseam, Valakut, and Affinity by the wayside.
A Proposed Solution: Unban Preordain
I believe adding a respectable consistency tool to the format would help remedy Modern's sideboarding problem. Preordain is weaker than Ponder in a format with fetchlands, so I would start there. But even a card as innocuous as Preordain can be controversial. In a recent piece, Ryan Overturf argued against Preordain's unbanning. I'll quote him here:
...if you're playing off the top of your deck, and I get to look at two extra cards on some number of my draws, I'm going to execute my deck's plan more consistently than you. I will draw fewer lands and more spells that matter. Whether I'm a combo, control, or tempo deck, I'm simply going to find my relevant things more than you'll find yours, and that enables me to beat you even if your average power level is higher than mine. You will draw more lands and ill-timed spells over time than I will. Serum Visions is widely played despite awkward templating. Preordain would make every Serum Visions deck better by a lot, and would also show up in most if not all of the blue non-Serum Visions decks.
Let's address these points one by one.
Modern's combo decks already achieve consistency, but more through redundancy than selection tools. Additionally, the format is so tempo-centric that I doubt many of these decks would want to run Preordain themselves, since casting the card costs them a mana's worth of board development. Even already-blue decks like Infect, which are now far removed from their combo origins, might not want the card. And if Infect did play it, I'm confident the decks that get a boost from Preordain being in the format—namely Grixis Delver and other Bolt-Snap-Bolt strategies—would work overtime to keep it in check. I also think it's safe to assume existing nonblue, linear aggro decks (Death's Shadow Aggro) would not splash blue exclusively for Preordain, as doing so would further weaken them to Burn and to Blood Moon.
As for finding relevant things, that would be the point of the unban. We want slower, interactive strategies to get a boost in Modern, and to be able to draw their interaction without mulling to four only to get blown out by a Nature's Claim.
Ryan's final point involves Serum Visions. Yes, Preordain would give a boost to every Serum Visions deck. But is that so bad? When Preordain was banned, Storm, Twin, and Blazing Infect were ubiquitous, and also ran full sets of Ponder. Now, Ponder is banned, and these decks don't exist in Modern anymore, having each been directly addressed by the banlist. So, what Serum Visions decks do? All I see are Grixis Delver (a fair deck) and UR Prowess (which would, if anything, cannibalize Death's Shadow and Infect shares), which together take up just over 6% of the metagame. If a Preordain unban buffs these decks, revitalizes others, or takes a bite out of Become Immense/Cathartic Reunion strategies, it will be a huge success.
Other Unban Targets
There are a few other cards Wizards could unban to help fair strategies combat Dredge, but personally I don't think any of them are great options.
Jace, the Mind Sculptor: It's true that Jace is pretty slow and doesn't help much against linear aggro. But interactive decks already do fine against linear aggro. My beef with Jace is that it's possible that he would homogenize interactive decks. Why play the non-Jace interactive deck when you could play the Jace one and have a trump in every interactive mirror? Given how well BGx is doing, this issue may never materialize. But it could go either way. Pricing issues aside, I think Jace is way too much of a wild card for Wizards to go for it this time.
Stoneforge Mystic: Stoneforge runs the same interactive-mirror-trump risk that Jace does, if on a smaller scale. But it also helps more than Jace against certain strains of linear aggro. David's results did suggest a trend in which Modern became even more linear to fight Stoneforge decks, which could further polarize the format. That's a worst-case scenario, since the primary goal of an unban next month would be to help restore Modern's diversity. Still, I don't think Stoneforge is much more unlikely than Preordain as an unban target. We know Wizards doesn't test for Modern, and the Mystic doesn't have any stigma from past Modern abuse. It's also guaranteed not to be used in linear combo decks, unlike a highly efficient cantrip.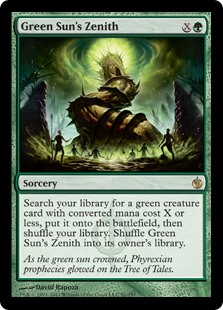 Green Sun's Zenith: Synergy-based toolbox decks are deader than ever right now, but Zenith would undoubtedly make an appearance in every Chord/Company deck going forward. Either way, I don't think it homogenizes deckbuilding the way it used to. Modern's top decks are extremely strong and have all carved out their niche. I doubt many of them would play Green Sun's Zenith.
The biggest strike against Zenith is that it might slot right into Infect, where it serves as Noble Hierarch and Glistener Elf while searching up sideboard bullets like Loaming Shaman, Tarmogoyf, and Kitchen Finks. For this reason, I think Zenith is quietly the most dangerous card people have talked about unbanning this cycle and would prefer it stay on the list.
What About Bans?
Elephant in the room: I didn't suggest any bans. At this stage, I don't think any are necessary.
Explaining It All
It wouldn't be difficult to argue for a Dredge ban with the information presented in this very argument, but none of the reasons I listed are ones that Wizards has ever used to defend a ban. Using only the criteria we've been given, arguing for a Dredge ban would actually prove quite difficult. Every card Wizards has banned since Modern's inception falls into one of five categories based on the company's careful language.
Of these five categories, only the final point can be applied to Dredge in any capacity. There are a couple issues with this bullet point, though. For one, while the deck hovers between five and ten percent of the meta, Dredge is not nearly represented enough to be on par with Cloudpost, Deathrite, or Cruise. Second, it's not what Dredge does on its own that suppresses other archetypes—it's how Dredge warps the format. Modern gets a lot faster and a lot more hateful to graveyards with Dredge around, and many decks that can't spare multiple sideboard slots to beat Dredge become unplayable.
"Warps the format" sounds like a new categorization to me, and I wouldn't put it past Wizards to create this new category if they felt they had to. But I also think there's a much more elegant route available. Explicitly endorsing this categorization also opens the door for pundits to call for bans on cards like Lightning Bolt and Tarmogoyf, who indeed greatly limit the card pool's viable options and strategies.
Nobody Likes Bans
The Modern community has become incredibly vocal about bans since the format was removed from the Pro Tour. For the most part, players don't like them, and would vastly prefer cards be unbanned to address problems when possible. "When possible" is the operative term here—in many cases, it just isn't.
But, as argued in this article, I think the stars have aligned for Preordain to smooth out the format. Wizards has no existing justification for banning Dredge, Modern houses zero successful spell-based combo decks, fair blue decks could use a helping hand, and letting a consistency tool back into the format might remedy one of Modern's age-old idiosyncrasies.
Other Ban Targets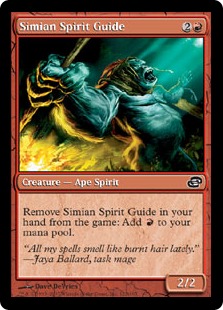 Like Dredge, Infect doesn't currently fit into any of Wizards' five bannable categories. Arguing for a Become Immense ban at this point seems silly to me, since this card is clearly not responsible for Modern's strife. A hit to Dredge would equally hurt Infect and other pump-based aggro-combo decks, which would suffer both from the loss of a popular, favorable matchup and the loss of a deck that polices its own policeman.
Similarly, Gitaxian Probe and Mutagenic Growth are unlikely targets, as they specifically represent Infect (which hasn't broken any rules) and are indirect hits to that strategy (whereas Wizards historically prefers to leave enablers alone and target cards that do overtly powerful things). After all, we haven't ever seen the Simian Spirit Guide and Manamorphose bans some pros still clamor for, and unless Wizards totally changes the way it handles the Modern banlist, we won't until they become clear offenders in a problematic deck.
A New Start for Blue
Hopefully I've made a compelling case for Preordain's unbanning. Even so, we don't know if Erik Lauer reads Modern Nexus. If you're me, you'll spend the next couple of weeks hoping he does. And if you're anybody who's anybody, you'll be looking forward to the update on January 18th!
One year ago, Wizards banned Splinter Twin and fragmented the Modern community with a nightmarish Pro Tour. This year, the stage is set for blue's reparations to begin, and for Wizards to continue its recent trend of transparency with the playerbase.