Are you a Quiet Speculation member?
If not, now is a perfect time to join up! Our powerful tools, breaking-news analysis, and exclusive Discord channel will make sure you stay up to date and ahead of the curve.
Humans is a thing, yo. I wish that period was a full stop. Pack it up, work here is done, go home and kiss the kids. Not because I don't want to write the article or anything. Simply because those five words encapsulate the range of emotions I'm feeling as I look over the SCG Cincinnati Open results more beautifully and eloquently than the other 1495 words I'll write today. It's all downhill from here folks.
Today, it's all Humans. Where the archetype came from, its evolution, and what it has grown into today. I'll admit, I've long scoffed at attempts to revitalize the archetype in Modern, but an Open win is, in my mind, the barometer for success. Yes, Skred and Slivers have won tournaments too, but so has Affinity, and Jund, and Splinter Twin, and Jeskai Tempo. Where does Humans fall on that spectrum? I'm glad I asked.
Blitz Me, Baby
Standard Naya Blitz, by Brad Nelson
This deck from Return to Ravnica-era Standard ruined 2013 for me. See, UWR Flash was the deck. Augur of Bolas, Restoration Angel, Searing Spear, Pillar of Flame. Esper Control was a thing. Jund was awesome. Standard was power level off the charts mode. Blitz put them all to shame.
Mayor of Avabruck // Howlpack Alpha, Champion of the Parish, and Thalia, Guardian of Thraben made Humans a deck way back when Innistrad came out, but Snapcaster Mage and Invisible Stalker were the Humans everyone was playing. Delver of Secrets // Delver of Secrets and Phantasmal Bear dominated that format, and Champion of the Parish was forced to wait.
It wasn't until later, when Gatecrash brought in Frontline Medic, Boros Elite, Burning-Tree Emissary, and Experiment One, that Humans finally got its time in the spotlight…and by God did it shine.
You want nutdraws? We've got 'em. Champion into Mayor into Elite paired with Mauler? The bit players didn't really matter, as long as you were attacking with a 3/3 on turn two. Twelve one-drops alongside millions of ways to push incredible amounts of damage made the deck a fast, powerful, consistent machine. Flood the board, overload their defenses, and double-Giant Growth to the face or overpower their defender to keep the hits coming.
The only thing that kept this deck in check was the incredible power level of everything else in the format. Return to Ravnica's multi-color spells and easy mana allowed everyone to play three colors, which meant manabases were painful, but answers were aplenty. Still, Humans had the power and speed to win early, and the insane card quality to keep the game going late. Sounds like a recipe for success to me.
Modern, A Week Ago
The notion of Humans in Modern is enticing, as better mana and a ton more Humans options suggests that the deck can ramp up its card quality and compete in a more powerful format. While this works in theory, in reality cards like Tarmogoyf, Lightning Bolt, Path to Exile, and Inquisition of Kozilek are too ever-present for the archetype to enjoy widespread success. What it is trying to do on the board Affinity can just do better, as its synergies are just as powerful and it can dump its hand way earlier. In terms of fast, inevitable damage, Burn can play just as quickly, and few of its cards require the red zone for success.
The deck has nutdraw potential, but so do all the other aggro decks—and most require unique answers or play problematic things like Cranial Plating or Eidolon of the Great Revel. Humans in Modern has power, but can't afford to play removal thanks to ever-present opposing disruption, so Tarmogoyf becomes a two-mana wall that acts as Magus of the Abyss against all our guys.
Modern, Today
The landscape has changed. Behold the new version of Humans that Collins Mullen used to take down SCG Cincinnati.
Modern Humans, by Collins Mullen (1st, SCG Cincinnati)
Modern Humans in 2017 is coming up all power. Eight one-drops, but four of them don't attack. Ignoble Hierarch helps us play threes on turn two, of course, but what it really does is let us play two two-drops on turn three. This isn't an "attack with three characters on turn two as often as possible" Humans deck à la Naya Blitz of 2013. This is a "play powerful creatures that all make each other better, over and over and over until we win" Humans deck of the here and now.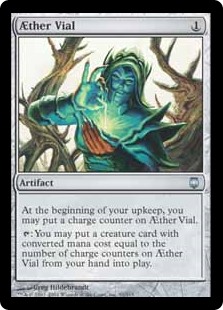 Identity is something important to keep in mind here, as it informs decisions like Champion of the Parish/Aether Vial on turn one. I haven't played all the matchups or scenarios yet, but it's Vial, not even close. With nineteen two-drops, Vial is at its best on two, though Reflector Mage at instant speed is an excellent payoff for ticking it up to three as well.
Where Humans decks of old offered speed and consistency, this deck offers plays. Plays like Kitesail Freebooter to steal an opposing threat or piece of removal, and Meddling Mage as an immediate follow-up to negate a second card from their hand. In a format where everyone else gets to play Thoughtseize and Thought-Knot Seer, an on-tribe Tidehollow Sculler that is easier to cast and triggers our Champion of the Parish and Thalia's Lieutenant feels downright nasty.
Path to Exile, a longtime staple of aggro decks that can't quite cut it, is thankfully absent here, because it actually isn't good enough. Cutting a threat for removal not only dilutes the core strength of our deck (consistency and power), it hurts us against those decks that don't play creatures, or are otherwise well prepared for a removal spell. Grixis Death's Shadow would love nothing more than for us to spend time, mana, and resources on something that plays directly into their Stubborn Denial. The best way to lose against a deck like Grixis is to see three lands, Path, and two creatures in our opener, then have one of our threats get taken away by a discard spell and another die to a Fatal Push.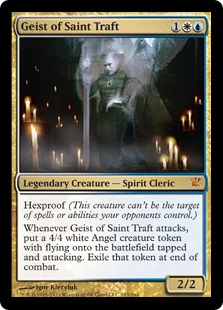 As is always the case in Modern, decks have dual identities, in the sense that they need to be "good" in the abstract, but more importantly need to be good in the context of the surrounding metagame. Here's what some of the other decks in Modern are doing currently:
Grixis Death's Shadow - Disrupts literally everything you try to do, drops itself below 10 to play a creature, or plays a seven-drop 5/5 for one mana by emptying their own graveyard.
Affinity - Plays artifacts and ignores what everyone else is doing.
As is clear to see, the format is soft to a deck that attacks with creatures the normal way, assuming, of course, that said deck can overcome inherent disadvantages of being a creature deck in a format that's hostile to that kind of vanilla strategy. "Normal" meaning non-Affinity, non-Merfolk, non-delve, non-hexproof—basically how everyone else chooses to play creatures. Grixis Death's Shadow has long since cut Lightning Bolt, everyone is worried about how to stop Geist of Saint Traft and seven-mana delve creatures, and Tarmogoyf is nowhere to be found.
I can't leave without talking about the sideboard, which is an absolute deckbuilding masterpiece. Fifteen creatures, all Humans, all toolbox, all the time. Ethersworn Canonist for Storm, Vithian Renegades for Affinity, Anafenza, the Foremost for graveyard shenanigans, and a ton of value creatures for removal of all types. Were it not for Aether Vial, this deck wouldn't have a Stubborn Denial target in the 75.
I'm only a few games in with the deck, but my surprising top-performer so far has been Mantis Rider. It attacks fearlessly into Spell Queller, sticks around to block Geist of Saint Traft (even though we know it's dying), and hits over the top of Tasigur, the Golden Fang. Rider can add up to five or more damage on some boards thanks to Mayor, Champion, and Thalia's Lieutenant. Haste and vigilance is such a potent combo, turning an even board state into a five-point life swing (our three, plus the two we are blocking from our opponent). With Tireless Tracker out of the board, this Humans deck has so many tools at its disposal to beat its opponent in a variety of ways.
Conclusion
I've had the chance to play a few matches already with Humans, and I plan on playing a bunch more. The deck is powerful, consistent, flexible, and above all else, fun! Not only is it a unique take on an archetype that many (myself included) have passed over, it's an excellent choice for the current Modern metagame and an incredible exercise in individuality in deckbuilding. Play it—or against it—and you'll find out for yourself soon enough.
Thanks for reading,
Trevor Holmes
The_Architect on MTGO