Are you a Quiet Speculation member?
If not, now is a perfect time to join up! Our powerful tools, breaking-news analysis, and exclusive Discord channel will make sure you stay up to date and ahead of the curve.
This is the big one. It's time to answer the question I've been dancing around all month: Is Bloodbraid Elf safe for Modern? Ought Wizards to rescind its banishment, to the delight of many? Or should Elf remain locked away, to the delight of many others? There have been a number of narratives running through this series, and the truth is complicated. I'm expecting a... lively comment section as a result.
To reiterate, I'm personally against unbanning Bloodbraid Elf. I've been upfront about that all month. I have a long negative history with the card and I never want to face it again. This is personal bias. It's also irrelevant.
Instead, this article looks back on the month to see what conclusions can be drawn. From those conclusions, I will extrapolate on the impact of an unban. The test will be whether you think the impacts are positive or negative. Let's go through my results in reverse order.
The Data's Story
As last week showed, Bloodbraid has a substantial and significant positive impact on Jund's win rate. This is to be expected: add a relevant, powerful card to a strong deck, and it gets better. This result strongly suggests Jund will return to being a metagame force. Jund has fallen into Tier 2 for a number of reasons, so receiving a power boost could get it back into Tier 1.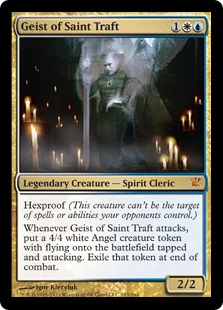 Individually speaking, there are a few weakly significant results. The strongest single result was against Jeskai Tempo. Jeskai is a reactive midrange strategy that wins via incremental advantage. Jund is very similar. Bloodbraid provides an important source of card advantage, virtual advantage, and tempo, surging Jund over Jeskai in the midgame. Jeskai lacks a similar midgame-breaker. Late-game cards are available but were not tested. This result indicates that Bloody Jund would be heavily advantaged in grindy matchups, and that incremental advantage-based decks would suffer.
The other weakly significant result was against GB Tron. Jund was heavily unfavored, but Bloody Jund made the matchup even. While Tron was still able to completely shut
down Jund by attacking its mana with Karn Liberated, if Jund was able to avoid that fate, it could overwhelm Tron with the extra spells from cascade. Admittedly, the Tron deck wasn't optimized against Jund, but Tron's never really needed to be in the past. Its default plan of seven-mana haymakers has always been good enough. The fact that it may not work anymore is interesting.
The other matchups failed to make the significance thresholds, but they still hold lessons. There was movement in the matchups where tempo and card advantage are important, and against Grixis a better strategy was discovered during testing that most likely would have improved Jund's matchup to significant levels. Taken into consideration with the total result, it is safe to conclude that Bloodbraid Elf does have a positive impact on Jund's performance in Modern and that the impact will be felt across a large number of matchups.
The Testing Experience
The primary conclusion of the qualitative data from the testing process was continuity. Bloodbraid does today what it did back in 2009. If you've played with or against the card before, your conclusions are still valid. This means that lessons of past formats reasonably model the end result of unbanning Bloodbraid Elf. This will allow us to predict future results with some accuracy.
Historical Perspective
The historical narrative has been that Bloodbraid Elf paid for the sins of Deathrite Shaman.
However, closer examination brought this into question. Jund was already on top of the metagame prior to Return to Ravnica, and arguably the best deck. Shaman definitely pushed the deck over the top of its closest rival, Affinity, but did not change its position in the overall metagame. Therefore, the claim that Bloodbraid's banning was unjust is questionable at best. What this indicates is that Bloodbraid alone was powerful enough to push Jund to the top of the metagame. It is also worth noting that the metagme of 2012 was similar to today's. Jund, Affinity, Tron, and Pod (now Company) were Tier 1; Storm, UWx, and Burn were Tier 2. Cards have changed for all of those strategies, but the strategies themselves remain. The same is true of Jund. This indicates that Bloodbraid will have a similar impact now as before.
What to Expect
What would this mean for Modern if Bloodbraid was unleashed today? The data show the effect on current Tier 1 decks, but that doesn't necessarily encompass the entire metagame. Such a thing is very hard to do experimentally. However, given the overall power boost and the lessons from history, there are reasonable conclusions that can be drawn about the impact on the archetypes which will suggest an impact on the metagame.
Aggro
Affinity was unaffected by Bloodbraid in my testing, which backs up history. The deck has all the tempo, and incremental card advantage only matters if it's attached to removal, which is why Electrolyze is brutal. It is unlikely to be any different for other true aggro decks. The matchup is about density of relevant removal, and Bloodbraid's impact is just a function of that aspect: the more removal you play, the more likely you see it and the more likely Bloodbraid is to hit some. All other considerations are comparatively minor, and I suspect aggro will be relatively unaffected.
Midrange
Jund historically pushed all other midrange decks out of every format except for the Brainstorm-dominated Legacy. Naya may have started out strong after Alara Reborn, but it did not survive long, and other midrange strategies were inferior to both Naya and Jund. Bloodbraid does so much for these decks in the midgame that if you're not doing something at least as powerful, you cannot compete along the same axis.
Abzan traditionally preys on Jund, but it is not really doing better than Jund right now. Siege Rhino doesn't compare, and as good as Lingering Souls is in the matchup, it's not going to do enough. I cannot imagine that Jund won't become the sole non-Shadow midrange deck in Modern.
Exactly what will happen to Death's Shadow decks is hard to determine. My data indicated Jund could be boosted over Grixis Death's Shadow, and I think that if I'd understood the matchup better from the beginning, it would have clearly been favorable. This may knock Grixis out of Tier 1, but hybridization is a distinct possibility. I still believe that Death's Shadow could be made to work with Bloodbraid. If that's true, the deck would be terrifying and there would be no reason not to play Bloody Shadow Jund to the exclusion of other versions.
Control
Jeskai Tempo will not survive Bloodbraid's unbanning. My data was very clear on that front; it had a terrible matchup. Perhaps it could adapt to be more of a value creature deck, similar to the Restoration Angel decks from PT Return to Ravnica. Of course, those decks didn't do particularly well prior to the tournament or afterwards. I played something similar at the time, and Jund was an even match at best. Considering that the strategy has largely disappeared from Modern, I doubt it would actually be viable in any case. Jeskai will have to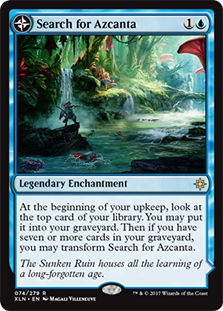 either speed up or slow down to survive. Speeding up may work, Jeskai Aggro was Tier 2 in 2012; however, Fatal Push has largely driven Delver strategies out of Modern. This makes me skeptical that such a readjustment will succeed.
However, if you go slower, I'm not certain the result would be better. After Lorwyn block and 5-Color Control rotated, no control deck could really compete with Jund and the blistering red decks from Zendikar block. You could beat one or the other if you wanted to, but beating both was a tall order. Control didn't disappear by any means, but it had to become either tap-out control or ramp. Most UWx decks went the big mana route with Lotus Cobra and Noble Hierarch to power out Jace, the Mind Sculptor, Gideon Jura, and Sovereigns of Lost Alara. Yes, these days you have Ancestral Vision and Search for Azcanta to catch up on card advantage, but both are glacial in the face of cascade's tempo bursts. True UWx control is nothing special now, and if the past is any indication, that won't change with Bloodbraid loose.
Big Mana
Gx Tron will be less of a problem for Jund than before. Bloodbraid provides card advantage, tempo, and a hasty threat to blast past Tron's haymakers. Tron has been tuned for combo and Burn decks with Collected Brutality, and not for beating Jund. A resurgent and boosted Jund will force a reevaluation and possible changes, though of what kind remains unclear. Tron may accept an even matchup against Jund in exchange for percentage elsewhere.
Other big mana decks are unlikely to be affected. The many variants of GR Valakut currently have a very good matchup against Jund, which shouldn't change. Jund has a lot of dead cards game one, not much sideboard, and difficulty racing Valakut. Discard is minimally effective since the key cards are lands, and any impact card off the top is lethal. It really comes down to Jund's clock, which will slightly increase thanks to Bloodbraid's haste, but not enough to dramatically change the game.
Combo
Storm and other spell-based combo decks won't be dramatically affected. These matchups depend on 
whether Jund's early discard can slow them down, which Bloodbraid doesn't affect. The clock is the other component, and while again Bloodbraid does improve the clock, it doesn't by enough to significantly shift percentages. The game should be decided by the time you'd play the Elf.
Creature combo is another story. Jund traditionally picks apart small creature decks, and current Counters Company decks are weak to Jund. It's not an unwinnable matchup by any means, and Collected Company makes up for the creatures' individual weakness. However, Bloodbraid will cause many players to pick up Jund, and the increase in a bad matchup will negatively affect Company decks. They may adapt and be fine; Pod was Tier 1 back in 2012. Or maybe the combo-heavy versions may not be viable at all, and the value-based Abzan Company will reemerge.
Overall
The way I see this playing out is for Jund to act like a wedge in the metagame. You will have to be faster or slower than Jund; trying to be similar will not work out. This has never worked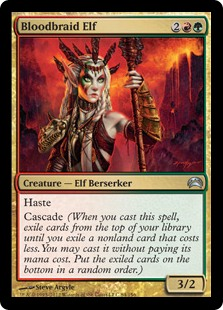 since 2009 and I've seen nothing to indicate this would not continue to happen. Midrange players will be forced to either play Bloody Jund or find a new deck.
Control will be forced out of the proactive tempo role that Jeskai has successfully taken over the last year and back towards slow control. Whether this is a viable strategy is hard to say. Tron is likely to readjust in light of Jund's return and resurgence. Meanwhile, Valakut decks have good matchup against Jund and will not be negatively affected by the unban. This will incentivize players to pick up the deck, much to the chagrin of control decks. It could be a solvable problem, but I know I dread playing UW control against Breach Titan.
On the faster side of things, aggro looks to be minimally impacted, which may draw in displaced midrange players. Spell-based combo will be relatively unaffected, but creature combo may take a big hit. This may drive them out or force them out of combo and into value. The impact on format speed is indeterminate, but I believe that diversity will be negatively affected. You can't kill off other midrange decks and Jeskai Tempo and expect diversity to stay the same.
The Bottom Line
Let me simplify things by giving you the primary listed pro and con for unbanning Bloodbraid Elf.
Pro - Midrange Jund will be Tier 1, at or near the top of the metagame.
Con - Midrange

Jund will be Tier 1, at or near the top of the metagame

.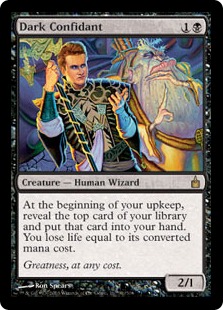 That's it. At the end of the day, the decision on this card comes down to whether or not you want Jund back to its old, format-dominating glory. That is the extent of its effect. Bloodbraid has never had as great an impact in any other deck, and there is no reason to believe that it ever will. If we unban Bloodbraid Elf, it will boost Jund. If that's what you want, then you support an unbanning. However, I urge everyone to consider the impact of the unban before picking a side.
The end result will be a Modern unrecognizable from the current one. If you want such a change, you support an unban. If you prefer the current dynamic, you oppose.
And that's it for Bloodbraid month. It will be a relief not to type that word for a while. I need a palate cleanser, so next week will be about PT Rivals of Ixalan. See you then!