Are you a Quiet Speculation member?
If not, now is a perfect time to join up! Our powerful tools, breaking-news analysis, and exclusive Discord channel will make sure you stay up to date and ahead of the curve.
Modern has at times been described as a format hostile to Spike, the player demographic in search of winning at any cost. Indeed, "spiking" tournaments as players do in other constructed formats—by playing the best deck and understanding the mirror—isn't a reliable path to success in Modern. Rather, this format rewards players for picking a couple strategies (ideally a pair of decks that operate very differently) and getting to know them inside-out. As for which decks to choose, I think the obvious answer's also the best: your favorites!
This article explains my own strategic preferences and applies those to my deck choices in Modern. Hopefully, witnessing the process will help those lost in the format establish their own playstyle priorities, and serve as a friendly wake-up call to players stagnating on a deck they understand well enough to prize with, but don't enjoy enough to learn more deliberately. I'll close things out with some practical tips for identifying preferences.
No Accounting for Taste
Love is a two-way street—beloved decks can't be expected to deliver on all fronts. Enjoying a strategy is one thing, but taking the time to learn its strategic intricacies is critical to success. To do that, pilots must play attentively, with an open mind and an appetite for growth.
That being said, I wouldn't recommend mastering a deck you don't like playing. Personal hangups about whatever strategy might get in the way down the road, causing you to burn out or become disinterested. Modern is chock-full of archetypes, decks, and individual cards, so there's very little incentive to play anything but an exhilarating deck—and that deck is out there! Find it and cherish it.
The Taste Test
Part of what allows me to enjoy Modern so much is that I'm often playing something I love. I can select those decks by understanding my biases. Here's how I like my decks to be:
Aggressive. It bothers me to waste too many combat steps early in the game. We only get one per turn, and I intend on using those resources when possible. Aggressiveness loosely correlates with proactivity, but has more to do with establishing pressure quickly and putting opponents on the back-foot, even if the aggressive deck (i.e. Goblins) wins on the same turn (in this case, four) as an equally proactive, but not aggressive deck (i.e. KCI Combo).
Adept at combat. Aggressive decks already attack plenty, so the emphasis here is on blocking. If I'm not vying for King of the Red Zone, I don't feel like I'm playing Magic.
Disruptive. Modern strategies that don't seek to combo-kill opponents on turn three or four are required to run interaction. While I otherwise enjoy as proactive a playstyle as possible, I wouldn't want to not interact at all. The two types of disruption I favor are cards that interrupt plays (i.e. cheap kill spells, permission) and cards that interact very efficiently with an opposing strategy (i.e. hosers, lock pieces).
These three points already lock into aggro-control territory, which limits me to tempo or midrange decks.
Reversible. Reversibility refers to an aggro-control deck's ability to assume the role of its archetypical opposite when necessary—in other words, the ease with which a midrange deck can play like a tempo deck and vice-versa. I want control over the kinds of games I play.
In-game consistent. Registering a pile of four-ofs isn't enough for me; rather, I require ways to control which cards I see during a game.
Risky. Specifically, I like decks that give me opportunities to take risky lines, not ones that force me into them.
Flashy. I'd be lying if I said I didn't like winning in style. This particular metric gives the decks I design extra points over existing ones.
Seven points. Is that too much to ask of one deck? I don't think so. After all, I've found decks that check all the boxes. And a deck doesn't need to hit a home-run on every aspect for me to enjoy it—if my priorities were a tad more on the "winning" side than on the "fun" side, I'd happily sleeve up Affinity over Colorless Eldrazi Stompy when the metagame called for it.
Pencils Out
To illustrate some of the above points in action, consider this chart detailing proactivity among protect-the-queen strategies in Modern. Protect-the-queen is a playstyle that relies on sticking a highly impactful threat (i.e. Tarmogoyf) rather than flooding the board with bodies, and then defending that threat until it can win the game. In other words, they're usually aggro-control decks packed with disruption. The following decks are sorted from fastest to slowest.
Infect and UR Prowess are the most aggressive decks on the chart, as they goldfish kills faster than any other deck here. These decks pass my test on aggressive, in-game consistent, and risky, but fail the other metrics (okay, UR Prowess is kind of flashy). Most damning of all, they're not disruptive—these pump-style strategies are aggro-combo decks, not aggro-control ones.
The next-most aggressive deck here is Counter-Cat, capable of explosive Zoo-style openers and Growth-Bolt burn blitzes. I've tweaked this deck to meet my exact needs, so it passes every test with flying colors.
Counter-Cat, by Jordan Boisvert
The aspect I'd like to touch on here, since I haven't mentioned it in my other articles on the deck, is riskiness. Each turn, Counter-Cat presents pilots with loads of choices to make, many of which revolve around mana constraints. Deciding whether to cantrip into needed pieces, hold up disruption, or tap out for threats to speed up the clock make piloting the deck a thrill.
Traverse Shadow is one of the new-to-Modern midrange decks I alluded to above, and the only rock deck I can truly get behind. It's not quite aggressive enough for my tastes, but it's close, and the many optimization possibilities help with flashiness. Grixis Shadow, on the other hand, is too reactive for me. A full third of its creatures aren't built for battle. Blech!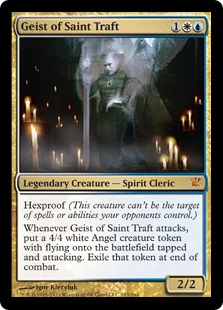 On to Jeskai Delver: by no means a popular deck, but a helpful one for our purposes. I've messed around with Delver builds of all colors, including Jeskai. My beef with the wedge is its lackluster defense—nothing in these colors can block! The closest we've got is Young Pyromancer, which leaves much to be desired by further exposing us to damage-based sweepers and not actually deterring attacks. More aggressive builds of Jeskai featuring Steppe Lynx or Monastery Swiftspear offer no solution to this problem.
Abzan and Jund are Tarmogoyf decks, so they're great at combat. They're also slow as heck. BGx Rock would enjoy a much better Tron matchup if it had access to a reliable, compact aggressive plan to up its reversibility, but it doesn't. These decks also fail on riskiness and flashiness, as they're safe and cliché—notably, they both fare okay on in-game consistency these days thanks to their respective adoption of Grim Flayer and Bloodbraid Elf.
Pencils Down
Looking at the chart overall, it's no surprise that the decks in the middle of the proactivity spectrum are the ones with the highest reversibility. These decks can't go under or over everybody, but they do get to choose which kind of game they play for the most part. Naturally, then, these thresh/xerox decks are the sort of threat-light aggro-control decks I gravitate to.
Changing Paradigms
I define midrange as an aggro-control archetype that tends to disrupt opponents first, then play out its threats (compare with tempo, an aggro-control archetype that plays out its threats first and then disrupts opponents). I used to think I didn't like midrange decks, but I was wrong; in truth, I don't mind disrupting opponents first. In order to have my aggressiveness needs met, though, a given midrange deck needs to follow that early disruption with lots of pressure, the likes of which few can muster outside of combo-style strategies. But combo goes out the window because I need to be blocking.
A deck like this simply didn't exist in Modern for most of the format's lifespan, so I spent years mistakenly believing I didn't like to play midrange at all. Then, one popped up.
Colorless Eldrazi Stompy, by Jordan Boisvert
Colorless Eldrazi Stompy differs wildly from Counter-Cat: it's more synergy-based; it's far more streamlined; it's creature-focused, rather than spell-focused; its disruption is mostly on noncreature permanents; it boasts zero colors to Counter-Cat's four. And yet, this deck too checks all of my boxes.
Mimic and Temple give us reversibility by bolstering our aggressive capabilities for a midrange deck; large Eldrazi bodies serve as Tarmogoyf analogues for red-zone dominance; Chalice of the Void compliments Dismember as hyper-efficient interaction; Zhalfirin Void compliments Serum Powder as in-game consistency. As for riskiness, the deck regularly mulls to four in search of the perfect opener, and Modern doesn't get much flashier than exiling Scourge with Powder to start the game with more than seven cards.
Eldrazi vs. Humans
Just as Counter-Cat shares many strategic similarities with Traverse Shadow, Colorless Eldrazi Stompy also has a tiered analogue. In my eyes, that deck is Humans, a fish-style tempo deck with huge creatures, mana acceleration, and walking disruption. But unlike Traverse Shadow, Humans doesn't appeal to me.
It's adept at combat and disruptive all right, and more aggressive than Colorless overall. But Humans isn't so reversible, struggling against midrange decks heavy on removal spells that break up its synergies. Without searchers like Traverse the Ulvenwald or card selection cantrips, midrange-eating bullets in the sideboard aren't a reliable solution to this problem. The deck also wants in-game consistency besides the anemic Horizon Canopy, making it prone to flooding, and earns a big fat "F" on riskiness and flashiness.
I think Humans is an amazing Modern deck, and perhaps the most powerful option currently available. But I don't think that's a compelling reason for any ol' Modern player to pick up the deck seriously. Without a love connection, most players will lack the patience necessary to become Humans experts.
Refining Tastes
Playing with Colorless Eldrazi Stompy threw a lot of what I thought I knew about my tases for a loop. After years of clawing my way to close victories with Delver of Secrets, I was winning games unequivocally; I'd previously figured winning was only fun for me if I had to work hard for it. And here I was on a midrange deck rather than a tempo one; it wasn't that I wanted to commit threats first after all, but that I just had to be more proactive than Modern's old midrange decks. Eldrazi even forewent cantrips, cards I once considered necessary in decks I'd bring to real tournaments; it turned out any card selection method did the trick for me, even the unassuming (but familiarly named) Serum Powder.
Critically, I wasn't broadening my tastes by learning to like new things; I was refining them by realizing I liked things I had never tried, which brought me a more accurate understanding of what I liked about my original deck in the first place. I only learned these lessons about what I truly do and don't enjoy by exposing myself to other playstyles, and I encourage anyone uncertain of their tastes to do the same.
Practically, this task entails trying different decks and seeing how they feel. The more technical you make the task, the more useful it's liable to be: take notes on your feelings during games, after plays, while you're winning or losing; also note how you feel when the game ends, or ten minutes after. Pooling this data and reviewing notes might help the more distracted pinpoint aspects they like or dislike about individual decks, which brings them closer to a clear idea of their tastes.
Saying Grace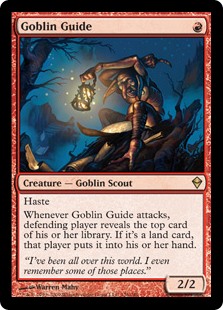 Modern players are extremely fortunate to play a format where succeeding with a favorite deck isn't just possible, but the norm. Whether they take advantage of this aspect is up to them, but I suspect that decision has a profound effect on their win ratio.
R&D first came up with player demographics to help with design. Spikes like to win, as mentioned; Timmies like casting big creatures; Johnnies like winning with flair, or using combination decks. But the average Modern player isn't producing a game for millions of consumers, and personal taste reaches much deeper. Do you prefer your decks forgiving, or punishing? Relaxing, or demanding? Linear, or complex? Which aspects of each turn do you most enjoy? Which feelings do you hang onto after your games?
Coming out with a better idea of where you stand will prove supremely helpful when it comes to serious deck selection in the future. There's no accounting for taste. Let me know yours in the comments!