Are you a Quiet Speculation member?
If not, now is a perfect time to join up! Our powerful tools, breaking-news analysis, and exclusive Discord channel will make sure you stay up to date and ahead of the curve.
---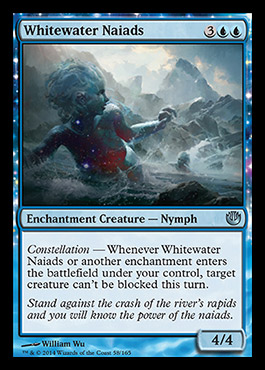 Whitewater Naiads doesn't look like much, because it isn't. It's obviously pretty solid in Limited and depending on how the rest of the set shapes up, this could be a very solid early pick for blue. It's pretty unlikely that it is going to be a thing in Constructed, at least the card itself.
However, this is the card they chose to spoil a new mechanic called constellation. Constellation appears to trigger whenever an enchantment enters the battlefield. Playing an aura, bestowing a creature onto another or just
summoning a creature or artifact with the enchantment subtype or casting an enchantment card- all of these will trigger this ability. Not only that, it says "enchantment" nor "enchantment card" meaning that non-card enchantments will trigger the ability as well. I hear Heliod likes to create creature tokens with the enchantment subtype.
People who went deep on Mana Bloom when Theros was first revealed to be enchantment-based will breathe a sigh of relief as there is now one more chance for that particular investment to pay off. Whitewater Naiads won't do it, but a card whose constellation ability draws cards, deals damage, makes mana or does a similar, powerful effect will likely buoy Mana Bloom. I think you buy in because the hype alone will drive the price up irrespective of the actual playability of the card. Honestly, I would buy in now and cash out at the hype's fever pitch. It's unlikely that Mana Bloom will go up much more on playability than it will on hype meaning we don't have to wait for the entire set to be spoiled to sell out. In fact, you shouldn't, since if the entire set is revealed and there is no good venue for Mana Bloom, the price may be high, but with no buyers it won't stay high. I anticipate a "sell into the hype" scenario being the best way to make money on Mana Bloom.
Watch cards like Heliod, Hammer of Purphoros and other cards that make enchantments every turn. Repeatedly triggering something with a good constellation ability is going to be a strategy people will try, so get ahead of them.