Are you a Quiet Speculation member?
If not, now is a perfect time to join up! Our powerful tools, breaking-news analysis, and exclusive Discord channel will make sure you stay up to date and ahead of the curve.
---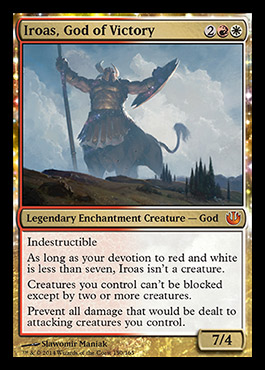 They really saved the best for last, here.
Iroas looks like an insanely powerful card at first glance, and brainstorming only reveals possibilities, not pitfalls.
To start, Iroas has 2 abilities, either of which would make the card quite good, but together form a very potent combination. Being able to swing with your team with abandon knowing they'll lose creatures in the exchange and
you will not means combat heavily favors you and if there is board parity, this breaks it by forcing them to commit more blockers than you have attackers.
Iroas has a very favorable casting cost to power and toughness ratio as well, making him a very efficient beater when he's switched on. He can join the assault and really put you over the top.
How does this compare to Kruphix, the Simic God?
Between an army of weenies and cards like Legion's Initiative, Iroas should be easy to turn on and you'll want to do so on turn 5 if possible. Boros Charm also probably wants to go in that deck to protect your side from other removal that might threaten to decimate your army and turn off your devotion, and being able to give Iroas double strike if they can't manage two blockers will be relevant.
Financially, I would compare Iroas' power level to that of a card like Xenagod. I would check the price trajectory of that card and decide whether you want to preorder Iroas. He's so obviously a good card that it's unlikely that his preorder price will be a bargain and you're better off getting these in packs. Here's hoping Kruphix is just as good.