Are you a Quiet Speculation member?
If not, now is a perfect time to join up! Our powerful tools, breaking-news analysis, and exclusive Discord channel will make sure you stay up to date and ahead of the curve.
Are you a MODO Beta user?
Good news - you're ahead of the pack.
Coming soon, the Beta will soon be the.... er, the regular MTGO I guess?
This article on the Mothership today runs through the whole deal, but here are some highlights.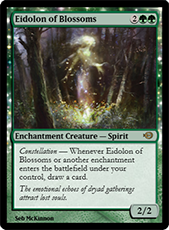 A "spotlight" Journey into Nyx Prerelease week featuring the Beta as the client will take place after Wednesday's downtime. Participants will get a free Eidolon of Blossoms promo for downloading and using the Wide Beta client. This is going to happen sooner or later, so might as well get yourself a promo.
They are scaling up to try and make sure the client is stable at all of their milestones and so far it's looking good. The transition to the new client is expected to be smooth, but we'll believe that when we see it, won't we?
Have you been using the Beta or do you plan to soon? When you do, take this survey to help them improve. Here is another feedback form.
Also forthcoming are aesthetic changes to the battlefield which will give the player unprecedented Feng Shui control and information. Mouseover info, rearrangement, sticky settings; the works.
The official launch is several months off, but with updates coming every two weeks, why not secure yourself a promo and get with the program early? Love the Beta client or hate it, it's going to be the new boss soon, and as much as it's the same as the old boss, it's still better that you got acquainted now.