Are you a Quiet Speculation member?
If not, now is a perfect time to join up! Our powerful tools, breaking-news analysis, and exclusive Discord channel will make sure you stay up to date and ahead of the curve.
This newest batch is...well it's not what I expected.
Kird Chieftain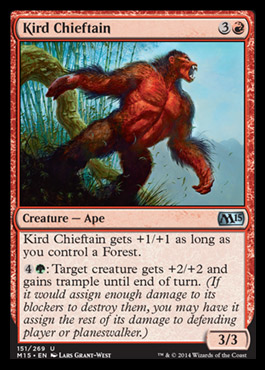 "Kird Ape is back with new art!" - the internet, earlier
Not exactly, folks. Kird Chieftain is a brand new card with the Kird Ape's essence but without his playability. This is a sick Hill Giant for limited and that's about all. What an inauspicious start to the day.
Dauntless River Marshall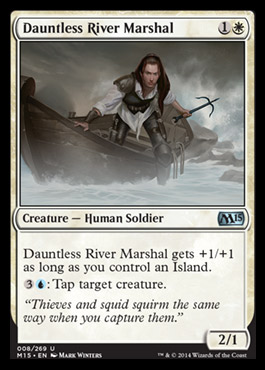 Remember Arctic Aven? Well enjoy another year of UW ruling draft.
This card is bananas.
Jorubai Murk Lurker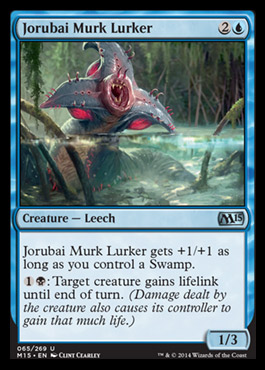 Solid
Nightfire Giant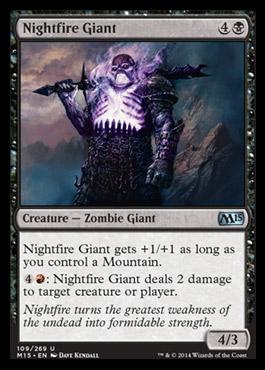 Seems OK, probably the second-weakest of the cycle
Sunblade Elf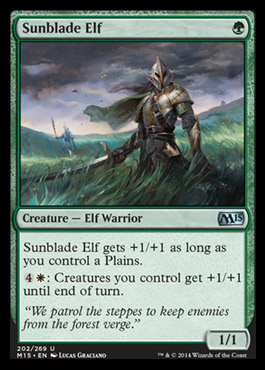 Yep. This actually has a chance of seeing contructed play. Me likey.
Ajani  the Steadfast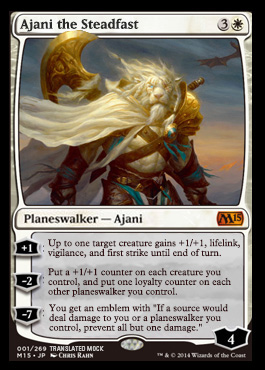 "Please put a new Ajani in literally every set" - no one
If this could protect itself it would be amazing. As it stands, I'm not sure how to evaluate it. Thankfully, we don't have to know how to evaluate core set planeswalkers. You basically have to pack them. Casuals will open them at the prerelease, not you. They won't trade them. No one in the shop has them for trade because they paid full retail to get them because no one will buy packs of core set. You will buy a box and not get any planeswalkers because you will get 2 copies of Soul of Ravnica and 2 copies of Aggressive Mining instead. The presale price will seem too high, but the cards will not go down by much unless the planeswalker sucks. I am not sure this sucks. That emblem is very good and Elspeth can protect this. Interestingly enough, Ajani's first ability is worded so that you can give the bonus to nothing.
Soul of Theros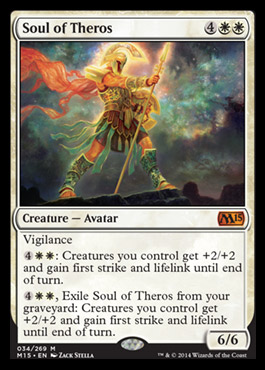 This will make games of limited miserable. A 6/6 Vigilance is decent, it surviving to activate its ability is savage. Killing it won't save you. Be afraid.
This still isn't fit to sniff Sun Titan's farts though.
Nissa, Worldwaker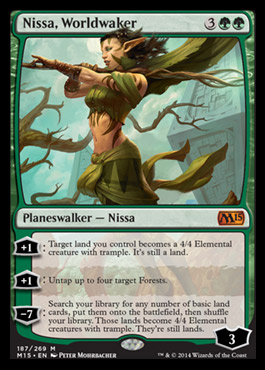 Yep. Yep.
Yep yep yep yep.
Yes.
This guy.
It's like Koth and Garruk contributed parts of their planeswalker spark to a planeswalker baby birthed by original Nissa and she grew up a bit because at first she was like those girls who are really into horses and have a horsey Trapper Keeper and horsey sweaters and they rode horseys every weekend only she was like that for elves but she matured a bit and forgot all about elves and at her first kegger in college she got sparkseminated by two dudes and had a baby that was also herself.
With me so far?
The only way this could be better is if her second ability said "Untap up to four target lands" so you could ruin EDH. Even Modern has that mono-green devotion deck where you use Garruk Wildspeaker to untap a forest with an enchantment on it and your Nykthos, Shrine to Nyx thus winning the internet.
This card protects itself, the bonus it grants to lands is permanent unlike with Koth and her ultimate can win the game. I don't preorder planeswalkers, especially at $25. This being in a core set may make it a decent bargain if you need these to play with right away. Again, evaluating core set planeswalkers for financial value is a craps shoot, but this seems powerful and popular. Pack these.