Are you a Quiet Speculation member?
If not, now is a perfect time to join up! Our powerful tools, breaking-news analysis, and exclusive Discord channel will make sure you stay up to date and ahead of the curve.
One spoiler seasons ends and another one has already begun. We didn't get a ton of new stuff for M15, but I want to talk about the batch we just got because one of these cards is getting serious consideration.
Hot Soup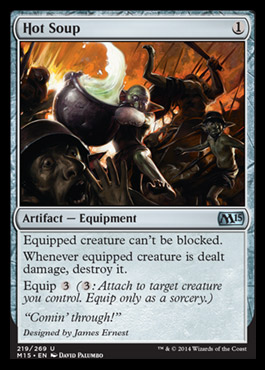 I'm not 100% convinced this isn't a card from the third "Un" set. The only way this card could have more flavor is if it were made out of actual soup. This reference to something as mundane as food just seems.. jarring. It's like 15 minutes of an episode of "24" focusing on Jack taking a dump or buying a latte. I'm sure people on these planes eat, I'm just not used to hearing about it. How many cards reference food? Blessed Wine? Morsel Theft? Fresh Meat? Off the top of my head, that's all I can come up with. Not much financial relevance here, but I hear unblockability is useful in limited.
Meteorite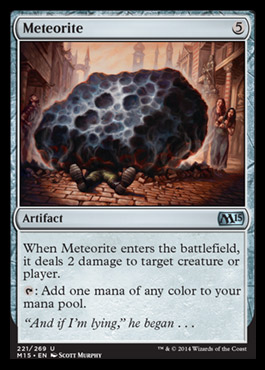 You want this in limited. I'd rather it tapped for 2 colorless, but this is a great way to splash a bomb in. Removal that goes in every deck and helps mana issues is pretty solid. 5 mana is not insurmountable, either, so I'm all about it. Grab foils of this for some weirdo's cube? Naw, no financial relevance here, either.
Radiant Fountain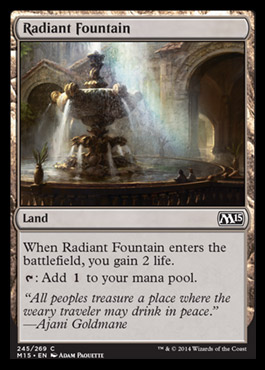 Here is a card that Spikey players are taking an actual look at. This is obviously no replacement for Mutavault but it's worth watching how testing pans out. Obviously there isn't a ton to be made on these if they're common, but these will likely be discarded on tables and will be worth picking up. Watching this card is less about what this card does and more an exercise in paying attention to what spikes are saying. I'm a decent Magic player but I won't pretend I think my opinion on card evaluation is good enough that it's the only one I listen to. I go with my gut a lot, but I love to crowdsource my ideas about spoiled cards. Individuals may whiff, but the masses are generally pretty astute. That is if you know which groups to listen to and which to ignore. Personally, I think the gang in the QS forums have great instincts and I'd bounce ideas off of them if you are wondering about upcoming stuff. Will Radiant Fountain make you any money? Not likely. But something in the set well. Did you know Spikes were talking about whether this card fits in somewhere? What else are they talking about that you've missed?
Phytotitan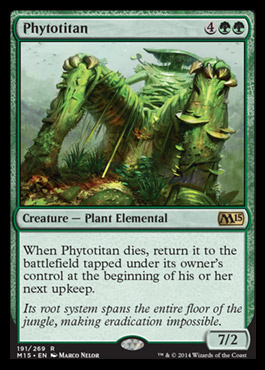 I think this guy was spoiled already but he showed up in the spoilers again. Do we want a titan of phyto? He could be a decent beater every other turn and smash their best dude, but he seems like a bulk rare to me. His ability precludes infinite loops or blocking every turn so he is just a durdly, value dude. Probably annoying in limited. Probably bulk. But if I notice some spikey players trying to break this dude in standard, you'll be the first to know.