Are you a Quiet Speculation member?
If not, now is a perfect time to join up! Our powerful tools, breaking-news analysis, and exclusive Discord channel will make sure you stay up to date and ahead of the curve.
I'm going to be honest, I'm not really sure what GamesCon is, outside of the name making it obvious that it's a gaming convention.
Did you know that GenCon, another popular gaming convention was this weekend? Someone should tell Wizards of the Coast.
OK, that's not fair. Everyone I would send a snarky "Herp, did you know GenCon was this weekend?" tweet to is AT GenCon. I spent all last night looking at who showed up at the party at Kilroy's that I didn't go to. Helene Bergeot was there. Christine Sprankle. Terese Nielsen. Brian Kibler. Some males, too, probably. Still, despite most of my favorite Magic people being at GenCon, there were no GenCon exclusive spoilers. I'm not going to make pointing this out an annual thing. We've lost this fight - WotC just doesn't care about GenCon and prefers to spoil new Magic cards at whatever generic "nerd" con is going on that weekend in any other city. We get San Diego ComicCon exclusive planeswalkers and GenCon exclusive "how would you like to pay $18 to play in an M15 booster draft run by Pastimes?" This is what we get, so let's be grateful there was another con this weekend because no we get spoilers.
Thousand Winds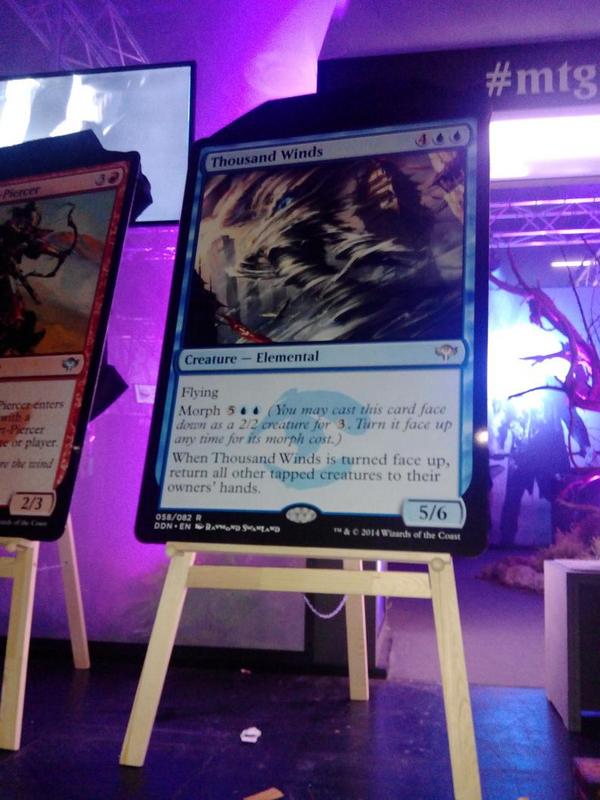 For 7 mana you can really pull your opponent's pants down. It's less narrow than Aetherspouts and provided you keep your dudes vigilant, it's one-sided. This is not the most exciting return to Morph possible, but this is a good limited card. I don't see a 7 mana combat trick being useful in standard when dealing 2 damage is so simple. This is going to die to Lightning Strike unless you wait until you have 13 mana to play it. Not super exciting. I hope the cards improve.
Stitcher Geralf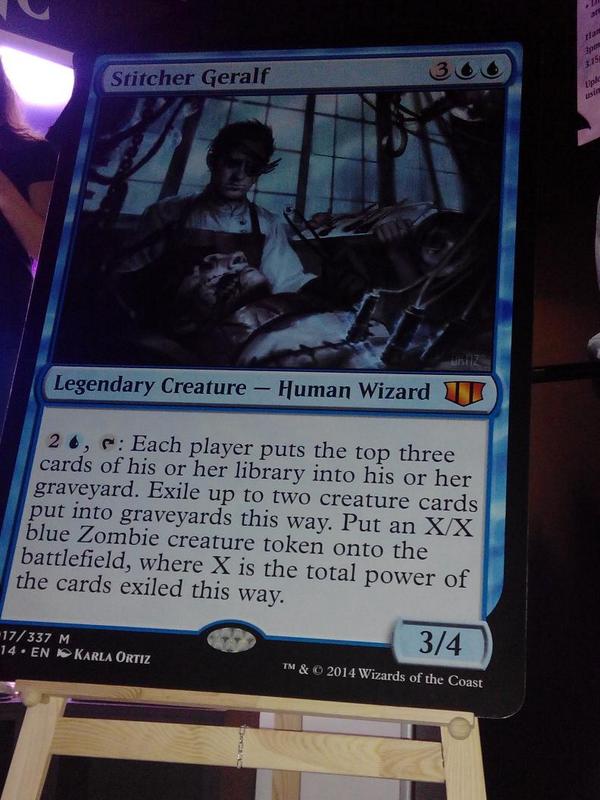 I don't know if this guy wants to be a general, but he's pretty solid. Lots of decks want to deck themselves in EDH and this guy obliges, albeit slowly. The Mimeoplasm might want this guy, for example. Illusionists' Bracers on this guy will be fun, and maybe a parallel lives or Primal Vigor in the mix. I am presuming this will come out in the Teferi Planeswalker deck. I think this could be a good addition to EDH, and while building around it seems narrow (blue can't really capitalize a ton on this ability without cards in colors that care about the graveyard a bit more) it could be a good general. Decks that contain blue, though...the possibilities are endless. Still, this is hardly the second coming of True-Name Nemesis, so don't expect a run on the Teferi deck because of this guy.
Mardu Heart Piercer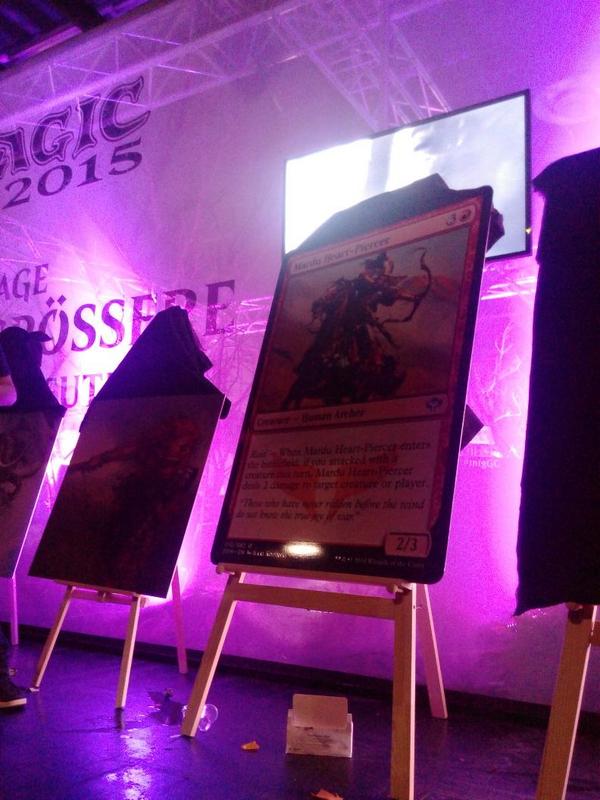 This is the picture we have. Can't read it? Not to worry.
Mardu Heart Piercer 3R
Creature - Human Archer
Raid: When Mardu Heart Piercer enters the battlefield, if you attacked with a creature this turn, Mardu Heart Piercer deals 2 damage to target creature or player.
2/3
Raid is a new keyword. It's like bloodthirst but not as good in some cases and better in others. I like that this can kill off a blocker. I imagine not all raid abilities are combat tricks like this, but this does complicate combat. It also teaches newbs not to play dudes pre-combat, which is helpful.  All in all, this is a solid card for limited, a format I can't wait to play because it's not core set.
There you have it. 3 new cards spoiled. 2 from Khans, 1 from Commander 2014. You saw it here first. I mean, maybe you did.