Are you a Quiet Speculation member?
If not, now is a perfect time to join up! Our powerful tools, breaking-news analysis, and exclusive Discord channel will make sure you stay up to date and ahead of the curve.
It's been said that a tattoo is a permanent expression of a temporary feeling. However, Magic: the Gathering is no mere flash in the pan. The game has been going for 20 years and looks stronger than ever. I've been playing since 1996, which means I've played Magic longer than I haven't played it. Could it be time for some ink? These people thought so.
We probably have to reserve judgment until after it heals.
I sure hope that's marker.
I think his arm is rejecting the tattoo the same way my eyes are.
Bad.
Ass.
Generic enough you could pretend not to be a nerd later, I guess.
This tattoo is banned in all formats
"Samurai Glimpse the Unthinkable?" You just made that up...
Hey, if that's what you want on your arm all the time.
Uhhhh, no. I just really love the Punisher.
How best to let people know you're a lover, not a fighter?
Bad.
Ass.
Ass.
Bad.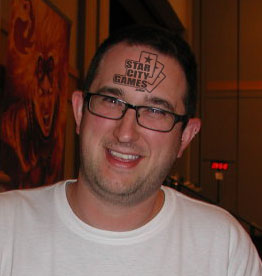 Chas Andres' next tat?
Yeesh.
What the difference a couple hundred bucks can make.
In conclusion, I'm too afraid of having something awful on me forever and I don't trust anyone else to permanently deface me, and I can't draw, so I guess no ink for me. Still, some of these are pretty good. Maybe next year.