Are you a Quiet Speculation member?
If not, now is a perfect time to join up! Our powerful tools, breaking-news analysis, and exclusive Discord channel will make sure you stay up to date and ahead of the curve.
---
Sandsteppe Mastodon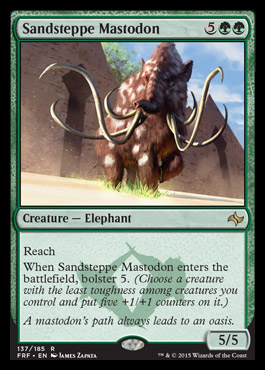 Can you read this? This looks vaguely like it wasn't intended to be spoiled, but I saw Evan Erwin say "screw it" and post the text on twitter. The cat's out of the bag, so why not pretend it was a gift? And make no mistake, this IS a gift.
Sandsteppe Mastodon
5GG
Creature - Elephant
Reach
When Sandsteppe Mastodon enters the battlefield Bolster 5 (Choose a creature with the least toughness or tied with the least toughness among creatures you control. Put 5 +1/+1 counters on it.)
Awwww snap. Right away, Standard players said "Nice! My Elvish Mystic is going to be a 6/6 when I cast this guy!"
Right now EDH players are saying "Nice! I'm going to put 5 counters on Gyre Sage and it will tap for an extra 5 mana!"
Limited players are saying "Rares are good in limited, usually!"
Bolster is a sweet-looking mechanic. Not every creature is likely to be bolster 5, but even if they're bolster 1 or 2, they make your mana dorks formidable. This isn't going to make your Courser of Kruphix into a tank necessarily, but Elvish Mystic or Sylvan Caryatid might get beefier and become legitimate bruisers.
This is going to be good for triggering Ferocious on Temur cards as well, so I'm pretty excited. Bolster helps Abzan cards by putting counters on Anzan creautres that benefit from counters and helps Temur creatures get big enough to trigger ferocious. Not bad at all. I don't know how many of them will be good, but I think Mastodon at the very least gets some play in a deck like my Vorel of the Hull Clade deck where Doubling Season will be its best friend. I like this mechanic and I like this card specifically. I don't know how much money this will fetch, but a cheaper card with Bolster, maybe a 3 drop 4/4 or something with bolster 2, could be formidable.